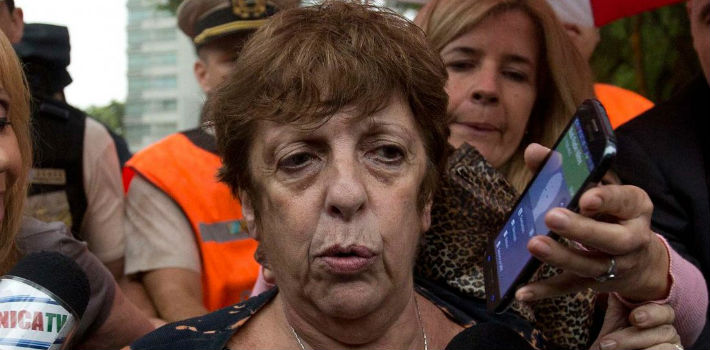 EspañolLike a giant puzzle without the edges, investigators continue to try and piece together the mysterious death of Argentinean prosecutor Alberto Nisman. On February 5, the lead investigator in the case, Viviana Fein, canceled her scheduled vacation and announced she had subpoenaed former Secretariat of Intelligence (SI) chief Antonio "Jaime" Stiuso, who the Casa Rosada maintains is the primary suspect in Nisman's death.
Nisman had publicly stated that Stiuso — head of the SI until December 2014 — helped him build up the case against the alleged perpetrators of the 1994 bombing of a Buenos Aires Jewish community center.
The subpoena comes after investigators found Stiuso's phone number among Nisman's last incoming and outgoing calls on his cell phone. According to the records, Stiuso phoned Nisman the day before the prosecutor was found dead, the call lasting approximately 12 minutes.
Stiuso, however, has not yet testified, and prosecutors have been unable to reach him at the address he provided. On Thursday, his lawyer said it was unlikely that his client would show up at Fein's office that day because he had not yet been notified of the subpoena.
On behalf of the Kirchner administration, Secretary General of the Presidency Aníbal Fernández expressed concern over the relationship between Nisman and Stiuso, while questioning Fein's move to call Stiuso as a witness instead of pressing charges.
"When you call someone as a witness, it later becomes awkward to shift to an investigation. This should have been given more thought," said the government spokesman.
On February 18, one month after the tragic affair, a "March of Silence" will be held in Buenos Aires.
"There are many things [Stiuso] needs to explain about his long, close relationship with Nisman, including what [Diego] Lagomarsino [Nisman's assistant] has to do with all this," added Fernández. "What was Lagomarsino doing with an expensive lawyer in his first press conference? There are many contradictions, like when he says the gun [a .22-caliber pistol Nisman borrowed that was found next to his body] was intended to stay in his car's glove compartment to protect his daughters, but his daughters were in Spain at the time."
Stiuso's lawyer, on the other hand, said he didn't know his client had called Nisman, adding he believed the prosecutor was "anything but a suicidal person."
Calls for Justice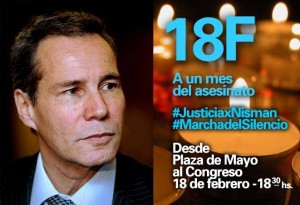 On February 18, one month after the tragic affair, a "March of Silence" will be held in Buenos Aires, prosecutor Guillermo Marijuán announced on Wednesday.
"We have lost a colleague, his death shook the entire country," said Marijuán, adding that "silence," or non-interference from the Executive, is needed so that those investigating the Nisman case can work in peace.
While the event is aimed at judicial employees, prosecutors, and politicians, all Argentineans are welcome to attend, and have been actively promoting the event on social media.
Kirchner Responds to Mia Farrow
A New York Times article that reported investigators found an unfiled arrest warrant for President Cristina Kirchner in Nisman's apartment was met with controversial reactions. On Twitter, Hollywood star Mia Farrow linked to the article and suggested Kircher ordered the prosecutor's death. Famed tennis pro Martina Navratilova echoed the sentiment, having previously stated on January 23 that the case "stinks."
The tweets have since been deleted, but it prompted Chief of Staff Jorge Capitanich on Thursday morning to announce the president herself would write them each a letter explaining the case.
As Secretary General of the Argentina Presidency I believe @MiaFarrow affirmation regarding our Prez is consequence of either misinformation

— Aníbal Fernández (@FernandezAnibal) February 5, 2015
"The Argentinean state and the president will send two letters to explain the status of this investigation," added the president's secretary general. Fernández also insinuated Farrow and Navratilova were victims of misinformation: "One can see the manipulation of the media with its one-way strategy to discredit the [Argentinean] government."
Translated by Daniel Duarte. Edited by Guillermo Jimenez.