EspañolThe Twitter account of satirical Facebook page Crudo Ecuador (@CrudoEcuador), known for its outspoken critiques of Ecuadorian President Rafael Correa, was suspended for several hours on the night of Wednesday, January 28, after having been the subject of a complaint that it had violated the rules of the social network.
The president previously mentioned the account in the latest installment of his Saturday television program Enlace Ciudadano (Citizen Link). The premier of the Andean country threatened to reveal the identity of the page administrator, as well as the identities of others who criticize his administration online.
"We're going to identify him to see if he's so full of jokes when the whole world knows who he is," said Correa.
For the president, the online critiques — many of them taking the form of memes — are part of a "campaign of systematic, sarcastic defamation," funded by opposition parties.
"La libertad de expresión es un derecho absoluto", sostienen.
Vaya disparate! Ni siquiera leen la Constitución, art. 11, num. 6.

— Rafael Correa (@MashiRafael) January 23, 2015

"'Freedom of expression is an absolute right,' they argue. Nonsense! They haven't even read the Constitution, article 11, number 6."
Shortly before midnight, the administrator published a note on the relevant Facebook account confirming the reestablishment of business as usual on the Crudo Ecuador Twitter page.
The anonymous administrator told local newspaper El Universo that the complaint about his account had been made by a user named @Ximahdigital, a digital communication agency that has previously received contracts from Correa's government. There is wide speculation that several employees of the agency are also administrators of the El Patriota account, tasked with promoting Correa's administration.
As of Thursday, January 29, Crudo Ecuador's Twitter account boasted 31,000 followers, and some 359,000 "likes" on its Facebook page.
"Correa wanting to reveal my identity not only violates my right to anonymity and the privacy of my personal details, but makes him responsible for anything that happens to me and my family," the administrator said in an interview.

The administrator also made reference to Correa's mention of the Crudo Ecuador account. "I don't believe that it's fitting for a president who should behave like a father to the fatherland, and not stoop to the level of fighting among his kids," he said.
He further detailed that he was "an ordinary citizen, with a job, with a family, with concerns," and that it was "uncomfortable" to have the entire weight of the state focused on him.
"I haven't created another Twitter account, nor have I created a Quitter account like they're saying… so just like when they suspended my Facebook page and suddenly the Correa-backed copy of Crudo Ecuador appeared, they're using the same tactic on Twitter. Those other accounts are fake. They're not mine," the administrator wrote on his Facebook page after the appearance of various pages with similar names.
David Focil, an active opponent of Correa on social networks, told the PanAm Post that the Correa government is weak, and its political program on the brink of failure.
"The majority of leaders and governments face thousands of jokes and tons of satire daily without even noticing it, but for Correa and his followers a few photos edited on Paint are a threat to the very state."
"Irony and humor can illuminate the absurd and hypocritical, so people take them very seriously, just as Correa has always feared them," Focil added.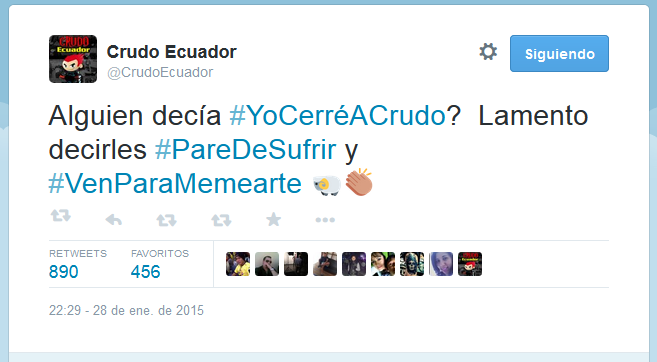 Smells Like Censorship
A lawyer based in Quito, who preferred to remain anonymous for fear of reprisal, told the PanAm Post that the Crudo Ecuador controversy emerged over a joke it made about a photo featuring Correa outside a Chanel perfume outlet in a shopping mall.
"Crudo Ecuador made a joke about it, because it seemed as though the self-proclaimed anti-capitalist Correa was going shopping in one of the biggest symbols of capitalism, a shopping mall with luxury shops."
The president has defended himself from the claim, saying that he wasn't shopping but only passing through to protect himself from the cold.
"The story has become incredible, because we're now in a situation in which the president of the republic is obsessed with persecuting and silencing anyone who says or does anything that, in his view, could damage his image, now even including memes," she added.
The lawyer reiterated that the account wasn't dedicated to making attacks on the government, but rather carried everyday material, "including, of course, politics in general."
"The contradictions of the government are now too evident and painful. The president stopped representing Ecuadorians a long time ago. Now he only speaks for his own resentment, insecurity, and vanity," she concluded.