EspañolBrazilian President Dilma Rousseff will meet with her cabinet on Tuesday, January 27, to discuss spending cuts as part of an austerity plan designed by the government's new economic team.
Each minister will present a detailed budget for their department, including a list of programs to be eliminated.
"I know, more than anyone, that Brazil needs to resume its growth. The first steps on this journey are to rearrange public finances, increase tax savings, encourage investment, and improve productivity," said Rousseff during her inauguration.
The president has not given any public speeches since taking office on January 1, and her last public appearance took place in Bolivia during Evo Morales's commencement festivities.
After Tuesday's meeting, Planning Minister Nelson Barbosa and Finance Minister Joaquím Levy will oversee the government's plan to reduce spending.
Brazil's Crisis
As a way of countering the country's economic slowdown, Rousseff ordered cuts to the administrative spending of 39 ministries and some secretariats amounting to one-third of their budget, according to the Official Journal of the Union. The order remains in effect until the Brazilian Congress approves the 2015 budget.
According to Brazil's Planning and Budget Ministry, the order will save R$1.9 billion (US$712 million) per month.
The government says the plan cuts into the travel budget for public officials, office supplies, and investments infrastructure, but does not reduce expenditures on pensions or other benefits. The Ministry of Education will maintain the government's largest adminstrative budget, totaling roughly R$7 billion per year (US$2.6 billion).
"This action is necessary to address the uncertainty regarding the evolution of the economy, our fiscal outlook, and the legislative timetable," read a statement from the Planning Ministry.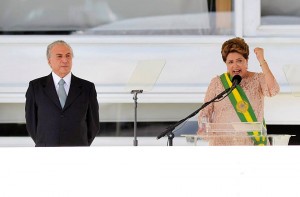 At the head of Brazil's austerity plan is the new Finance minister, Joaquim Levy. His goal is to achieve a budget surplus equal to 1.2 percent of the country's GDP (about US$25.6 billion).
The government has noted that its spending cuts will not apply to expenses listed in the Constitution, such as natural disaster relief, and hopes its plan will lead to increased investor confidence.
Currently, Rousseff's measures maintain some level of support, if not indifference, from the Brazilian people, according to local newspaper O Estado de S. Paulo.
On Monday, January 19, Levy stated the government will raise taxes on imports, credit, cosmetics, and fuel, anticipating a revenue increase of R$20 billion. On that same day, President Rousseff vetoed a reduction to the income tax that had been previously approved by Congress.
For his part, Senator José Serra of the Brazilian Social Democratic Party (PSDB), described Minister Levy's plan as "modest."
During a conference, Serra said he would have enacted a much broader plan and focused on all government spending, according to a report by Diario de Pernambuco on January 22.
While the legislator acknowledged it is not easy to make such adjustments during a recession, he argues there is always room to cut spending. According to Serra, a national debate on the issue of government spending in Brazil is sorely lacking. "I'm surprised, since not having a national debate about this in progress is more severe than having no clear course."
Translated by Rebeca Morla. Edited by Guillermo Jimenez.