The investigation into the death of Alberto Nisman continues to uncover fresh evidence, and thousands took to the streets across Argentina on the evening of Monday, January 19, to demand answers.
The Argentinean prosecutor, heading the investigation into the 1994 bombing of the AMIA Jewish community center in Buenos Aires, was found dead from a gunshot wound at his apartment late on Sunday. Some initial reports suggested that Nisman had committed suicide. But the latest results revealed by investigating judge Viviana Fein today were unable to confirm whether Nisman's body or clothing bore traces of gunpowder.
Viviana confirmed Tuesday morning that use of a scanning electron microscope to detect gunpowder had tested negative. "It wasn't an unexpected result," she said, in reference to the negligible amount of the substance found on Nisman's arms and hands during preliminary investigations.
"The examination suggests that he had a very small quantity on him. Smaller weapons usually don't result in the electron microscope giving a positive test. It doesn't rule out him shooting himself," she concluded.
Damning Evidence
Jorge Kirszenbaum, former president of the Delegation of Argentinean Israeli Associations (DAIA) told local media that he had met with the cousin of Nisman's mother on Monday, who was also present when Nisman's body was discovered. The relative informed him that the papers and documents that Nisman was due to present to the National Congress on Monday could be clearly seen on the desk.
"At the same time, she saw a note directed at his domestic employee, in which he'd written down a shopping list for her to follow on Monday," Kirszenbaum told radio Mitre.
According to Kirszenbaum, if the existence of these items of evidence were verified, it would demonstrate that Nisman "had no intention of committing suicide."
"She called my my attention to it fiercely; in no way did she think that it was suicide," he added.
Marches Across Argentina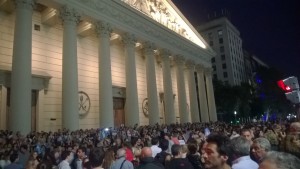 From 19:30 onwards, under the slogan todos somos Nisman ("We are all Nisman"), thousands of Argentineans occupied plazas and thoroughfares throughout the country to demand the truth about the death of the public prosecutor.
At its busiest moment, the demonstration in historic Plaza de Mayo of Buenos Aires drew in some 20,000 people. Applause intermingled with people singing the national anthem. Others aired their suspicions of the government of President Cristina Kirchner with cries of Cristina asesina ("Cristina murderer") and estamos en dictadura ("We're in a dictatorship").
Banners representing political parties were absent. Instead, all that could be seen were Argentinean flags, an array of home-made placards paying homage to the prosecutor, and women wearing veils in his memory. One prominent sign bore the legend "85+1," in reference to the 85 people killed in the 1994 terrorist attack, to whom some are adding Nisman, as an innocent casualty of an alleged cover-up lasting over 20 years.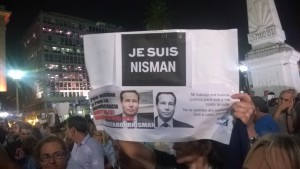 Héctor and María, a retired couple who preferred to withhold their second names, told the PanAm Post that they were present "for the Republic; because we're supposed to be a democracy, but they killed Nisman."
"We don't know anyone who doubts it. People nowadays don't believe anything they're told, least of all from the government," they said.
Claudia de la Rosa, who could be found at the demonstration banging on a kitchen pot, a mainstay of Argentinean protests in recent decades, said she was in "complete shock" at the news of Nisman's death.
As the night drew on, there were confrontations between young protesters and the uniformed police lined up behind barriers protecting the Casa Rosada, home to Argentina's executive. When protesters knocked down several barriers, police fired tear gas at the demonstrators.
Marches also took place in the principal cities of the country, including Rosario, Mendoza, Córdoba, and Tucumán.