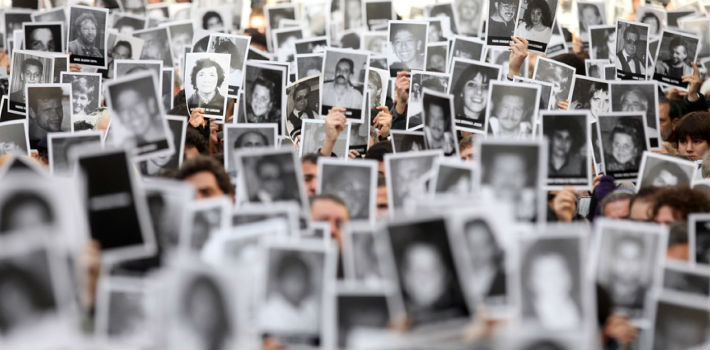 EspañolOn January 13, public prosecutor Alberto Nisman, in charge of the investigations into the 1994 terrorist attack against Argentina's Israelite Mutual Association (AMIA), officially accused President Cristina Kirchner and Foreign Minister Héctor Timerman of "negotiating impunity with and harboring those Iranian fugitives charged with blowing up the Jewish association."
Nisman's 300-page indictment links Kirchner to a "criminal move" and alleges she planted fake evidence "to fabricate Iran's innocence," whose government the Argentinean investigator believes was behind the attack, which left 85 dead at the Jewish community center. Nisman has highlighted evidence suggesting that Kirchner agreed to conceal key evidence in return for, and under the cover of, an advantageous crops-for-petroleum deal with Tehran.
The prosecutor demanded that federal judge Agustín Lijo — the same official who charged Vice President Amado Boudou with corruption in June 2014 — secure preliminary statement from the president and seize assets belonging to Kirchner worth AR$200 million (US$14.8 million).
On January 27, 2012, Iran and Argentina's foreign ministers signed a controversial memo in Addis Ababa, Ethiopia — subsequently ratified by the Argentinean Congress — that created a "Truth Commission" to keep the investigation open and interrogate Iranian suspects.
According to Nisman, the Argentinean government had secret dealings with their Iranian counterparts prior to the formal agreement. Cristina Kirchner allegedly ordered one of her ministers, Julio De Vido, to meet with intermediary Luis D'Elia, who would then convey to Iranian officials Argentina's interest in exchanging crops for cheap oil.
"(…) I have an urgent message from the Argentinean government that needs to be transmitted urgently today. I'm at the Government's Palace now. There's nothing more important than this, believe me," ruling-party activist Luis D'Elia supposedly told Mohsen Rabbani, former cultural attaché to the Iranian Embassy and one of the main suspects in AMIA's attack.
(…) "Luis D'Elia is a key intermediary between the two countries who frequently travels to Iran."
Nisman described the process in the document handed to the justice system: "The president's office wanted to talk with Tehran urgently through unofficial channels the day before the meeting of their foreign ministers. The message was not transmitted by the San Martín Palace to the Iranian Foreign Ministry. Héctor Timerman did not communicate with [Iranian Foreign Minister] Mohammad Javad Zarif Khonsari, even though both were in New York at the time. It couldn't be done that way."
"The message came out instead from Kirchner's presidential office to Luis D'Elia," the document continues.  "Then it went to Jorge "Yussuf" Khalil, the Iranian Business Affairs attaché in Buenos Aires, and from there to Tehran. Secret. Hidden. The unprecedented move is typical of a criminal plan."
The prosecutor argues that President Kirchner masterminded the "criminal impunity plan" because of her allegedly direct orders which "set up the necessary smoke screen to conceal the commission of a crime."
Official Dismissal
Jorge Capitanich, current chief of staff, said the false accusation stems from a partnership between the justice system, disgraced former operatives of the country's intelligence agency, and "actors with international interests against Argentina."
"The president has historically been a fierce advocate of clearing up this painful act," Capitanich said.
For his part, Interior Minister Florencio Randazzo asserted that "not even the most ill-disposed of people could think that the president made a pact of impunity to hide what happened with such a tragic case as the AMIA bombing."
Néstor Kirchner, the late president and husband of Cristina Kirchner, had appointed prosecutor Nisman and officially assumed responsibility for failing to prevent the attack and investigate it properly.
Painful Memories, Strategic Moves
The Buenos Aires Jewish center's website still pays homage to the victims.
"Eighty five dead. Over 300 wounded. A building that carried Argentina's Jewish history was destroyed. An open wound to this day, it was the most horrendous anti-Jewish act after World War II. It happened in Argentina, at 633 Pasteur Street, on July 18, 1994 at 9:53 p.m."
Humire Joseph, author of the book Iran's Strategic Incursion in Latin America, and director of the Center for a Secure and Free Society, told the PanAm Post that the bombing of AMIA is a clear example of Iranian infiltration in the region.
"There's always a hidden interest in Iran's actions. In every commercial deal in agriculture, transportation, media, Iran tries to insert their intelligence agents. They have done so historically in the region, and in some cases, they have infiltrated agents from Hezbollah and other terrorist groups," he said.
Coinciding with prosecutor Nisman, the researcher's publications point out that Argentina's weaknesses in energy, specially in oil exploration, provides a huge spur for diplomatic and commercial ties with Iran. According to Joseph, Luis D'Elia is a key intermediary between the two countries who frequently travels to Iran.
Humire warned that since 2004 Iran has maintained a PR campaign to enhance its international standing and support for its uranium enrichment program. Latin America, in particular countries belonging to the Bolivarian Alliance for the Americas (ALBA), such as Argentina, has been one of Iran's main targets, according to Humire.
Prosecutor Nisman will also inform Congress on his accusations on Monday, Janurary 19, having been summoned by the Chamber of Deputies' Criminal Law Committee.
Translation by Daniel Duarte. Elisa Vásquez contributed to this article.