EspañolHe defines himself a rebel without a cause. Juan Llanos is from Argentina, but he's lived in the United States for 13 years, becoming a specialist in the international regulation of sending and receiving money.
In 2014 alone, he's spoken to over 20 conferences about the latest developments in remittances. And, as was to be expected, he spoke at the latest Bitcoin Conference in Río de Janeiro on December 6-7.
"Bitcoin was born already regulated," he told the audience, handling a complex topic with humor. He says that he's continually surprised by projects like Bitnation, which uses coding technology "to construct a legal system, including an incorruptible institutional-juridical regime."
Llanos is well aware that regulation is an unpopular theme among the bitcoin community, who are generally reluctant for the state or the financial sector to influence the future of the digital currency, if not downright hostile towards outside interference. Bitcoin was born, after all, as an alternative to the world of excessive regulation. So we asked Llanos to clear some things up about this largely unknown area.
What was your first encounter with bitcoin?
I've worked in the United States for 13 years, in non-banking financial services. It's a huge area dedicated to money remittances and check conversions, among other things.
It was here that I began to work on two aspects that later converged in bitcoin. One was money remittances, and the other was controlling financial crime: preventing money laundering and the financing of terrorism.
The patterns of the financial industry are now being repeated in the world of bitcoin.
After 9/11, where the terrorists had used Western Union to carry out their objectives, they issued a law two months later which put heavy controls over these kinds of transactions.
I was developing a parallel career working on the issue of money laundering, and became an expert. It was here that I discovered that the patterns of the financial industry are now being repeated in the world of bitcoin.
One day, in 2011, I was researching for a conference about new payment methods and financial crime via electronic means, and I came across bitcoin. I investigated it from the point of view of risk, to see if it could be used as a means of money laundering.
Money laundering prevention is regulated by a supranational organization called the Financial Action Task Force (FATF) that establishes the controls that states have to adopt to regulate financial services. It was through them that I was offering my services to various countries.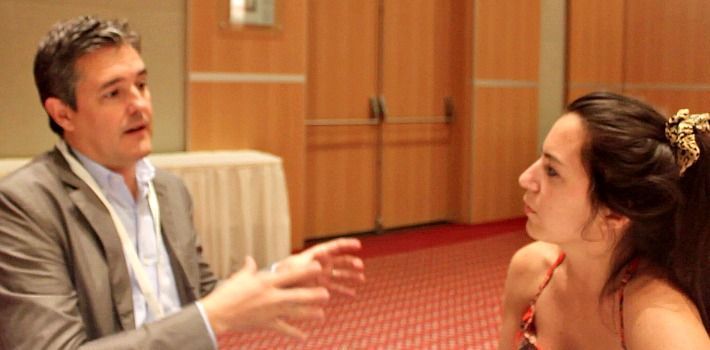 One of the principles of money laundering prevention is the that the transmission of currency, or currency equivalents, should be regulated against the risk of laundering. The majority of modern norms on transmitting money were created between 2002 and 2006. And when did bitcoin emerge? In 2009. These norms that regulate the transmission of currency are applied to bitcoin for being precisely this, a means of transmitting money.
I knew long before the bitcoin industry emerged that while everyone might be technology specialists and engineers, they didn't know anything about financial services. So I approached the New York [bitcoin] community and told them, "You're operating an illegal business. Be careful, because the law is going to turn up." And it did, during a meet-up in November and December [2012].
Later, on March 4, 2013, I met up with them again, and there happened to be some journalists there — because bitcoin was gathering steam then, becoming worth more, and people knew it had been used by the drugs market. I told them that bitcoin was already regulated, and that like any money-sending company it was subject to licenses and compliance programs (PayPal, Google Payments, Facebook Payments, Amazon Payments, Western Union, and others). I knew that they had to comply with the law that was already in force.
I told them that bitcoin was already regulated, and that like any money-sending company it was subject to licenses and compliance programs.
One week later, Finsen, the US regulatory body, came along and brought virtual currencies in line with the rules. So I was left looking like an "oracle" of sorts, and I began to earn the respect of the press and the bitcoin community. Also, at that time, I began to write about warning signs, judicial precedents and cases, and more, on my blog.
So what would you say to those who have a company, for example a currency exchange, who are effectively making currency transfers?
There's a difference between the United States and South America in that in the latter there aren't republics; they're only attempting to be democratic. By contrast, in the United States and Europe, more "civilized" countries, there's a republic. That's to say, there's a division of powers, the police are willing to enforce the law, and there are checks and balances on power.
There are also larger sanctions and incentives to do things the correct way. So, society is very organized. In the rest of the world, there's not so much police power, and there's a delay in adopting new technologies.
Even an Arab country like the United Arab Emirates, with a completely different culture, is waiting to see how the United States will come down on bitcoin regulation. So I'm asking myself, how can it be that in the Arab world they're looking to the United States? If they're waiting for the United States to decide on these issues, imagine what's going on in South America, where I believe there's often a delay, and a tendency to wait and see what "the leader" is saying.
What's the relationship between the new regulations and the rising value of bitcoin? 
In reality, there hasn't been any new regulation. What did happen was that preexisting regulation was more clearly applied to the new technology. The FATF's declaration in March 2013 said: "industry managers, administrators and virtual or real money changers in any direction, you are all remitters of money. So, therefore, the regulatory regime applies to you." But this regime already existed, and it was only a clarification that, from that date, it would also be applied to them.
The same thing happened with taxes. In March of this year, almost a month before the declaration of new taxes, the [US] government judged bitcoin to be property, and not money. That's to say, they're going to charge capital gains tax, as if its like holding shares. But again, this was a clarification, not a new regulation.
The first new regulation that's due to come out specifically regarding bitcoin is [New York-based] bitlicense.
What will be the impact of this new regulation?
Well, the business is already regulated. If they want to compel a bitcoin company to get a license for transmitting money, they can do it without any problem. There are some US states that are already handing out the same licenses that Western Union have. For example, CoinEx and Circle, which do bitcoin exchanges, have the same licenses as Facebook Payments, PayPal, etc.