EspañolOn Tuesday, the Venezuelan National Civil Aeronautical Institute (INAC) suspended ticket sales for Avianca, Aeroméxico, Tame, and Aerolíneas Argentinas at Venezuelan airports. However, the sanctions do not effect the international airlines' current operations in Venezuela.
According to information published on the INAC Twitter account, the airlines were sanctioned "for not posting their ticket prices, which are the general conditions of air transport," as well as not following the proper protocols concerning user information. The tweets have since been deleted.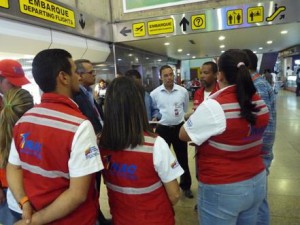 Argentine Airlines issued a statement rejecting the sanctions, point to the fact that the company "doesn't even sell tickets in the company's location in the airport."
"We want to make it clear that Argentine Airlines will continue with normal ticket sales through its Caracas branch and its regular channels."
In their own statement, Avianca also said it had not violated any INAC regulation: "Avianca has complied with all requirements set forth by the Venezuelan government. It should be noted that, to the best of the airline's knowledge, regulations require that the Venezuelan Aeronautical Authority be notified of airfares within the established time limits and with the tools provided by INAC. This was properly completed in a timely manner."
Suspension of Operations?
INAC inspects and investigates airlines "with the objective of evaluating good behavior and the provision of quality services for the benefit of the Venezuelan people."
"#Deberes las tarifas y el itinerario de vuelo de las aerolíneas deben ser aprobados por la Autoridad Aeronáutica @AcuaticoyAereo @PgoDiaz"

— #EsNoticia (@EsNoticia_Vzla) November 4, 2014
Airline prices and flight itineraries must be approved by the Aeronautical Authority.
Speaking on condition of anonymity, an INAC official told the the PanAm Post that none of the airlines' operations have been suspended. "According to INAC, these airlines sold more tickets than is allowed, causing many passengers to be stranded," said the official. The source also said the sanctions are related to the airlines overcharging customers.
An airline industry consultant with close ties to government sources, who also chose to remain anonymous, said that the airlines are required to post prices at ticket counters. "What happened with Argentine Airlines is that they don't sell tickets at the counter, so the sanctions do not affect them at all." He also said that passengers who already have tickets will not be affected.
Airlines without Tickets to Sell
The consultant said the sanctions will not affect sales since most airlines do not have tickets to sell, either because they offer so few seats, or because those seats have already been filled.
There are very few ways to travel internationally from Venezuela today. According to the consultant, the most common way to do so is through a travel agency. "On the internet there almost isn't anything," he said, "unless you have a foreign credit card, which is the same as if you were purchasing a ticket from another country."
But if a customer arrives at a travel agency with Venezuelan bolívares, he will be "lucky if there are any tickets available," he said. "Getting them is very difficult these days."
The consultant added that there are times when travelers can get tickets three months in advance of a flight. "Inside three months, 15 [flights] open up, then all of them are sold and they immediately close. [The airlines] don't sell anything outside that time period, because they don't know what is going to happen with ticket sales."
The airlines depend on the approval of the Venezuelan government to expatriate their earnings and to convert bolívares into other currencies. A report by El Universal revealed that, during the first four months of 2014, the government cut the authorization of foreign currency transactions by 78 percent, compared to the same period in 2012.
According to the International Air Transport Association, foreign currency allocations have now been delayed for two years in Venezuela, a deficit that is estimated at US$4.1 billion.
While the situation has disrupted ticket sales, caused a decrease in supply, and a rise in prices, the anonymous consultant said that INAC has imposed these types of sanctions before.
On Monday, INAC sanctioned domestic airlines Aeropostal, Aerotuy, Aserca Airlines, and the state-run Conviasa, temporarily suspending their ticket sales for the same reasons.
These airlines do, in fact, sell tickets at airport counters, meaning domestic travelers will be affected by the inability to purchase tickets at the country's main airport.
Elisa Vásquez contributed to this report.