EspañolOn Wednesday morning, Janet Hinostroza of Ecuador and Yoani Sánchez of Cuba led the charge for free speech in Latin America and around the world. They were guests at the sixth Oslo Freedom Forum (OFF) and shared their challenges and successes as peaceful advocates in the face of authoritarianism.
The "Defeating Dictators" conference took place on October 20-22 in Norway and brought together more than 30 distinct speakers from 13 countries.
On the second day, both Hinostroza and Sánchez detailed their relationships with government officials in their respective countries, and spoke to the difficulties of practicing journalism in an atmosphere of political intimidation and censorship.
Janet Hinostroza on the "Rise of an Elected Autocrat"
Hinostroza, a broadcast journalist recognized within Ecuador for her programs 30 Plus and The Morning of 24 Hours, discussed the media's vulnerability under socialist President Rafael Correa. In particular, she conveyed the level of fear by sharing the anonymous threats against her life. These came after her investigation into the involvement of former central-bank president Pedro Delgado in a corruption scandal.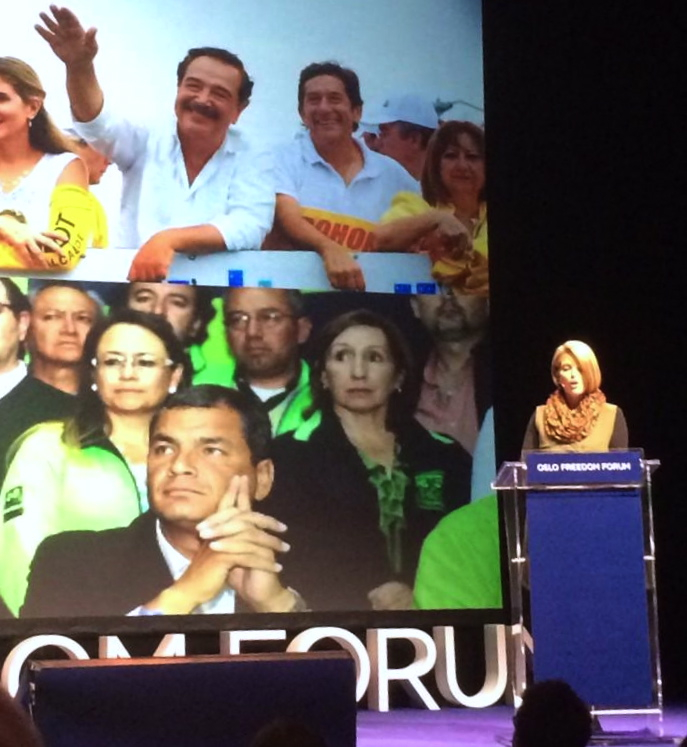 "Social protests have been criminalized in Ecuador, and people are afraid to speak out, despite their right to do so being granted by the constitution," said Hinostroza.
According to the journalist, Ecuador's recent oil-driven economic boom has enabled Correa to implement expansive social programs and projects: "But what have we lost in exchange for a few nice highways? We lost the ability to express ourselves freely."
She went on to explain that those who dare to speak out in Ecuador pay a high price for their audacity: "I was one of the journalists targeted by President Correa's slanderous Sabatina program, so much so that I lost my job."
President Correa has infamously employed a variety of methods in his effort to discredit the Ecuadorean media. A video presented at the forum showed the politician labeling journalists as "vultures, cynics, corrupt, shameless, and hungry dogs."
Hinostroza pointed out the great irony in the government's decision to defend Julian Assange and Edward Snowden, who fought for precisely the same civilian access to information that Ecuador so vehemently prohibits.
"If Julian Assange or Edward Snowden had done what they did in Ecuador, they wouldn't be champions of free expression. They would be two more members of what Correa calls 'the corrupt media.'"
Hinostroza's presentation was followed up by special guests Mikhail Khodorkovsky (an ex-political prisoner of Vladimir Putin), Hyeonseo Lee (a North Korean refugee), Shorna Shahida (an anti-child-marriage activist) and Fatou Jaw Manneh (a Gambian journalist and refugee living in the United States).
Janet Hinostroza's presentation begins at 1:44:30.
Yoani Sánchez Riding the Technology Revolution
Prominent Cuban blogger Yoani Sánchez began her presentation with a brief overview of Cuba, from the dawn of the Fidel Castro regime to present day: "In 2003, 75 opponents of the regime and a large number of independent journalists went to prison with lengthy sentences," she said, adding that "sharing information in Cuba is considered treason."
Sánchez also pointed out, however, that technology has recently helped to loosen Cuba's state monopoly on information, affording Cubans a valuable second opinion of the events transpiring on the island.
"A system that depends on silence is fragile when people begin to speak." @yoanisanchez @OsloFF #OsloFF pic.twitter.com/Xv75dEUnAe

— Gayle Karen Young (@MissGayle) October 22, 2014
Sánchez explained how the use of USB flash drives has emerged as a means to clandestinely circulate critical articles and censored news stories in response to the island's restricted internet connectivity and blocked websites.
She called the phenomenon a "small technological revolution" that allows access to the voices and images of repression that the official media won't publish: "We cater to the individuals who think differently from the government."
For Sánchez, these collaborative networks of information are successfully undermining the Cuban government: "A system that depends on silence is fragile when people begin to speak."
The Generation Y blogger and self-employed 14yMedio journalist concluded, "This revolution, unlike the one in '59, is not going to lead to dictatorship, but rather to democracy. It employs flash drives instead of weapons, and seeks to form citizens rather than solders."
Yoani Sánchez's presentation, in Spanish, begins at 24:40.
Translated by Peter Sacco. Edited by Fergus Hodgson.