EspañolDrug cartel members in the state of Tamaulipas, Mexico, kidnapped and murdered a female citizen journalist, posting images of her dead body on her own Twitter account, according to citizen news hub Valor por Tamaulipas.
María del Rosario Fuentes Rubio was a doctor who had taken to social media under the pseudonym "Felina" to report cartel violence in her area. Felina was an administrator for the Valor por Tamualipas Facebook page, and became well-known on Twitter under the handle @Miut3, using the popular hashtag #reynosafollow.
According to Rubio's family, "unidentified armed persons" kidnapped the doctor on Wednesday, October 15, just before noon. On Thursday, photos of Rubio — one while alive, looking into the camera, and another after having been shot dead — were uploaded to the @Miut3 Twitter account, along with messages warning others against similar activism. Twitter has since deactivated her account.
Although Mexican authorities have made no official statement of confirmation, the website Breitbart reports that law enforcement in Tamaulipas confirmed finding Rubio's body, but provided no further details.
The investigation is now in the hands of the State Anti-Kidnapping Unit, which is working to clarify the motive behind the disappearance and confirm the details of her death.
Social Network Intimidation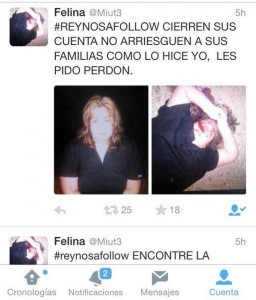 Valor por Tamaulipas is a Facebook page with more than half a million followers that provides a hub for citizens to anonymously report on the activity of drug cartels in the Mexican state bordering Texas.
"I'm so sorry, this damn situation is killing me. Yesterday morning, our friend Miut3 was kidnapped. Today, I see with horror that they have posted messages and photos on her account of an angel robbed of her life," the site administrator posted on Thursday.
According to the same Facebook page, Miut3 had been receiving death threats since October 7.
"The previous threat indicated that they were closing in on Miut3, and now following her death they are saying that they are 'closer than we think'. That is no coincidence," said the administrator
Furthermore, the site administrator commented that the late doctor had revealed her identity to people that she did not fully know, meaning the criminals likely knew her identity prior to committing the murder.
"It had been indicated [to Rubio] that they were people linked to untrustworthy authorities and criminals, but these warnings were not taken seriously. Earlier this year, she was forced offline in response to situations where her identity had been exposed in isolated publications, but she didn't think that was cause for greater risk," wrote Valor por Tamaulipas.
The administrator, who remains anonymous for security reasons, explained that she had been warned to take extra precautions to protect herself.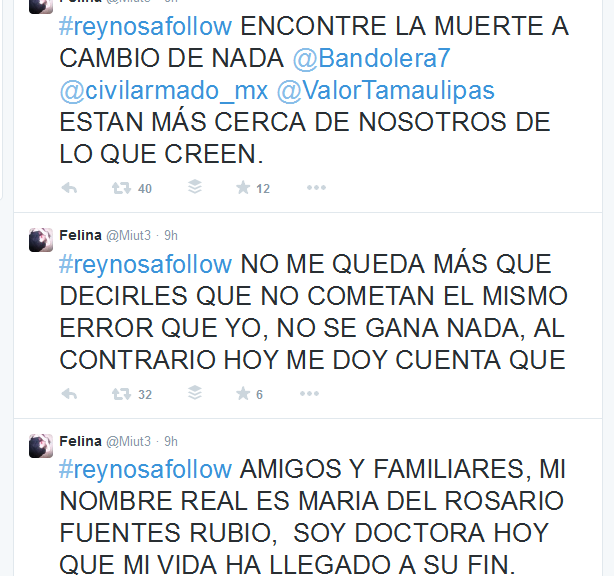 "I'm so afraid that I cannot take it anymore. I'm terrified of the pressure on me right now, terrified to keep losing citizens of my state that are innocent and vulnerable, both people that I known and don't know," the administrator of Valor por Tamaulipas said in February 2013, during an interview with SinEmbargo magazine.
Drug cartels in Tamaulipas have previously offered a reward of MEX$600,000 (US$44,380) to anyone who reveals the identities of the Valor por Tamaulipas Facebook administrators.
Violence against Mexican Journalists
Rubio's murder is one in a long series of attacks against journalists, bloggers, and social media activists in Mexico who report on cartels and state corruption.
In March, the Inter American Press Association denounced the kidnapping and assassination of journalist Gregorio Jiménez de la Cruz. Police discovered his body in a clandestine grave in the state of Veracruz on February 11.
On September 30, gunmen attacked the home of journalist Margarito Juárez González in the state of Zacatecas. More recently, on October 5, four armed men kidnapped Miguel Enrique Ortega, a journalist who was attempting to cover the March for Peace in Chignautla. Unlike many others, Oretga was released, and has since asked Mexican authorities to provide security for him and his family.
In 2011, members of the drug cartel Los Zetas in Nuevo Laredo, Tamaulipas brutally murdered the editor in chief of the newspaper Primera Hora, Maria Elizabeth Macías.
Macias contributed to the website Nuevo Laredo en Vivo, a site which allowed users to anonymously report on drug gang activity in the city. Police found Macias's body hogtied, decapitated, disemboweled, and hung from a bridge in Nuevo Laredo. Her murder was followed by at least four other bloggers and social media users, whose bodies were similarly displayed publicly attached to warnings against reporting on the cartels.
Mexico is considered one of the most dangerous places in the world for journalists. According to the Reporters Without Borders 2014 World Press Freedom Index, Mexico ranks 152 out of 180 countries in terms of press freedom and journalist safety. In Latin America, only Cuba is ranked lower than Mexico.
Guillermo Jimenez contributed to this report.