EspañolFreedom of the press in Latin America faces serious challenges, according to the Inter American Press Association (IAPA). The organization presented a report at their 2014 General Assembly in Santiago, Chile, highlighting issues dealing with media censorship, self-censorship, attacks on journalists, and the discretionary use of official advertising.
The IAPA, a nonprofit organization devoted to defending freedom of speech in the Americas, is currently holding their 70th General Assembly, and discussing issues having to do with press freedom, media management, and how to generate new audiences.
Their report on Latin America shows that Venezuela, Argentina, Ecuador, El Salvador, and Cuba are where journalists are currently the most restricted, although hostile environments are also experienced in Peru, Colombia, and Nicaragua.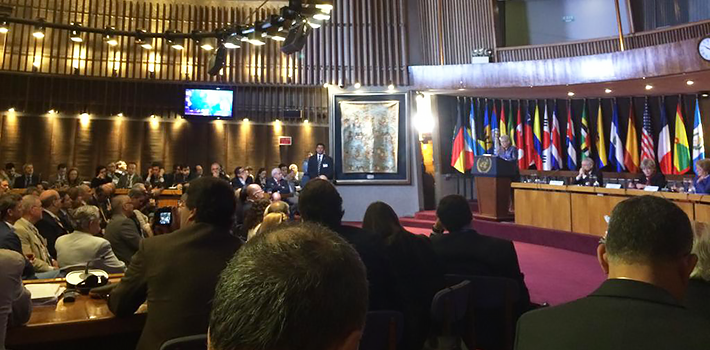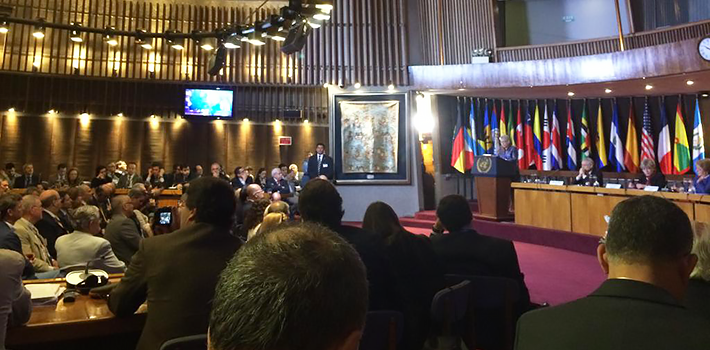 Argentina's Attacks on Journalists
The Miami-based organization reports that the climate for journalists in Argentina "continues to be adverse." They contend there has been "no end to official and semi-official attacks" on those who criticize the Cristina Kirchner administration.
According to the IAPA's report, Argentina lacks access to public information and the government continues to stigmatize and intimidate journalists who ask tough questions.
"The President continues to avoid, with certain exceptions and in restrictive ways, having open press conferences. In a video conference, held in conjunction with his Russian counterpart, Vladimir Putin, she declared that it is necessary 'to have direct access to information without intermediaries who want to show things differently.'"
Venezuela's Response to Protests
The IAPA study also documents the actions of the Venezuelan government in threatening, arresting, and even torturing journalists, as well as young student activists who have protested against the Nicolás Maduro regime in the last few months.
"Press workers have had their equipment confiscated, their work restricted or impeded, while others had their photos deleted by police officers or members of the military, or in their defect by so-called "peoples collectives," armed civil groups ideologically identified with the government."
The IAPA also notes the serious problem the country faces with regard to its print media, faced with a shortage of paper and other essential supplies.
"More than 30 print media are suffering the newsprint shortage and at least 12 have temporarily or permanently ceased circulating. The newspaper Tal Cual announced that it will cease publishing on October 22, due to lack of newsprint and suffering all kinds of harassments [sic], including judicial ones."
The report quotes Marco Ruiz, the secretary of the National Press Workers Union (SNTP), who questions the Venezuelan government's creation of the Alfredo Maneiro Editorial Corporation, the agency in charge of processing newsprint imports and then reselling them at the government's discretion. Ruiz says this centralization effort constitutes "institutionalizing government control of the press."
Ramon Rey of CEDICE said the media's coverage of the student-led protest "showed the censorship machine operating in Venezuela." He notes that the Venezuelan government disallowed international media coverage, expelling, for example, CNN en Español and NTN24, while national media outlets went silent after the National Telecommunications Commission (CONATEL) threatened them with sanctions.
Ecuador Shuts Down Newspapers
In Ecuador, the IAPA report highlights the "significant reduction of investigative journalism among independent media" and increased levels of self-censorship. Jaime Mantilla, former director of the newspaper Hoy, says the outlet was forced to close down as a result of the boycott and political persecution it was subjected to.
President Rafael Correa has made it clear that his government considers the press a public service, and must be run by the government. To this end, Correa has created two different entities: the Council for Information and Communication Regulation and Development (Cordicom) and the Superintendence of Information and Communication (Supercom).
According to the IAPA report, together the agencies employ roughly 300 people to track and control the county's newspapers, radio stations, and television networks to ensure compliance with the law. The report also points out that engaging in journalism without a professional degree may be considered a "crime against public faith," and is punishable by up to 30 days in prison.
Tensions Rise in El Salvador
The challenges with press freedom in El Salvador are primarily centered around the government's arbitrary allocation of frequencies for TV stations, the harassment and physical aggression toward journalists, and censorship.
"Two weeks ago a new case of censorship was recorded. The General Directorate of the National Civil Police (PNC) drafted a handbook on how to handle information, where it restricts media access to public security issues," states the IAPA's report.
Ricardo Avelar of CREO, an organization that defends freedom of speech and individual rights, explained that it is important for the people of El Salvador to defend freedom "even if it is not as threatened" as it is in neighboring countries.
"If we hope to reach that situation, it will be impossible to fight for our individual freedom, as the government will have blocked our space for dissent and expression," said Avelar.
Cuba, Authoritarian as Always
According to the IAPA, the media situation on the island of Cuba has not improved. Government intimidation and acts of vandalism toward independent journalists on the island are the order of the day.
The Cuban Human Rights and National Reconciliation Commission reports a total of 905 political detentions in Cuba in April, 1,120 in May, 963 in June, 652 in July, and 632 last August.
Internet access is also very limited in Cuba, even though the Castro regime announced in June it would begin to offer limited public access points. The IAPA notes, however, that internet access for the average Cuban remains "almost impossible."
Ernesto Oliva Torres, an activist living in Santiago de Cuba, told the PanAm Post that internet connection speeds on the island are extremely slow. Cell phone and internet use are monitored, and only those who receive money from outside Cuba are able to pay for the connection.
"The regime uses its most cruel physical methods and the law in its favor, against all those who oppose it," says Torres.