EspañolAs the political and economic crisis deepens in Venezuela, a new state commission's sole reason for being is the defense and perpetuation of Chavismo. On Tuesday, October 14, Adán Chávez, Barinas governor and older brother of the former president, officially launched the Hugo Chávez Institute for Advanced Studies with a press conference at the National Archives in Caracas.
The institute, chaired by Adán Chavez and implemented almost two years after Chávez's death, will promote the Bolivarian Revolution, which the socialist leader began in 1999. Current president Nicolás Maduro got the ball rolling in 2013, to "preserve the image of the commander," but the institution's first activity was organized and presented this week.
"We need to properly arrange the tributes paid to commander Hugo Chávez and submit a plan … not in a haphazard manner," Maduro said in July 2013. Those who want Chavista monuments "will need to consult with the committee and wait for them to issue the authorization."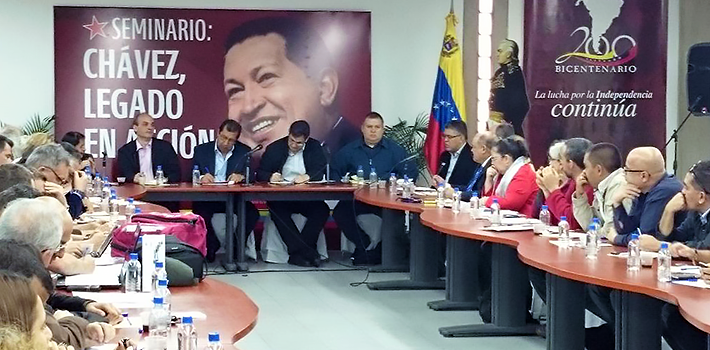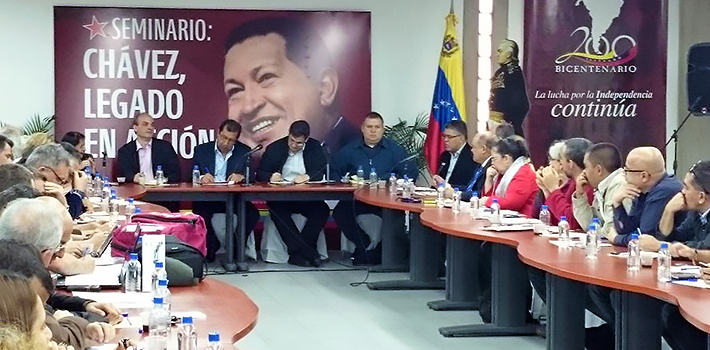 "We will be initiating a series of documentaries, a film forum related to the legacy of Chávez. With these films we will be working in different places at least once a week. Likewise, we will be launching books at least once a month," Adán Chávez explained.
He added that the institute will focus on disseminating materials to two audiences: academic and popular.
The founding of this institution complements the Maduro regime's multiple efforts to expand the spirit of Chávez's socialist revolution. That includes Cuba-like billboards and murals of his face and quotes, along with celebratory clips on state-owned media.
The governor noted that he had received requests from different countries — including Argentina, Cuba, Nicaragua, Russia, and China — to lead the study of Chávez in their schools and universities.
Vice President for Planning and Knowledge Ricardo Menéndez also presented at the event and said that "pedagogy is a very important matter. On account of his pedagogy, Chávez went on to become the grand master of the entire society."
In particular, Menéndez asserted that Chávez revolutionized the concept of democracy: "[His] profound concept of democracy told us that socialism is democracy, and there is no way to democracy without socialism."
With the same methodology and objectives, Rosa Virginia Chávez, elder daughter of Hugo Chávez and spouse of Vice-President Jorge Arreaza, is leading a new private foundation: Eternal Commander Hugo Chávez Frias. National Radio of Venezuela has affirmed that this NGO will work together in a coordination capacity with the Hugo Chávez Institute for Advanced Studies.
https://www.youtube.com/watch?v=TbcflWP4TVs
Politicization of Education
Ramón Rey, an economist and researcher with Cedice Libertad's Legislative Observatory of Economic Freedom, highlights that the institute operates on the taxpayer dime.
Rey says that the regime has created this institute in spite of the fact that one of the most important public universities in the country, the Central University of Venezuela (UCV), has received 48 percent less funding than necessary for its operations.
"Both are public institutions, but the ideological differences evidence the agenda of the ruling class."
Rey says that the hegemonic Chavista vision, as shown by the regime's funding priorities, comes at the expense of the quality of Venezuela's education.
Edited by Fergus Hodgson.