EspañolWith just over two weeks before the next presidential election in Bolivia, indigenous communities gathered on Monday to protest the Supreme Electoral Tribunal (TSE). The groups demand that at least 11 municipalities within the country be allowed to participate in the next election based on their own traditions and customs, without the intervention of the state's political parties.
The National Coordinator of Native Indigenous Campesino Autonomies (CONOAIOC), an organization that represents indigenous communities in Bolivia, said the request is part of a transition to an original, indigenous system of "community democracy" — one of three forms of democracy recognized by the Bolivian Constitution.
CONOAIOC President Florentina Medina Calisaya is asking the TSE to grant 11 municipalities "real autonomy" in the next election. "It must be done according to the Electoral Regime Law," said Medina.
Indigenous groups want to be able to choose their elected officials using their own procedures, which are more spontaneous and do not conform to written rules. In 2009, these same communities expressed their desire for indigenous autonomy, as outlined in Article 2 of the Constitution of the State of Bolivia.
"Given the precolonial existence of nations and indigenous communities, and their ancestral dominion over their territories, it guarantees them the right to self-determination within the framework of the state, which consists of their right to autonomy, self-government, culture, recognition of their institutions, and the consolidation of their territorial entities, in accordance with this Constitution and the law," reads the Article.
Medina argues that the TSE should recognize other forms of political participation that does not include political parties, such as election by acclamation.
https://www.youtube.com/watch?v=s0DPysHrpTY
"We knew how to hold elections in the past, and we practiced community democracy, and that's how we want to vote. In 2009, we ceased being municipalities in those 11 municipalities, and now we want to choose our indigenous, autonomous government without the participation of political parties," she said.
The 11 municipalities that elected to become autonomous in 2009, and are now petitioning the TSE, include Tarabuco, Huacaya, Mojocoya, Charazani, Jesús de Machaca, Pampa Aullagas, San Pedro de Totora, Chipaya y Salinas de Garci Mendoza, Chayanta de Potosí, and Charagua de Santa Cruz.
On September 18, Medina presented Minister of Autonomies Claudia Peña a petition, signed and sealed by the indigenous residents of the municipalities, to advance their request for autonomy.
"We wanted to let our minister know, so she could move this forward and obey the Constitution of the State. The 11 municipalities that are in the process of this conversion support the process, and demand the full consolidation of our autonomy," said Medina.
In response, Minister Peña endorsed the proposal as part of the Bolivarian government's support for indigenous communities.
"The national government is committed as always to supporting these democratic processes of the autonomous indigenous communities in our country," said the minister.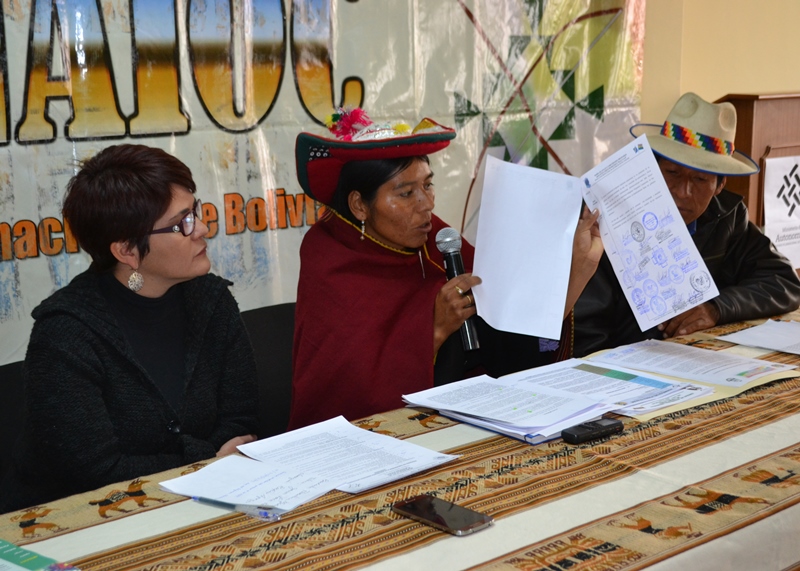 Vote Morales or Be Whipped
Luis Gallego, deputy for the ruling Movement Toward Socialism party (MAS), threatened to whip any member of the Potosí community who does not vote for Evo Morales in the next election on October 12.
He added that he would also punish anyone who "cross voted," meaning voting for Morales for president but choosing a candidate of an opposing party for Parliament.
According to EFE, Gallego clarified his comments by saying this was not a personal decision, rather a community punishment according to their "practices and customs."
"I cannot deny it; I've whipped a few people in the past. But it has always been this way in the community. It was a sort of punishment given to those who commit a fault or an error. It's like a sanction for community members," said the legislator.
The Trade Union Confederation of Campesino Workers of Bolivia (CSUTCB) banned crossover voting earlier this year on August 26.
"It was a decision based in community democracy. Decisions are made organically. You find this in the communities: communal, collective decisions. Our leaders only enforce it," said Damián Condori, a union member who defends the group's position.
Elections and the Indigenous
On October 22, President Evo Morales will seek his third consecutive term in office, competing against former President Jorge Quiroga (2001-2002), businessman Samuel Doria Medina, former mayor of La Paz Juan del Granado, and indigenous leader Fernando Vargas.
"Evo Marales have been very adept at positioning himself internationally as an advocate for indigenous communities. In reality, it has only empowered certain corporate groups connected to his political party," said the Bolivian economist Javier Paz in an interview with the PanAm Post.
"For those indigenous groups that have disagreed with Evo, he has taken away resources and autonomy. They have been persecuted, harassed, and beaten by police."
Regarding the election, Paz says the state has abused its power and resources to favor the campaigns of the ruling MAS party.
"The country is inundated with Evo Morales billboards paid for with public funds. The same goes with television advertising. Several ministries have budgets in the millions, supposedly being used to inform the public about the administration's good deeds. In reality, however, this is spending going to the campaign," said Paz.
"At the same time, the Supreme Electoral Tribunal prohibits opposition parties from doing radio and television ad spots up to 30 days before the election. There is no doubt that the TSE is biased toward the ruling party."