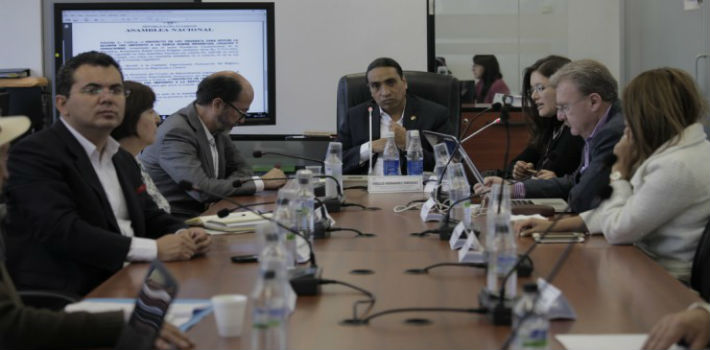 EspañolEcuadorian President Rafael Correa wants his administration to design a tax exclusively for junk food. The revenue generated from the tax will go toward funding anti-obesity programs.
Correa, president since 2007, said Ecuadorians' poor eating habits are causing an increase in public expenditures.
The announcement came on August 30, one day after Ecuador hosted the International Conference on Food Labeling and Fiscal Policies on Healthy Food and Obesity Prevention organized by the Organization of Pan-American Health (OPS), the World Health Organization (WHO), and UNICEF.
"We are moving beyond the problems of poverty — because the country is making a lot progress — to problems of opulence. Now the problem is not a lack of food, but bad food," Correa said. "The pathological profile of Ecuadorians has changed. Deaths are now being caused by diseases like diabetes, heart and cardiovascular problems, bad nutrition, excess fat…"
According to figures from the Ministry of Health, between 1986 and 2012, the number of overweight Ecuadorians increased by 104 percent, affecting 63 percent of adults and one-third of school-aged children.
Despite the large numbers, Correa said the tax will not be levied on local restaurants, targeting only international fast-food chains like Burger King and McDonald's: "We are not talking about Guayllabamba (a small community north of Quito) where things are prepared by hand. We are talking about these big chains where meat is put in pans filled with oil that is used over and over again that are a threat to public health, especially when we have such delicious food in Ecuador."
The president hopes that the new measure will produce a substitution effect, encouraging Ecuadorians to choose healthier food, produced in Ecuador, "like ceviche."
"The best that can be done is to create appropriate polices that provide reasonable protection of national production and promotion of our products," said the president.
He further justified the new policy by adding that a tax is "not just designed to create revenue; it is also designed to change societal behavior, so that people consume what is desirable for society."
Government to Assess "Feasibility"
Following the announcement, the Internal Revenue Service (SRI) released a statement saying the new tax could be included within the country's Special Consumption Tax (ICE).
"The Tax Administration will report any modification or addition to this tax, which is not a fund raising effort; rather, it seeks to discourage the consumption of harmful products, which can cause deadly disease," stated the agency.
The Special Consumption Tax applies to both domestic and international goods and services that the government considers harmful to public health, such as firearms, video games, tobacco products, and carbonated beverages, among others.
The tax agency made clear that it has yet to take a "definitive position" on this new tax, but would develop technical reports to "determine its feasibility."
Not the First First of Its Kind
In October 2013, the Mexican Senate approved a special tax on Services and Production, establishing an 8 percent tax on all food containing 275 calories or more per 100 grams.
Products affected by the tax include ice cream, chocolate, candy, custard, and other food with a high sugar content.
Tax revenue in Mexico increased 45.6 percent in the first seven months of 2014 after the approval of the junk-food tax, according to El Economista, based on figures from the Ministry of Finance and Public Credit (SHCP).
Other Latin-American countries, including Bolivia, Brazil, and Chile, have discussed the possibility of a junk-food tax. In Peru, Uruguay, and Costa Rica, this type of food has been prohibited in public schools since 2012.
In 2011, the government of Denmark attempted to implement a similar measure, but was forced to repeal the tax the following year due to unintended consequences in the economy.
Tax on Choice?
Paula Lanata, coordinator for the international organization Students for Liberty in Ecuador, sarcastically expressed her condemnation of the new tax.
If this tax is the solution, the activist explained, "the global fight against poor nutrition would be very easy, and we would surely have a bunch of vegetables and trucks full of unsalted foods on every corner. If advertising regulation was the solution, we would have a world without smokers."
"It is naive to think that only the big chains use oil over and over again, and that consumers don't know it. Taxes are, and will continue to be, an effective method of limiting the freedom of citizens, as if they are not able to decide for themselves."