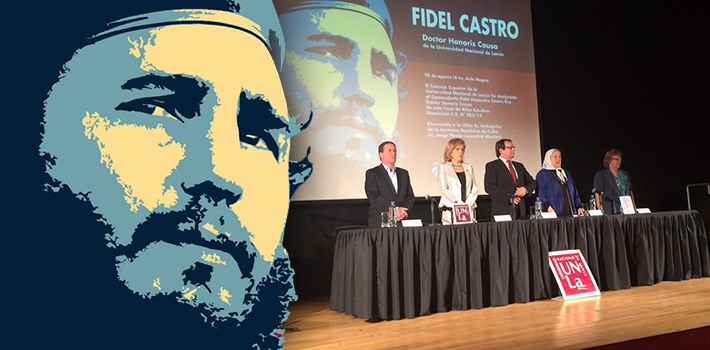 EspañolOn Wednesday, August 20, the National University of Lanús in Argentina  awarded former Cuban ruler Fidel Castro (1959-2008) an honorary doctorate, a first for him in this country.
The ceremony was held in the bicentennial auditorium and led by the dean of the university, Ana Jaramillo. Cuban ambassador Jorge Nestor Lamadrid Mascaró received the award on Castro's behalf.
An honoris causa doctorate is an award granted by higher learning institutions to prominent people in a given field or in society in general.
The dean justified the honorary distinction paid to the former revolutionary guerrilla member citing, "among other reasons, his pro-Latin America, unifying, humanitarian work." Jaramillo added that "great works are done collectively, with passion and love for equality."
"Teaching is not only done through books. You can also teach through example, and Fidel Castro did precisely that. He taught, and continues to teach, through his revolutionary example, his solidarity, the fairness of his ideas, his uncompromising struggle, and the conviction that a better world is possible."
Ayer Lanús y la UNLa homenajearon a Fidel Castro con los títulos de Personalidad Ilustre y Doctor Honoris Causa pic.twitter.com/5F4FwT4OLY

— karina nazabal (@knazabal) August 21, 2014
Yesterday Lanús and UNLa honored Fidel Castro with the titles of Distinguished Personality and Doctor Honoris Causa.
The dean of the university then said Castro has taught the public to fight for a better world and to "strive for Latin-American integration, which is necessary for decolonization, as well as the value of heroism, perseverance, and resistance."
This same institution has previously awarded honoris causa distinctions to other "great regional leaders," such as Bolivian President Evo Morales, Venezuelan President Nicolás Maduro, former Venezuelan President Hugo Chávez, the late Argentinean President Néstor Kirchner, former Brazilian President Luiz Inácio "Lula" da Silva, Uruguayan President José "Pepe" Mujica, and Nicaraguan President Daniel Ortega.
In attendance during Castro's ceremony was Hebe de Bonafini, head of Mothers of Plaza de Mayo, an Argentinean organization founded during the last military dictatorship with the goal of recovering those "disappeared" during the country's dirty war. Daniel Chuburu, head of the Latin America and Caribbean Section of the Chancellery, and Delmira de Cao, chair of the Commission for the Families of Fallen Falkland Island Soldiers, were also present for the event.
De Cao took the opportunity to publicly thank Fidel Castro for his support in the sovereignty dispute regarding the Falkland Islands. The Kirchnerista mayor of Lanús, Darío Díaz Pérez, then presented Castro with the title of "Distinguished Citizen."
"Today, I can proudly say that Fidel was the one who taught our children to be revolutionaries," said Bonafini.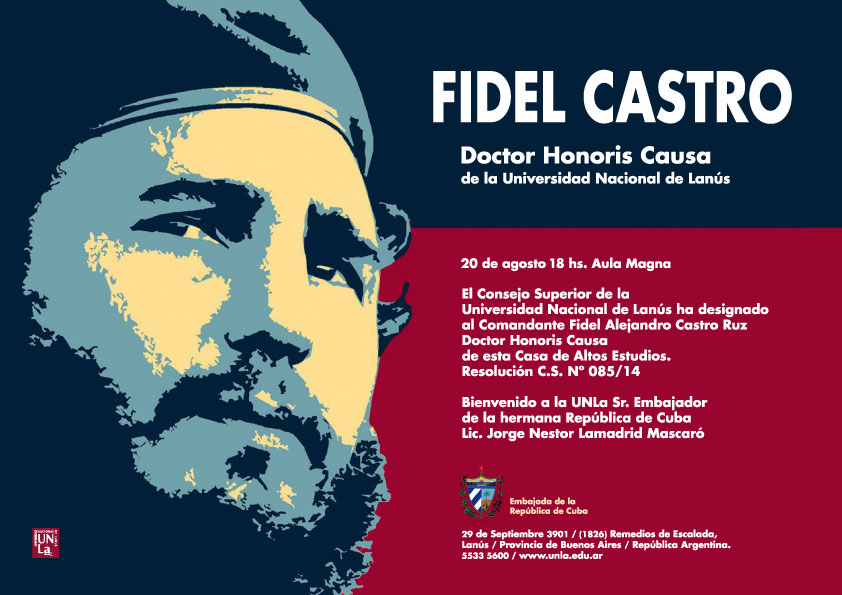 The Reformer
The university explained its rationale for granting Castro such a high honor in a formal resolution: "In the wake of the Revolution's victory in 1959 (which deposed the dictator Fulgencio Batista), a series of reforms were launched to ensure the welfare of impoverished people, such as agrarian reform, urban reform, literacy campaigns, and major changes that paved the way for the majority to access education, health, employment, housing, and all social rights, as Castro outlined in his plea."
The University of Lanús further explained that Cuba has suffered over 55 years of blockades "and conspiracies of all kinds that seriously affect the country's economy." The resolution goes on to say that, despite these problems, the island holds the 59th place out of 187 countries measured in the 2013 Human Development Report published by the United Nations.
According to this index, Cuba has a high level of human development, a life expectancy rate of  77.9 years, a maternal mortality rate of 21 per 100,000 inhabitants, and an infant mortality of 4.2 per 1,000 births.
The university highlights the fact that Cuba spends 54 percent of its annual budget in health and education, which they consider a "huge advancement."
Lastly, the school emphasized the image of Fidel as a leader for social justice "not only through the Cuban Revolution specifically, but also in the liberation ideology of youth and adults in Latin American and around the world."
Distinguished Dictator
Michel Ibarra, an exiled Cuban in Argentina, condemned the university's actions in awarding Castro an honorary doctorate.
"What are we to think? An important university in a democratic country, where the recovery of democracy has been adopted as one of the main political causes, now gives an honorary degree to the dictator of a 'brother country.' It is a complete lack of respect for the Cuban people and for democracy."
Ibarra also questioned the reasons behind the award. "I believe there is an ideological motivation, which raises more concerns. It would mean the academic leadership, at least in Lanús, has been taken by intellectually dishonest people with double standards, who are willing to support a dictatorship as long as it appears to line up with their own ideology."
Karel Becerra, Foreign Relations secretary for Independent and Democratic Cuba (CID), also publicly condemned the award and noted Castro's support for the dictatorship in Argentina.