EspañolThe Heritage Foundation has a new metric to assess the relationship between key economic and social indicators and liberty, opportunity, and success for families and individuals in the United States: the 2014 Index of Culture and Opportunity.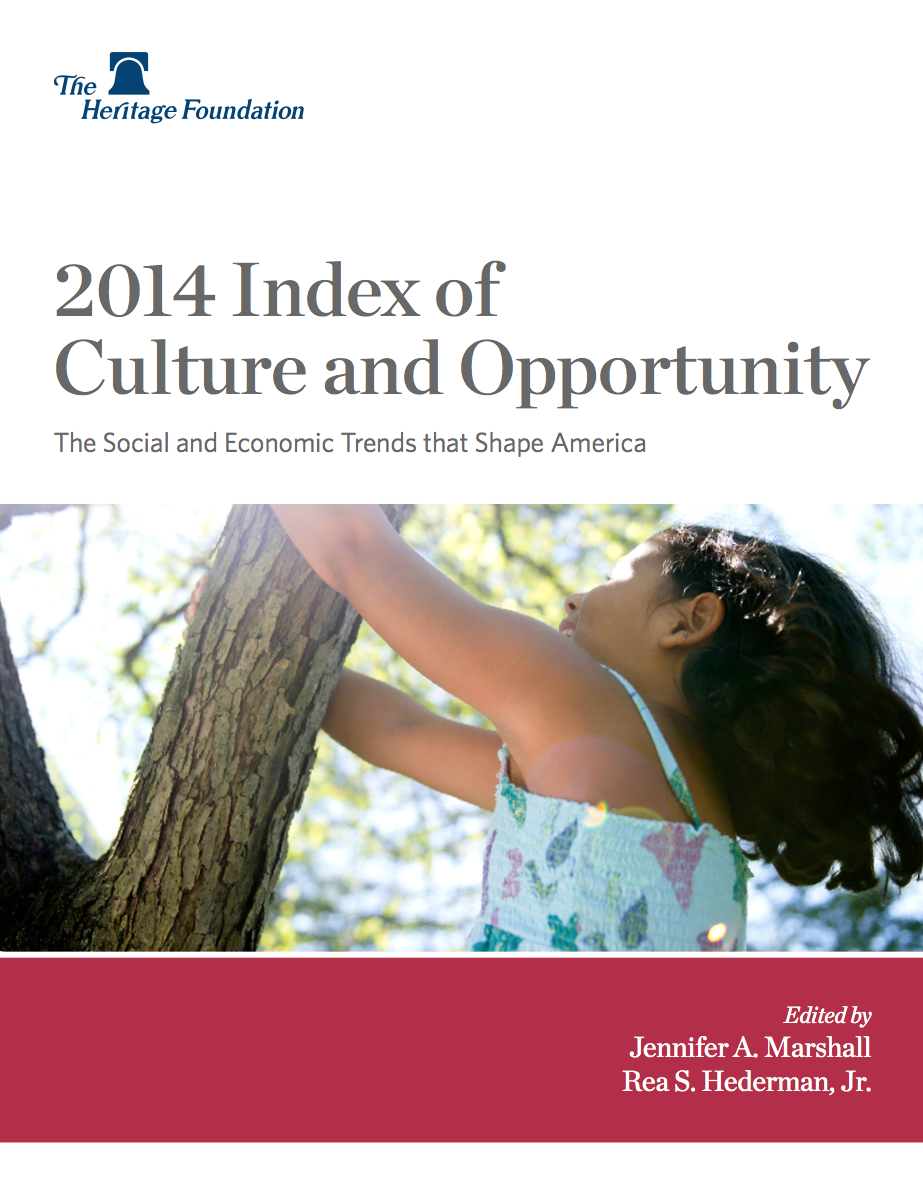 The 99-page study, released on Wednesday, includes charts and analysis of 31 indicators. In particular, the authors assess how these indicators have changed over time.
"This Index presents an at-a-glance view of cultural trends in America such as marriage rate, religious participation, and community involvement," writes Heritage President Jim DeMint in the index's preface, "alongside data regarding poverty, dependence, workforce participation, and educational and employment opportunities."
Among the key findings, the index reveals that the number of abortion cases has dropped — 2011 being the year with the lowest abortion rate since 1973. The homicide rate also fell by 21.7 percent between 2001 and 2012, and in the same 10-year period, the children-per-woman average declined to 1.88. On the other hand, the use of drugs among teenagers increased by 14 percent from 2003 to 2013.
Jennifer Marshall, one of the editors, together with Rea Hederman Jr., explained in an interview that this index seeks to bring together both social and economic indicators, which is unconventional for policy institutes. She also asserted that Heritage brought together the nation's leading experts for the project.
The index includes three indicator categories: culture (family, religion, and civil society), poverty and dependence (marriage and labor force participation, among others), and opportunity (education, work, wealth, and economic freedom).
"The indicators in this index help identify the obstacles that prevent opportunity, with the purpose of providing citizens and policymakers with data to develop cultural initiatives and political solutions that will address these obstacles," explains the document.
https://twitter.com/MarshallJenA/status/491927451208261632
"This longer time horizon gives readers a feel for what has been happening regardless of who is President, which party controls Congress, or the state of the economy at any particular time. While examining changes from one year to the next can be helpful, annual data may not always be the most reliable tool for determining overall movement in the right or wrong direction. This is particularly true with data that are affected by the business cycle, such as labor market indicators and data on poverty. It is also true for cultural trends that typically change quite gradually," the authors explain.
What Does the Index Show?
Among the relevant findings, in terms of poverty and dependence, the index points out that the combined cost of federal and state welfare spending increased by US$246 billion between 2003 and 2013. However, the percentage of individuals living under the official poverty line increased by 2.9 percentage points.
The share of welfare recipients engaged in employment declined by 5 percentage points from 2000 to 2010, and as Robert Doar of the American Enterprise Institute points out, it has not risen above 30 percent since 2006. "Restoring the original purpose of welfare reform," he says, "requires reinvigorating the work participation rate".
In terms of opportunity, the index points out that the percentage of 17-year-olds proficient in reading has remained flat, despite persistent spending increases for government education.
Charter school enrollment and private school-choice participation have made impressive progress over the past 10 years, each rising by more than 200 percent across the country. As Virginia Walden Ford explains, "More than 300,000 children are attending private schools of their choosing thanks to options like vouchers, tuition tax credit programs, and education savings accounts".
However, there is no good news for entrepreneurs, the Heritage scholars assert. From 2001 to 2011, the percentage of US Americans working at startup companies dropped 0.4 percentage points. As Tim Kane observes, "unfortunately, bureaucratic regulations are growing at the same time start-ups are declining".