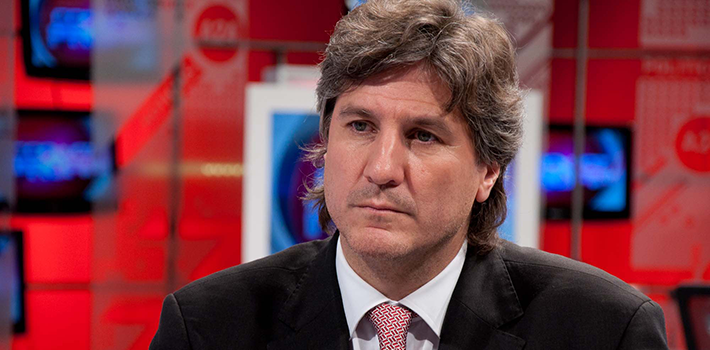 EspañolAmado Boudou has become the first acting vice president in Argentina's history to be formally charged with corruption. The vice president was summoned by Federal Judge Ariel Lijo to provide a preliminary statement on July 15, but Boudou has asked the court to take his statement on this so-called "Ciccone case" on an earlier date, claiming he has been the victim of a "media lynching."
Boudou is being investigated for embezzlement — his personal assets tripling in the last six years — and involvement in businesses that are incompatible with public office.
https://twitter.com/BoudouAmado/status/472435120100884480

I won't appeal anything to avoid the questioning, quite the contrary. I am confident I will be able to prove my innocence.
Lijo believes Boudou attempted to make use of his political position to allow the The Old Fund, a company owned by Alejandro Vandenbroel, to gain control of Ciccone, a bankrupt printing company. According to the judge, Vandenbroel is an acquaintance of Boudou and his business partner, Jose María Nuñez Carmona. The ultimate goal of this scheme, according to Lijo, was for the company to begin printing paper currency and electoral ballots through a state grant.
In documents presented to the court, Boudou accuses media conglomerate Grupo Clarín and the newspaper La Nación of allegedly setting up a media campaign to defame him.
"At this stage of the evolution of the process, it cannot be overlooked that this investigation has had profuse media attention. It is also no longer possible to deny the existence of a true media lynching and conviction, to which I have been subjected by Grupo Clarín and La Nación. Moreover, in recent months, and particularly since December 2013, said media have been anticipating with high precision and copious detail the actions or resolutions that the court has been executing," he said.
In the letter, Boudou also explained that he requested an earlier court date because President Cristina Kirchner will be traveling on the day the judge has asked for, and he will effectively be acting as president while Kirchner is away. He also claimed that the timing of the date for his testimony — two days after the end of the World Cup — is politically motivated, as it makes room for a "climate of media incitement."
The case against Boudou is a maze of political contacts, telephone calls, and suspicious financial dealings. Nicolás Ciccone, one of the founders of the Ciccone printing company, and his son, Guillermo Reinwick, wanted to rescue it from bankruptcy. With this in mind, they met with the vice president and his business partner Carmona.
The judge claims the evidence shows that on July 29, 2010, and then later on September 1, 2010, the vice president and Carmona met with the owners of Ciccone to reach an agreement that The Old Fund, which had only one employee at the time, would bailout the struggling printing company.
The Old Fund, which belonged to Vandenbroele, bought Ciccone and ceded a 70 percent interest to Boudou and his business partner in exchange for solving their bankruptcy problems.
Boudou, then minister of the economy and candidate for vice president, pleaded with Argentina's federal tax agency, the Federal Administration of Public Revenue (AFIP), with whom Ciccone had a large fiscal debt that led to its bankruptcy, in order to obtain a favorable payment plan. In this way, the company was able to come out of bankruptcy, and by November 2011, it was in business printing electoral ballots for the Front for Victory, the ruling party to which Bodou belongs.
On April 6, 2012, Ciccone then printed 410 million pesos thanks to a contract with the National Mint.
Impeachment, Punishment a Distant Possibility
According to Law 25,320, enacted in 2000, certain government officials such as the president, vice president, members of the Senate, and ministers have immunity privileges that prevent them from being removed from office without prior impeachment.
Therefore, Boudou can be investigated by Judge Lijo, and even prosecuted and convicted, but he cannot be arrested. The immunity blocks the possibility of issuing a search warrant on any of his several homes or other properties. The judge must first have Boudou relieved of his official duties and removed from office.
Ricardo Rojas, an Argentinean lawyer, explained to the PanAm Post that, "He has immunity against an arrest, and that creates a conflict between the judicial and executive branches in this case. The judge should ask Congress to initiate a process to suspend his immunity in order to be able to move forward."
But Mario Serrafero, a professor of institutional analysis in several Argentinean universities and a researcher at the National Council for Scientific and Technical Research (CONICET), has assured that the government can protect Boudou's immunity through the parliamentary majority of the ruling party.
"The vice president can be judicially processed, which would create an institutional crisis. He could also not attend the court's hearings, and in that case, because of his immunity, Congress should start the impeachment proceedings. But the ruling party has enough votes to block a request for impeachment. So, Boudou could remain in office, protected by the majority of lawmakers who belong to the ruling party. Still, the political costs for the government in that scenario would be very high," said the professor.