EspañolBrazilians celebrated International Workers Day yesterday, with shows by famous artists, raffles, and several political figures who sought to connect with progressive interest groups throughout the country.
Politicians like Aécio Neves, senator and president of the Brazilian Social Democracy Party (PSDB), and Eduardo Campos, of the Brazilian Socialist Party (PSB), made appearances in São Paulo, the hub for Brazil's labor unions and their campaigns. Both Neves and Campos intend to position themselves as candidates in the next presidential election on October 5.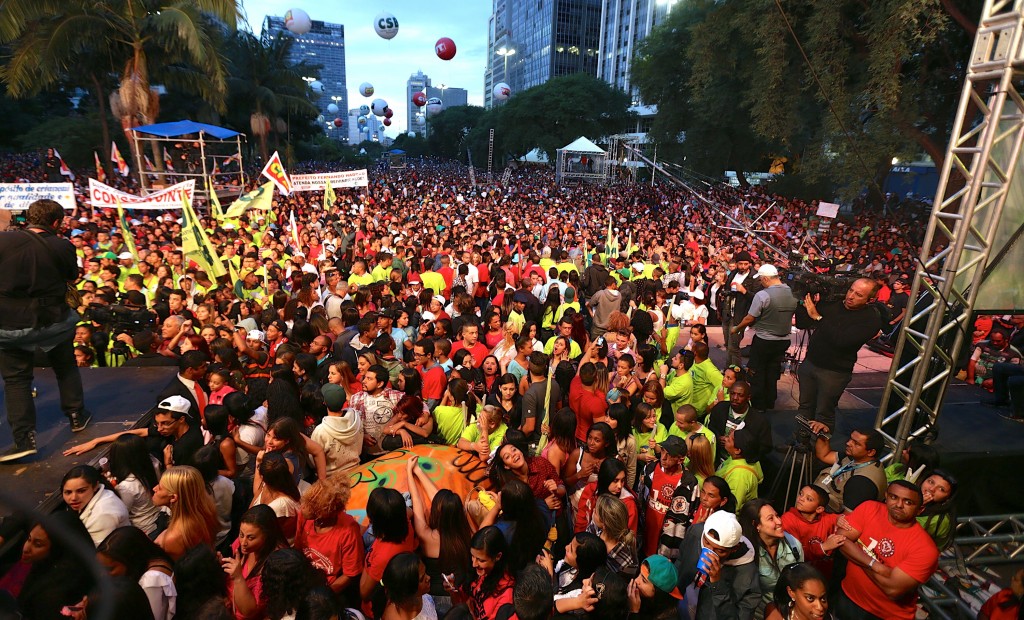 Brazil's union leaders — including Miguel Torres, president of Força Sindical, a trade union with more than 2.1 million members — took up the banner of minimum wage increases. They demanded that it rise in proportion to the nation's economic growth and be pegged to inflation. They also called for a reduction to working hours, while holding wages constant, and the end of the welfare factor, a system in place to calculate pensions that unions claim is too restrictive and raises the retirement age.
These demands came forth within the context of looming threats from the Federal Police union, that they will strike throughout the duration of the soccer World Cup if they do not receive an increase in salary. The World Cup is scheduled to begin on June 14, and Brazil expects to host over 600,000 tourists from around the world during the tournament.
According to political analyst Antonio Augusto de Queiroz of the Inter-Union Parliamentary Advisory Department (a lobbying conglomerate), the proposal that workers are most likely to have approved by Congress is their request to end the welfare factor, created in 1999 by former President Fernando Henrique Cardoso.
On the eve of International Workers Day celebrations and campaigning, President Dilma Rousseff officially announced her bid for reelection. She did so through a national address — mandated on all local radio and TV channels — that targeted employment concerns.
"We are winning the hardest and most important fight: the fight for jobs and wages," she said. "I have no doubt that this is a country that can win the fight for jobs and wages in the difficult days ahead that confront the international economy."
"Our government will never take a tight grip on salaries, or an iron first toward our workers. Our government will always protect labor rights and continue dialogue with unions and social movements, and find ways to improve the lives of those who live by the sweat of their brow," said the president.
Rouseff, whose popularity has suffered a dip in the polls over corruption allegations, claimed that worker wages have risen by 70 percent more than inflation. She also intends to continue with measures that raise the minimum wage, claiming it has been an effective tool for reducing economic inequalities.
Dilma: Nosso governo será sempre o governo dos direitos e das conquistas trabalhistas, um governo que dialoga com os sindicatos (…)

— Planalto (@planalto) April 30, 2014
Dilma: "Our government will always celebrate the rights and achievements of workers. A government that talks with the unions."
Senator Neves responded to Rouseff's announcement by saying her "statement shows the desperation of a government beset by continuous allegations of corruption and a president who has been weakened by a boycott of her own base."
Neves added that he considers it "unfortunate" that the president would use the instruments of government, like state-owned national television, for her own political campaign.
In neighboring Uruguay, discourse surrounding International Workers Day also focused on ways to implement redistributive policies. On Thursday morning, the PIT-CNT workers union called its members to Chicago Martyrs Square in Montevideo, under the banner of "more conquests to move forward."
According to local newspaper El País, the goal of the gathering was to promote a macroeconomic policy designed to transform the country's productive sector for greater social justice and equality.
Unions in Uruguay aim to reduce the "enormous inequality generated by the capitalist mode of production and distribution."
In addition to their demands for greater income redistribution, they are also asking for a tax increase on agriculture and an increase in the education budget from 4.7 percent to 6 percent of GDP.
One of the most important measures proposed focuses on the national health care system and calls for the implementation of a strategic plan called "Movement in Defense of Health for Uruguayans." The plan seeks to reduce health care costs and wait times through increased participation from unions in the system's management.