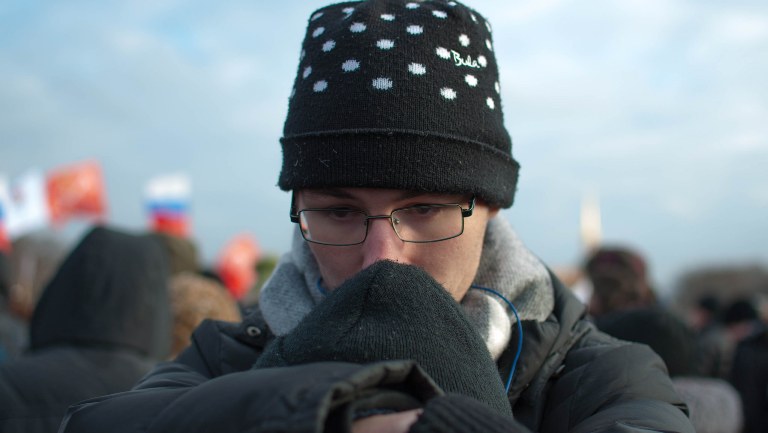 EspañolOn February 27, I received news that at first seemed impossible, like some kind of bad joke: Borís Nemtsov, a prominent Russian politician, whom I have always admired for his bravery and tireless fight against authoritarianism in Russia and the paranoid former KGB spy in power, Vladimir Putin, was killed in Moscow.
On Tuesday, March 3, thousands of people attended Nemtsov's funeral in the Russian capital. Putin and his puppet, Prime Minister Dmitry Medvedev, did not attend, nor did they allow several European politicians into the country to pay their respects to Nemtsov, including President of the Polish Senate Bogdan Borusewicz, and Sandra Kalniete, a Latvian member of the European Parliament.
To better understand the significance of Nemtsov's death, we must bear in mind that Russia is a country tormented by authoritarianism, riddled with corruption, mercantilism, and both mental and economic slavery. Recent events are also important for context, such as the war Russia sparked in Ukraine, the killings and arrests of those dissatisfied with the madness called "Putin's policy," and Nemtsov's own work towards individual freedom and against corruption.
The murder took place two days before the so-called March for Peace, convened by Nemtsov and other opposition politicians, which was intended to show the world that there still are Russian citizens who do not support Putin's barbarity in eastern Ukraine, nor the Kremlin's cruel policies within their own country.
Furthermore, it would show (as it did last Sunday, in a farewell demonstration for Nemtsov) that "84 percent of Russians support Putin" is a vile lie of the Kremlin.
Boris Nemtsov believed until his last breath that Russia is capable of escaping the historic slump in which it remains. He was one of the most significant and influential opposition politicians, as cofounder and co-chairman of the Republican Party of Russia-People's Freedom Party.
From 1991 to 1997, Nemtsov served as governor of the Nizhny Nóvgorod region, the third most important city in Russia. He went on to serve as deputy prime minister in the government of Boris Yeltsin from 1997 to 1998, and then a deputy of the State Duma (lower house of parliament), where he showed his strong opposition to the authoritarian Putin.
Given the current state of Russian politics, we can safely say Nemtsov's murder will never be solved.
A few hours before the murder, Nemtsov gave an interview to Radio Echo of Moscow — one of the few relatively free stations in Russia — and reaffirmed the fact that he feared for his life.
Moreover, according to Andrius Kubilius, former prime minister of Lithuania, Nemtsov had been pondering the idea of emigrating from Russia for several years, but postponed this decision because he felt the need to keep working within the country.
Despite the fact that the assassination surprised and saddened many, the truth is it was not entirely unexpected. Nemtsov had received anonymous threats for several years: first due to his stance against the war in Georgia that the Kremlin started in 2008; then against the impressive wave of corruption that accompanied the preparations for the Olympic Games in Sochi; and, lately, for his strong opposition to Putin and his minions' lies on Russian terrorism in Ukraine.
In fact, Nemtsov co-authored with Vladimir Milov, another major opposition politician, several well-documented and well-argued reports on these recent political events that stripped away Putin's illusions.
In 2008, Nemtsov released his first two white papers on the Russian president, Putin: A Summary and Putin and Gazprom. He followed those with Putin and the Crisis and Sochi and the Olympics in 2009, Ten Years of Putin in 2010, and Putin: Corruption in 2011.
All of Nemtsov's reports were published through private donations and distributed for free. All of them have become required reading for those who seek to understand the decay of Russian power.
Recently, the final report was announced, titled Putin: The War in Ukraine. Nemtsov and his allies managed to gather irrefutable evidence of the Russian army's presence in Eastern Ukraine — an obvious fact that Putin continues to deny. The evidence should be enough for the United Nations to recognize Russia as an aggressor state in the Ukrainian war, and hopefully, evidence enough for a future trial against Putin.
Given the current state of Russian politics, we can safely say Nemtsov's murder will never be solved. At best, Russian authorities may present some scapegoat to take the fall, but we are not likely to ever know the truth behind Nemtsov's death.
But it is obvious to those of us who know Russia, the president and his clique's atrocities, that the only person who is directly guilty of this crime is Putin, regardless of the motive behind the murder.
Translated by Rebeca Morla. Edited by Guillermo Jimenez.