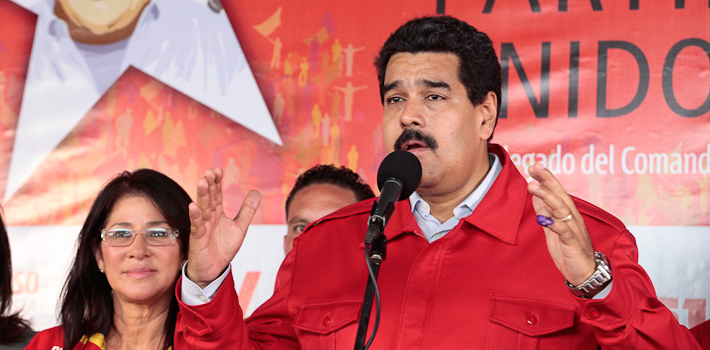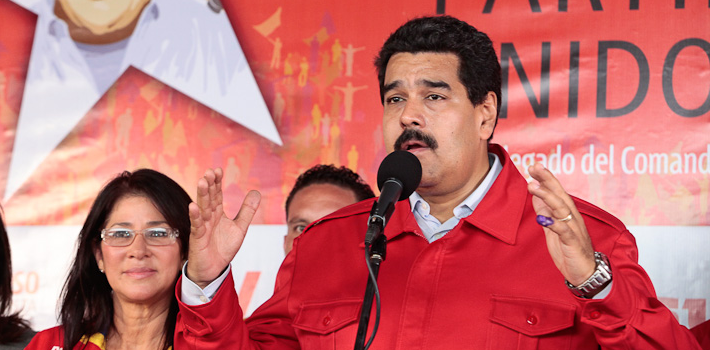 EspañolOn Friday, Venezuelan President Nicolás Maduro announced that he will give the famous comunas preferential dollar access to import consumer goods and technology. Maduro clarified that the reported 737 comunas — Marxist community-living organizations — will have currency-exchange access at the Sicad I rate, just over 10 bolívares per US dollar.
It was only a matter of hours, though, before the Venezuelan opposition spoke out against Maduro's latest policy.
Project Venezuela Congressman Carlos Berrizbeitia, called the new measures "irresponsible" and "demagogic." The country is suffering from a profound economic crisis, he says, and these types of policies will only lead to the waste of more resources.
Maduro defended the comunas' currency access, in exchange for bolívares, saying that preferential dollars should be "in the hands of the people, as they belong to Venezuelans, and they have the right to participate in the country's development."
In Venezuela, a state-run price-control system has existed for many years, leaving in the hands of the government a monopoly on currency exchange. A dollar will cost you 6.3 Bs. if you are a government entity, or if you can persuade the currency administrators (Cencoex, formerly Cadivi) that you intend to import vital goods such as food or medicine.
Then there's the Sicad I rate and the new Sicad II process, which opened at a whopping 50 Bs. per dollar. In addition, there is a fourth exchange rate in effect: the black market. However, that will cost you around 80 Bs. per dollar, which has elevated inflation to sky-high levels.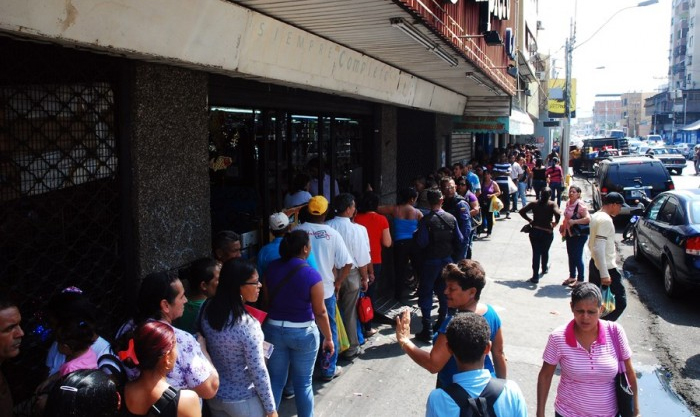 This reality has been impossible to hide, as the price controls have backfired and exacerbated the nation's inflation and shortages.
Economist Alejandro Guerrero says Maduro "can offer dollars, but in reality, it won't work because there are no resources. It is pure demagoguery, to pretend there is money where there isn't. There is no food, no medicines; people must stand in line for hours to purchase anything."
What about Corruption?
"If with an established, supposedly protected structure, that used to be Cadivi under former Minister Jorge Giordani, more than $20 million was stolen, we don't even want to know what will happen with the comunas that have no previous control or experience with currency exchanges," said Berrizbeitia.
Giordani was the longtime architect of the government's rigid system of price caps and currency controls that have tightly restricted access to dollars, since the measures were implemented in 2003. This system, however, has impeded foreign investment and private sector purchases, and distorted the economy.
We spoke with William Requejo, who has been living in Catia, Venezuela, for years and works as director of the Neighbors Association for Citizen Participation. "This is painful to watch," he says, "because it will only increase corruption."
"Comunas were never meant to handle money. Social work has nothing to do with preferential dollars.… So far, 92 percent of the comunas haven't been held accountable. If 100 Bs. goes to the comunas, how do we know whether originally they were actually supposed to be given 1,000 Bs.? What happened to the rest of the money?" he explains.
When asked whether the government follows through with and records the projects they propose for the comunas, he said "if the government's projects are not carried out at the national level, imagine at the local level."
"How much money has the government said they invested in health, and education? We see pictures and banners of the president inaugurating new hospitals and schools," but Requejo claims it is all for propaganda purposes.
Kiomara Escovino, president of the Neighbors Association in Prados del Este, agrees: "this is used as a 'hook' of money to convince people to join the comunas and to justify the government's actions."
Comunas, promoted by the late President Chávez since 2006, are the foundation of his "21st Century" socialist revolution. President Maduro has commissioned Alejandro Fleming, president of the Foreign Commercial Center (Concoex), to meet with the comunas' council today to discuss their participation.