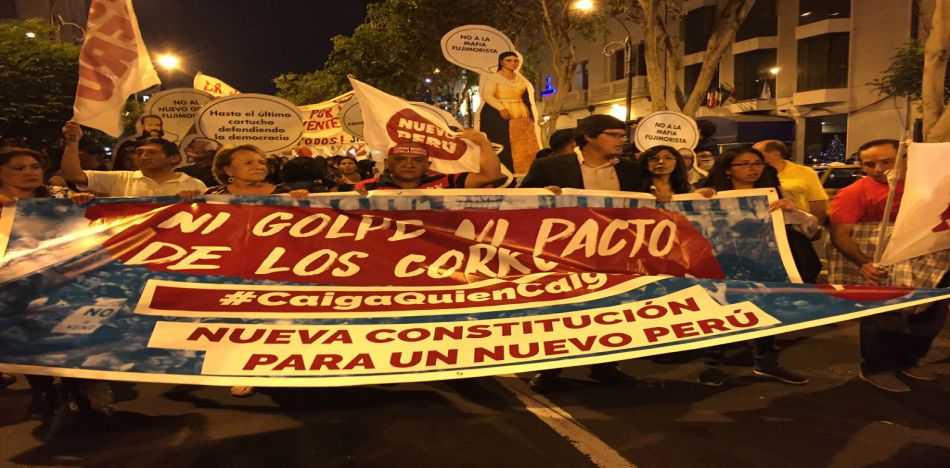 Español Peru faces one of the tensest political situations in recent years. President Pedro Pablo Kuczynski was facing possible impeachment that had the country polarized, and now it's polarized over the recent pardon of former President Alberto Fujimori.
According to various politicians on the opposition, President Kuczynski withheld information about his relationship with the Brazilian construction company, Odebrecht. As a result, Congress has the option of removing him due to "moral failures."
Though the opposition — made up mostly of supporters of Fujimorismo — did have enough votes to impeach, they ultimately opted not to. Nine congressmen, including Kenji Fujimori, the son of former President Alberto Fujimori, abstained from voting.
Kuczynski reportedly struck a deal with Fujimori's supporters in exchange for a humanitarian pardon of Alberto Fujimori, who had been charged with crimes against humanity. Despite Alberto Fujimori's heath concerns, Kuczynski had said during the presidential campaign that he would not pardon the former President.
News of the pardon led to turmoil throughout the country, with Fujimori's supporters celebrating his pardon and many Kuczynski supporters taking to the streets to express their unhappiness.
The PanAm Post spoke to Ian Vásquez, Director of the Center for Freedom and Global Prosperity of the Cato Institute to better understand the implications of Peru's most recent events.
Fujimori and the Peruvian economic miracle
Alberto Fujimori came to power in Peru during a time of political and economic catastrophe. The guerrillas, in particular Sendero Luminoso and the Túpac Amaru Revolutionary Movement, committed cruel acts of terrorism. In turn, the nationalist economic policies of the dictator Velasco Alvarado and the government under Alan García pushed a lot of Peruvians into poverty. By 1989, cumulative inflation in Peru had reached 2,000,000 percent.
Faced with this catastrophic scenario, Peruvians elected an engineer named Alberto Fujimori, who had sold himself as a technocrat outside the sphere of the country's political elite. Due to his image as an outsider, Fujimori not only defeated the left and the country's political elite, but also liberal writer Mario Vargas Llosa.
As President, Fujimori implemented an ambitious economic plan for Peru: the fujishock — a package of measures that allowed Fujimori and his ministers to fight inflation, control the fiscal deficit, control public spending and open up the country's economy.
Authoritarianism and corruption under the Fujimori regime
In terms of security, the Fujimori regime fought hard against guerrilla groups, and the Peruvian people began to live without fear of terrorism. However, the Fujimori regime deeply damaged democratic institutions and reduced reduced people's human rights. As soon as he took office, Fujimori sought to concentrate his power and persecute his opposition.
In 1992, Fujimori dissolved the Peruvian Congress and illegally restructured the judicial branch.
In order to maintain power, the Fujimori regime took to heavy censorship and persecuted members of the opposition. The anti-terrorist laws allowed some Peruvian authorities to persecute innocent civilians and even commit massacres.
Why was Fujimori convicted?
Despite the authoritarianism of Fujimori and his allies, the regime fell due to its blatant corruption and authoritarianism. Since the fall of their leader in 2000, the Fujimori movement has made important progress in Congress but has not won the presidency.
Fujimori fled to Japan, where he failed to become a member of Japanese Parliament. The Peruvian Justice Department did everything possible to extradite Fujimori, succeeding in 2007 in having him brought to Peru from Chile.
In 2009, Fujimori was found guilty and sentenced to 25 years in prison for his participation in the massacres in "Barrios Altos" and "La Cantuta" (during which nine died). The justice system also found Fujimori guilty of kidnapping journalist Gustavo Gorriti and businessman Samuel Dyer Ampudia.
While in prison, Fujimori was diagnosed with throat cancer. His family and supporters urged for a pardon. Fujimori would remain in jail until the pardon decreed by Kuczynski this year.
Why did Congress want to impeach Kuczynski?
President Kuczynski was Minister of Economy and President of Alejandro Toledo's Council of Ministers. Toledo has been tainted by the Odebrecht scandal, and Kuczynski denied any connection to Odebrecht.
Despite Kuczynski's statements, Maurício Cruz, a representative from Odebrecht, confirmed that the Peruvian President met with Odebrecht. Between 2004 and 2007, Westfield Capital, a company owned by Kuczynski, allegedly received contracts for US $782 thousand.
When this information became public, the Peruvian opposition began the impeachment process. According to the opposition, Kuczynski lied to the country, and was therefore "morally unfit" to continue ruling the country. In this situation, the country's Congress had to vote on whether Kuczynski should be removed from power or not.
Kuczynski's weakness 
Though Fujimori and his followers haven't had a President in power since the fall of Alberto Fujimori, they are still a political force, and their party has broad support among Peruvian voters.
In 2016, Keiko Fujimori ran against Pedro Pablo Kuczynski, losing in the second round.
Pedro Pablo Kuczynski was the fourth president elected in Peru after the fall of Fujimori, and it's highly unlikely that he would have been elected President without the support of the left. In the 2016 elections, the defeated leftist candidate called to vote "against Fujimori …" which meant they were going to vote for Kuczynski.
Despite Kuczynski's victory, his party (Peruanos Por el Kambio) barely has 13 percent of the seats in Congress, while Fujimori's party controls more than 50 percent. Therefore, neither of them can implement much change without the support of another centrist party.
Kuczynski probably would not have been in any real danger of impeachment if his rivals didn't control so much of congress.
Weakness of Peruvian governments: A problem or an advantage?
This wasn't the first time a president of Peru governed with a congressional minority. The parties of Alejandro Toledo (Peru Posible), Alan García (APRA) and Ollanta Humala also had to govern the country without a political majority in Congress.
Kuczynski also faces another common problem for Peruvian heads of state: low approval ratings. According to the latest Ipsos survey, Kuczynski's popularity stands at 18 percent. Toledo reached a popularity of eight percent, García of 15 percent and Humala of 13 percent.
Weakness in Congress and low popularity are negative elements for governments because Presidents can't pass the reforms they want. However, Vásquez of the Cato Institute said the institutional weakness of the Peruvian governments and the low popularity of presidents can be "a blessing for the country." The weakness of governments limits their actions, allowing for democratic stability and a market economy.
For Vásquez, the Peruvian experience of limited power for the executive branch contrasts with that of countries like Mexico, where governments can easily approve their reforms and change policies in defense of freedom.
A new opposition?
Despite the attempt to impeach Kuczynski and the humanitarian pardon for Fujimori, Peru is seeing its political landscape change drastically.
Kuczynski lied to his constituents about pardoning Fujimori. Vásquez said he believes Kuczynski has committed an act of "political Machiavellianism." The President has lied to his center and center-right voters, to human rights organizations and even to the left.
The consequences of this betrayal are already being felt. Congressmen Alberto de Belaunde, Vicente Zeballos and Gino Costa, who were part of the PPK party, announced their resignation from the ruling party, leaving his administration even weaker than before.
Presente mi renuncia a la Bancada PPK y di cuenta, como corresponde, a mis colegas en reunión de Bancada.
Los tiempos son de Dios! pic.twitter.com/b9LfxNvCPO

— Vicente Antonio Zeballos Salinas (@VicAZeballos) December 27, 2017
Tweet: Members of his party Acción Popular are ever more critical of PPK.
Defendimos democracia frente a dictadura #fujimorista y #PPK traicionando al pueblo otorga indulto a #AlbertoFujimori en componenda clandestina y en alianza con la dictadura. Es una vergüenza Sr. Kuczynski.https://t.co/gw0xNmESqt pic.twitter.com/UUXO9ovH4o

— Yonhy Lescano (@yonhy_lescano) December 26, 2017
The left has also been critical of the President, as expected. Former presidential candidate and leftist leader Verónika Mendoza called Kuczynski's pardon of Fujimori "high treason." Various leftist organizations have organized marches in protest of the pardon.
1/2 Sr. @ppkamigo lo que acaba de hacer una vil traición a la Patria. A cambio de salvar su pellejo ha negociado con el Fujimorismo un indulto infame al corrupto y asesino A.Fujimori. Para Ud. todo se negocia y se vende, una vez más ha actuado como un vendepatria.

— Verónika Mendoza (@Vero_Mendoza_F) December 25, 2017
Major organizations that defend human rights have also condemned Kuczynski's actions, including Amnesty International and Human Rights Watch.
Division among Fujimori supporters
The Fujimori parties have traditionally been hierarchical and disciplined, but recently, there has been splintering and division. In Fuerza Popular there seem to be two major political blocs: keikismo (led by Keiko Fujimori) and Albertismo (led by Alberto and Kenji Fujimori). The abstention of Kenji Fujimori and his allies within Fuerza Popular against impeachment seems to have deepened the divisions within the so-called "Fujimorismo" political force.
Congressman Héctor Becerril suggested that Kenji Fujimori and his allies leave Fuerza Popular and form a new caucus. According to Luis Galarreta, President of the Congress, it's not possible to form new groups.
Even Keiko Fujimori has made her break explicit in order to ensure that she feels "proud" of the 61 congressmen who voted to impeach the President. Fuerza Popular has 72 congressmen. With one tweet, Keiko essentially excludeed her brother Kenji and his allies from her new political group.
Orgullosa de nuestros 61 Congresistas que se mantuvieron firmes en la lucha contra la corrupción. Somos Fuerza Popular y Fuerza Popular no se vende ni negocia, porque para nosotros primero es el Perú!

— Keiko Fujimori (@KeikoFujimori) December 22, 2017
Tweet: I am proud of those 61 congressmen who remained firm in the fight against corruption. We are Fuerza Popular, and Fuerza Popular cannot be bought or compromised, because Peru comes first for us. 
Could Peru be headed back to authoritarianism?

The political instability in Peru is reminiscent of difficult times in Peru's past. Fujimorismo is alive and well, and they may continue to gain support and political power. Some political analysts fear a return to power for the Fujimori dynasty.
Kuczynski's betrayal of Fujimori detractors could also benefit the left. Leftist parties like Nuevo Perú and Frente Amplio seem to have become the new spokespersons for opposition to Fujimori.
Populists on the left or right could capitalize on the corruption scandals and the political attrition of moderate politicians. Vásquez said he hopes Peruvians have learned from the mistakes of the past.
For Vásquez, the economic development that Peru has experienced, as well as the defense of individual liberties that have been a part of Peruvian democracy since Fujimori left the presidency, could shield the country from drifting back to authoritarianism.