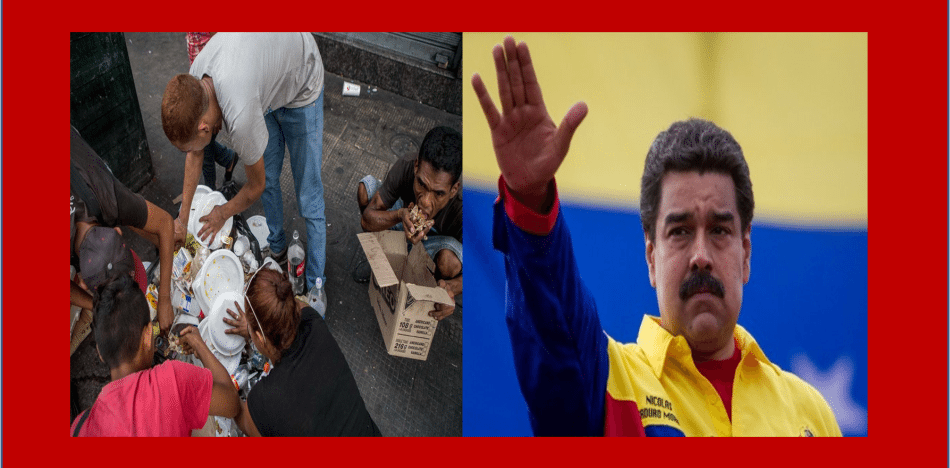 EspañolThe economic and political collapse in Venezuela is evident from recent news coverage, but even more so from the numbers: In 2016, the country's GDP shrank by 10 percent. In 2017, its economy could shrink another seven percent. Inflation reached a reported 720 percent by the end of 2016 and could inflate another 200 percent by 2018.
Crime runs rampant in the Bolivarian Republic, which averaged the second-most homicides per 100,000 inhabitants in the world last year.
Combine these factors with Nicolás Maduro's oppressive, socialist dictatorship and it becomes clear why so many Venezuelans have decided to leave the country. Colombia, Brazil, Peru and many other nations in the region have experienced a massive influx of Venezuelan refugees. Maduro and his regime, however, continue to deny this phenomenon, or that he's leading those who stay into a worsening humanitarian crisis.
If you haven't been following the details of the events that led up to Venezuela's situation, here's an explanation of the humanitarian crisis, and how it was caused by the recklessness of socialism:
What is a "humanitarian crisis?"
There are numerous definitions for the term, but the World Health Organization defines it as a "complex emergency" that occurs when state authority collapses as a result of a conflict (internal or external) that requires international intervention.
According to Alert — which is published by the Catalan Institute of Culture from the Autonomous University of Barcelona — a place experiences a humanitarian crisis when it undergoes an exceptional situation threatening human life, health or the survival of a population. A humanitarian crisis arises out of situations in which there is poverty and a lack of access to basic services exacerbated by human actions or natural disasters. As a consequence, forced displacement increases.
The Humanitarian Coalition — a network of charitable organizations and humanitarian projects — said a humanitarian crisis involves an event or series of events that pose a threat to the health, safety or well-being of a group of people. In a humanitarian crisis, the economy is severely affected, causing a significant portion of the population to be forcibly displaced.
Humanitarian crisis in Venezuela?
The definitions presented here have certain elements in common. A humanitarian crisis must involve a situation in which life, safety, health, the possibility of acquiring food and the welfare of the population are at risk. As a result, there must be an exodus from that territory.
Is the life or well-being of Venezuelan citizens at risk? Is there an exodus of Venezuelans?
Venezuelan lives under Bolivarian socialism
In a country with such a high murder rate, citizens' lives are certainly at risk. During the 1960s and 1970s, Venezuela was one of the safest countries in Latin America. The homicide rate didn't exceed 10 per 100,000 inhabitants.
But the murder rate soared with Chávez's rise to power. By 2010, it had reached 57 murders per 100,000 inhabitants. Since then, Venezuela has become one of the most violent countries in Latin America.
The situation deteriorated so much that by 2016, Venezuela reported 91 murders per 100,000 inhabitants, making it the second most violent in the world. The Venezuelan dictatorship took authoritarian measures to improve security in the country, which brought about the Operation of People's Liberation (PLO) plan intended to reduce the murder rate. Unfortunately, it's responsible for an increase in extrajudicial executions and violations of personal freedom, according to human rights organizations such as Human Rights Watch and PROVEA.
According to the Maduro regime and its supporters, the lack of safety in Venezuela is Colombia's fault. Yet as Colombia reduces the number of murders per 100,000 inhabitants, Venezuela deepens its safety crisis. In fact, Venezuela is the only country in the region that has experienced sustained growth in homicides.
There is sufficient evidence to show that in Venezuela, people's lives are at risk, and that the socialist regime is responsible for this situation.
If the lives of Venezuelan citizens are at risk under Maduro, the lives of political opponents are under an even greater threat. During the opposition protests of 2017, at least 149 people were killed — most of them under the age of 30.
The United Nations High Commissioner for Human Rights, Zeid Ra'ad Al Hussein, denounced torture and arbitrary arrests by Venezuelan security forces serving the dictatorship.
Health risks
The health situation in Venezuela is constantly worsening, with Human Rights Watch even reporting the existence of a health crisis. According to its survey, 76 percent of public hospitals lack basic medicine. According to opposition MP Jose Manuel Olivares, it could be as high as 78 percent.
Infant mortality in Venezuela has increased considerably as well. By 2016, the country's infant mortality rate had risen to 18.7 per 1,000 newborns — a figure higher than Syria. The infant mortality rate is 45-percent higher than in 2013. Maternal mortality is also on the rise in Venezuela, increasing in 2016 by 65.79 percent compared to 2015.
Venezuelan doctors have reported the reappearance of diseases that were believed to be under control, including diphtheria and malaria.
The Maduro regime denied the country's serious health crisis. Delcy Rodriguez, President of the illegitimate Constituent Assembly, blamed the United States for a shortage of drugs. Yet the sanctions applied by Donald Trump's administration have been in place for less than a year, and the health crisis is longstanding.
Food
It's very difficult to find basic food products such as rice, corn flour, milk or oil in Venezuela. Scarcity has caused prices to soar. Some Venezuelans, looking for something to eat, have even begun consuming poisonous, bitter cassava.
Maduro's dictatorship denies the existence of food shortages in Venezuela, and has refused to publish official data on the issue since 2012. Independent research, however, has provided data on nutritional problems showing that 87 percent of poll participants have difficulty buying food and 90 percent buy less food than they used to. According to Venebarómetro, 31 percent of Venezuelans eat fewer than three times a day.
Though food problems aren't exclusive to the Chavez and Maduro regimes, the country has never experienced a food shortage of this magnitude. There's no doubt that Venezuela is going through a food crisis caused by Bolivarian socialism and economic centralism.
The Venezuelan Exodus
Venezuela, a country traditionally made up of immigrants, has become a country of emigrants. As a result of economic, security, health and food problems, many Venezuelans have fled the country. When populations flee for health and safety reasons, the International Organization of Migration considers them "forced migrants."
By 2015, more than 600,000 Venezuelans had left the country, and countless more have fled since then. In recent years, at least 300,000 Venezuelans have moved to Colombia. At least 455,000 have requested Border Mobility Cards, a document that allows citizens to periodically enter Colombia.
Brazil has received at least 20,000 Venezuelans in recent years. Figures in Panama exceed 40,000 people, and in Argentina the numbers have surpassed 25,000. In Chile, arounds 10,000 Venezuelans have entered the country.
Solutions
The high murder rate, the nutritional difficulty of many Venezuelans, the increase in infant mortality and the mass exodus show that the definition of a humanitarian crisis definitely applies to Venezuela. And while most citizens suffer as a result, the Bolivarian political elite deny the crisis exists. As long as the Maduro regime denies the humanitarian crisis, the country will hardly be able to survive.
The Venezuelan regime blames its problems on the oil crisis, the actions of the United States and the actions of the opposition. However, other countries whose economy depend on oil have not been so severely damaged by crisis. Oil-producing countries such as Bahrain and even Iraq made positive economic growth in 2016. Iran, an oil country suffering economic sanctions by the United States, is not experiencing a humanitarian crisis of such magnitude, either.
The cause of the Venezuelan humanitarian crisis is Bolivarian socialism, and only Bolivarian socialism.