EspañolVoting is mandatory in Costa Rica. But with one of the most bizarre presidential campaigns in its history set to close on Sunday, many likely wish it were not.
The lead-up to the election has been riddled with nationwide uncertainty, amid an overwhelming lack of truly viable presidential candidates. If one moment embodies the essence of what the entire political season has been thus far, it may well be Monday's presidential debate.
The final debate, before the nation goes to the polls, was supposed to add clarity to pending concerns about those vying for the presidency. Instead, it made an already murky prediction process even murkier.
Held in the capital of San José, the debate involved all five leading candidates. Rather than wrapping up their respective campaigns and fielding questions on policy specifics, however, the presidential hopefuls spent most of the time deflecting questions regarding their characters.
Johnny Araya, from the incumbent National Liberation Party (PLN), sidestepped questions on his credibility as a candidate, amid corruption accusations. Otto Guevara, leader of the Libertarian Movement Party, and in his fourth attempt at office, faced attacks on pending allegations of his misuse of public finance funds in his 2010 campaign. The surprisingly popular and socialist Broad Front Party (FA) candidate, José María Villalta — a 36 year-old lawmaker whose party is modeled after that of famed Uruguayan President José Mujica — continued denying being a communist, a popular scare tactic employed by competing parties.
The debate followed recent polling results which suggested drastically different outcomes. Projections from polling firm UNIMER on January 16 showed Guevara, Araya, and Villalta in a dead heat. Another poll by CID-Gallup showed Araya ahead, with 39 percent support. The most recent poll, from the University of Costa Rica (pictured), has no candidate getting even 18 percent.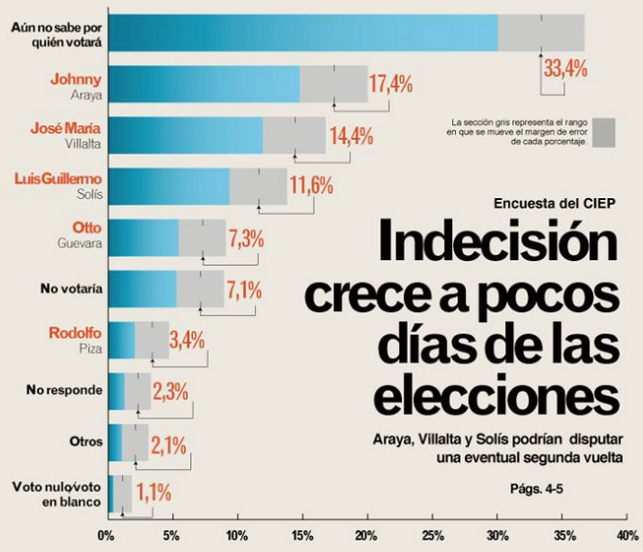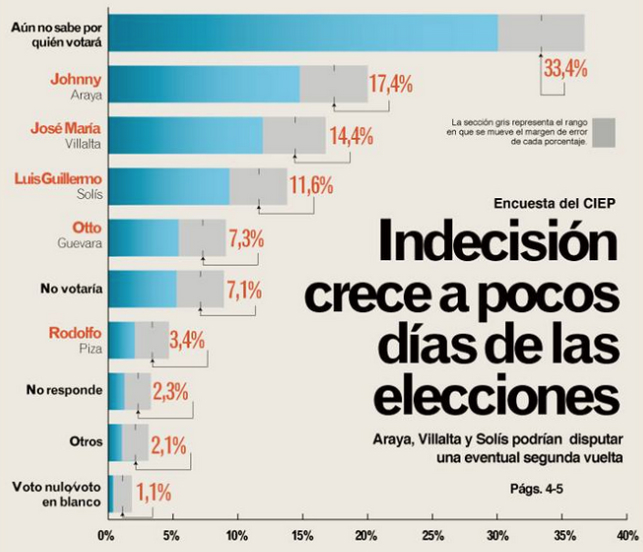 Perhaps the most telling statistic is that of undecided voters. As recently as mid-January, one in four Ticos had not decided who they were voting for. The updated poll released just three days ago had that number even higher at over 33 percent, double the support for any candidate.
With rampant indecision flooding the nation, this election period is as atypical as they come. However, if there is one aspect that can be taken with any certainty, it's that the nation will likely not elect its next president on Sunday; they will simply decide who it won't be.
To win, a candidate requires at least 40 percent of the vote. In the event that no candidate obtains that many votes, the country will hold a runoff election — or second round — on April 6, among the top two vote-getters. With chronic disappointment in the incumbent PLN, and collective doubt regarding alternative candidates, smart money is on the announcement of the next president remaining pending until the spring.
That widespread indecisiveness continues just two days before the country goes to the polls is telling. It reveals jadedness with the status quo and that many Costa Ricans are willing to take a leap of faith into the unknown. But with none of the competing parties outside the PLN having ever been in office, they're waiting for a candidate to definitively tell them where to jump.
That is the problem. The scare tactics that have defined the campaigns means the dirt is on everyone and no stand-out candidate exists. Each contender is running on a platform he would gladly tweak if it meant getting a vote. All candidates have acknowledged problems that plague the country, but have yet to propose anything concrete to correct them. In this election, there's nothing Costa Ricans can definitively grab on to.
Johnny Araya's potential to be elected rests on a double-edged sword. From the incumbent party, and former mayor of San José, he is the known entity. Though Costa Rica has great disdain for the PLN — and perhaps even more for its current president Laura Chinchilla — it is still the party they have elected in the previous two elections. Costa Rica has also only seen one other party, the Social Christian Unity Party, in office since 1970.
While it would be completely counter-intuitive if the PLN were elected again, it would not at all be surprising. Araya has familiarity in his favor.
Otto Guevara is the country's libertarian candidate, though that title is somewhat deceiving. While steadfast on mainstay libertarian views such as free markets and job creation, he has flipped on others and taken up socially conservative views on abortion and same-sex marriage. Guevara's evolution on these issues has gained him many Christian votes, and many point to that keeping him in the race.
Villalta has been the biggest victim of scare tactics, predominantly because others are extremely surprised he is in contention. He is not "communist," he says, nor is he a "Chávez sympathizer," as many have called him, in reference to the late leader of Venezuela.
While those accusations may seem absurd, Villalta does carry the banner causes under the socialist banner: feminism, animal rights, pacifism, environmentalism, and "pluralism." He also promotes barriers to international markets and stricter price controls. That he maintains as good a chance as anyone of winning speaks volumes to the state of the nation ideologically.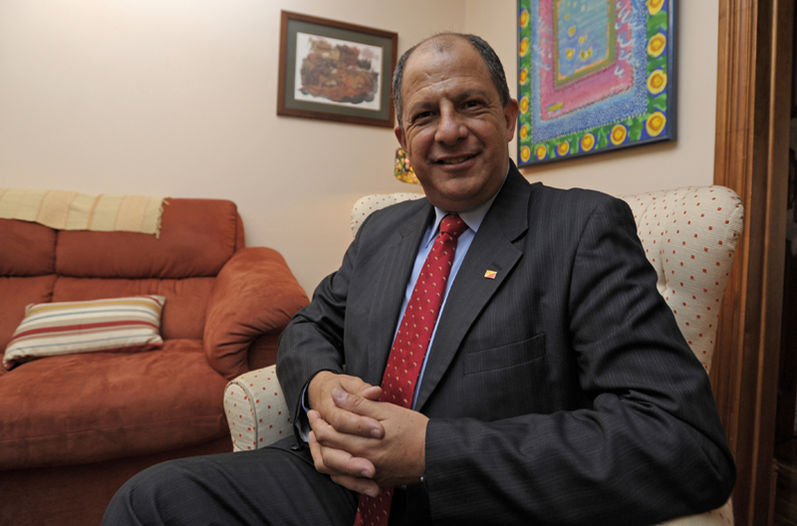 Luis Guillermo Solis (pictured), leader of Costa Rica's Citizens' Action Party (PAC), was all but ruled out of contention a month ago, but he has climbed back into the race almost by default. Although socialist-leaning as well, he offers a balance between the extremes of Villalta and Guevara.
Through everything, the biggest reason for the nation remaining undecided is that no candidate represents a compelling option to rectify the biggest issues that plague the country.
Government spending remained problematic under Chinchilla, amid exploding public debt. Costa Rica has seen some recent economic growth, but no reduction in extreme poverty has occurred; the proportion of the population living below the poverty line — 20 percent — is almost exactly the same as it was 20 years ago. The quality of roads — ranked 129th out of 140 countries in the world — continues to be a black eye, as is widespread allegations of corruption in all parties.
That Costa Ricans are challenging candidates on these issues is a testament to a renewed interest in the election process, and their concerns are clear. However, that it's still happening days before the nation goes to the polls reveals each candidate's lack of credibility and ability to match that role.