EspañolCosta Rican President Laura Chinchilla delivered her first press conference of the year on January 7, and the change in calendar also brought a change to the president's demeanor. Normally animated and confident, Chinchilla appeared cautious, as she accepted questions regarding her remaining four months in office.
As she addressed the policies she intends to implement in the little time she has left, one line was telling: "I'm afraid to name [the new policies]," she sarcastically told one reporter, "because sometimes it seems people are waiting for me to say 'this is what I want,' in order for them to say 'no.'"
After being mostly stoic and publicly self-assured throughout her tenure, Chinchilla's guarded and honest answer suggests that perhaps even she has joined the rest of the nation in counting down the days until her presidency is over.
The country's disappointment in Chinchilla marks a stark turnaround from the beginning of her now tumultuous four-year tenure. Elected as the country's first female president in 2010, hopes for the Chinchilla administration were sky-high. She won 47 percent of the vote in that election, carried a 64 percent approval rating, and feelings of optimism were abundant in Costa Rica.
Many now cringe with mention of those aspirations. So far has Chinchilla fallen that an updated poll in La Nación in July of 2013 revealed only 9 percent of Costa Ricans gave her their approval. Chinchilla also has the lowest approval rating of any of the last six Costa Rican presidents dating back 20 years, and the lowest approval rating of any president in the Americas in a 2012 poll.
So poorly is she perceived in Costa Rica that Ticos are questioning their support for democracy. A 2012 report from the Latin American Public Opinion Project out of Vanderbilt University, Tennessee, revealed that Chinchilla's perceived performance was the cause behind the lowest democratic support among Costa Ricans since the group started collecting data in the 1970s.
Her tenure has been so disastrous that the next administration is set to inherit an extremely daunting to-do list. And while most presidential terms end with unfinished business, this one is remarkable.
Running on a platform of corralling the country's national debt four years ago, Costa Rica has seen borrowing continue to increase under Chinchilla. A September report by the Central American Institute for Fiscal Studies (ICEFI) revealed that Costa Rica had the fastest growing public debt in Central America in 2012 in relation to total economic activity (GDP), placing the country behind only El Salvador and Panama.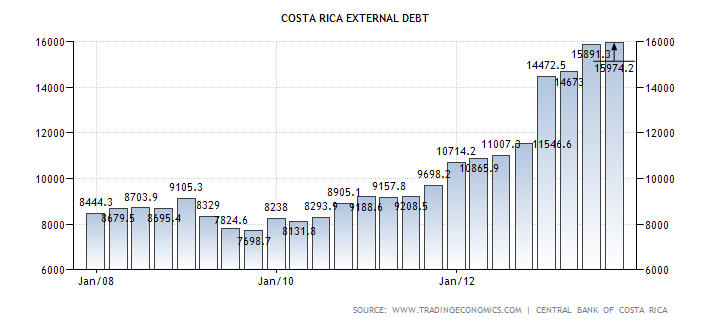 According to that same report, the expenses of the Costa Rican state, in relation to GDP, are the highest in Central America. While consuming 25 percent of the total GDP, ICEFI states that "income from revenue for the Costa Rica public purse is estimated by the Institute at 14.7 percent of production. The shortfall of 11.2 percent of GDP has to be paid for with loans."

Moody's, one of the world's biggest credit rating agencies, also lowered its outlook for Costa Rica to negative last year, pointing to its high national debt and Chinchilla's inability to pass any fiscal reform.
That failure in the fiscal realm may be the hot topic of current election debates, but arguably the biggest dilemma facing the country is its revised — and increasingly victimized — role in the drug trade. In recent years Costa Rica has seen increased cartel activity inside its borders, as drug organizations take advantage of the minimal threat of backlash from the army-less nation.
During Chinchilla's presidency, the Costa Rican government has seized more than 40 tons of cocaine and, as I noted in a previous column, seizures of other drugs and discoveries of suspected cartel processing plants and warehouses were abundant in 2013. What that increase really points to, though, is the gravity of the issue rather than to any pro-activeness on the government's part in attempting to rectify the problem.
With many other problems and black eyes pending — Latin America's second highest unemployment rate, Chinchilla's controversial use of a private jet linked to drug trafficking, and numerous and egregious environmental oversights in a country that prides itself on environmental protectionism — there aren't many positives to take from the last four years.
Even the ones that do exist — a significantly decreased murder rate and a noticeable decline in violence against women, down 53 percent from a year ago — are easily overshadowed by the persona that Chinchilla has become, now more name than president.
Her legacy will be plagued by what she didn't accomplish, as much as it will be by disheartened expectations. Accused of being one of the most corrupt administrations in recent memory, her government faced the most protests of any regime in the last 17 years. She also saw a record number of cabinet ministers resign from her team over the last four years, due to state-fueled controversies.
Regardless of what she accomplishes in her final months, Chinchilla's exit from the presidency will be loudly applauded nationally. And with that, the new president, who takes office on May 8, will have a giant head start.