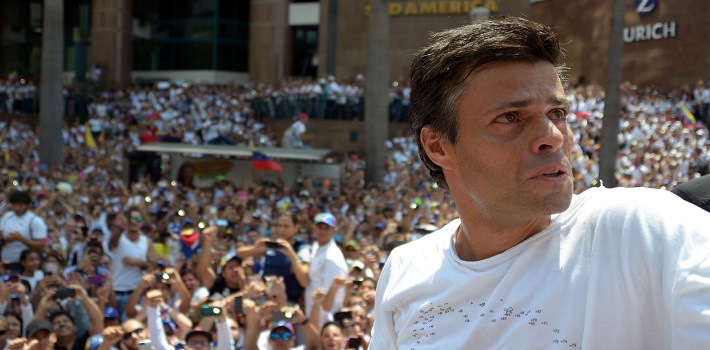 It is not as easy as one may think to be a free man. In truth, those who say it's easy are the ones who have given up." — Albert Camus, Escritos Libertarios.
EspañolThe Venezuelan regime stripped Leopoldo López of his freedom in February 2014, when the government issued an arrest warrant for him only mere hours after his alleged crime took place. Prosecutors then charged him with public incitement, criminal conspiracy, and instigating arson and damage to property.
As for the basis of these accusations, there are no witnesses, documents, or any other evidence linking López to the alleged offenses.
The only evidence the prosecution presented at trial against López were various posts he made on Twitter while exercising his civil and political rights.
In short, the Nicolás Maduro regime blames López for the protests that took place in February 2014.
From the start, his trial — which dragged on for well over a year — was plagued with irregularities. Prison authorities suspended López's visitations, and the court frequently postponed his hearings at odd hours of the night.
As expected, the court returned a guilty verdict against López on Thursday.
This marked the death of Venezuela's judiciary for me, even though people tell me this actually happened years ago. Looking back at legal rulings over the last few years, they might be right.
According to Antonio Canova, one of the authors of The Supreme Court at the Service of the Revolution, the court believes that in cases involving disputes between individuals and the state, ruling against the government would go against the public interest.
The book reviews various cases, and groups the Supreme Court's rulings according to which principles they violated: separation of powers, freedom of association, civil rights, political participation and suffrage, private property, and freedom of expression.
Francisco Delgado's The Reconstruction of Venezuelan Law also provides an account of this problem. From philosophy of law to analysis of existing legislation, Delgado lays out the issues that most seriously obstruct the rule of law in Venezuela.
[adrotate group="8″]
Despite the absence of an independent judiciary — a fundamental part of a free society — López decided to turn himself in after the government issued the arrest warrant, and did not go quietly.
No matter the motivation, or whatever legal strategy he had in mind, this has to be admired. Once again, I'm reminded of Camus's words, and cannot stop thinking about how hard it is to be free.
Ironically, López gave up the little freedom we have as Venezuelans, in order to be truly free.
This precarious state of freedom in the country is a result of the systematic state policy to undermine private property that began in 2007. After all, private property is the cornerstone of all other rights and liberties. Venezuelans should ask themselves whether private property exists at all in this country, because it's not enough to have it written in the Constitution.
In the words of Carlos Rangel, it can hardly be said that Venezuela is a free country when there is no free market. How can we be free if most of our basic necessities are produced by the state? If we depend on the government to survive, how can we demand they respect our rights?
Even if we all knew the guilty verdict against Leopoldo López was a foregone conclusion, it does not cease to be a harsh reminder that Venezuelans are not free.