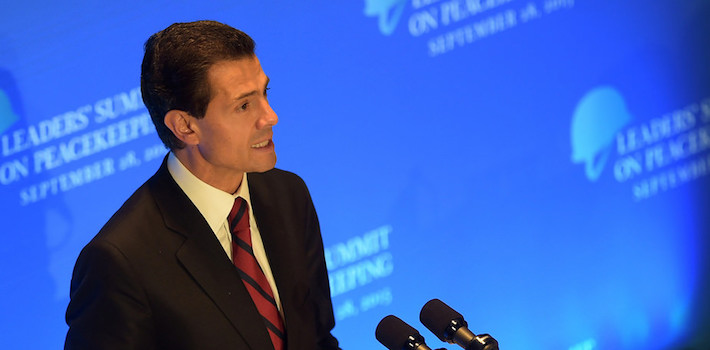 The United States Republican presidential candidate Donald Trump will be meeting with Mexican President Enrique Peña Nieto on Wednesday, August 31 before delivering a speech on immigration the following morning.
"I have accepted the invitation of President Enrique Pena Nieto of Mexico, and look very much forward to meeting him tomorrow," the New York City native tweeted Tuesday night.
The meeting was confirmed both by the Trump campaign and Mexico's presidential office. The two will meet privately just hours before Trump is set to appear in Arizona.
This meeting is pivotal for Trump for several reasons, as he tries to recover his suffering campaign that many think is too extreme against immigration. After his staff shake-up, the Republican candidate has been trying to clean up his act and gain back lost support, of which a lot has to do with his harsh immigration policies.
New Campaign Manager Kellyanne Conway was brought in to help Trump for just this reason. Though the campaign has said Trump will be softening his policies, Conway has made it clear Trump has been active in drafting his speech, dead set on avoiding any proposals that might provide "any type of amnesty to illegal immigrants.''
"The point that Mr. Trump has made again and again is that you don't get amnesty and you don't get legalization since you broke the law to be here in the first place," Conway told MSNBC on Tuesday. "But then he also respects it's a complex issue."
Trump has also outlined plans to stop immigrants from overstaying their visas, including making visa applications more strict and requiring immigrants to specify the exact location of their trip.
This will be the first meeting Trump has had made to visit a national leader during his campaign. Pena Nieto and Trump are expected to talk through all the general accusations that were thrown at Mexicans during many of the presidential nominee's speeches. Additionally, many expect them to discuss the wall he wants to build between the United States and Mexico.
Some critics have said Trump needs to regain many of his more moderate supporters, as he trails behind Democratic opponent Hillary Clinton in the race for president.
Trump's long-awaited speech on immigration policies will air at 09:00 pm EST from Phoenix, Arizona.
Source: Reuters.