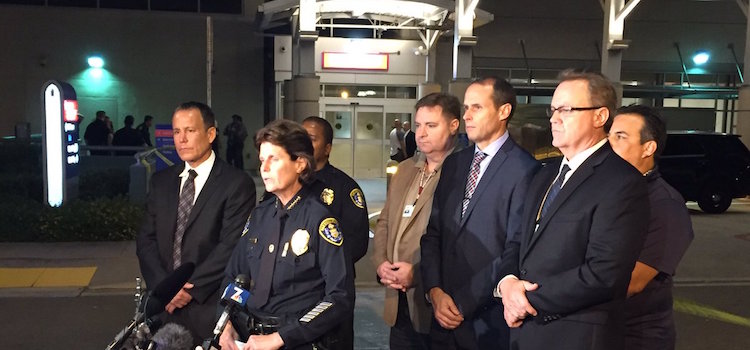 One San Diego police officer has been killed and another badly injured after a driver opened fire Thursday night during a traffic stop.
Through a Twitter post, Police Chief Shelley Zimmerman said she had left the hospital where the injured officer had just come out of surgery, was expected to survive and make a full recovery. The San Diego Police Department tweeted, "It is with a very sad heart that we announce the death of one of our officers tonight. Pray for his family."
It is with a very sad heart that we announce the death of one of our Officers tonight. Pray for his family pic.twitter.com/3l9PXa1vuW

— San Diego Police Department (@SanDiegoPD) July 29, 2016
The names of the officers have not yet been released nor that of the gunman have been released by the police department. Both cops were members of the gang-suppression unit.
There has been no word on what exactly caused the violence that occurred at around 11 p.m. in the southeastern part of town.
Video footage was found showing officers out with force with numerous squad cars and SWAT teams in the city's Southcrest neighborhood. There were also several officers on foot and a helicopter buzzing overhead monitoring the situation.
The police officers were shot while making a stop and immediately called for backup. The officer who did not survive was shot multiple times.
Police have announced via Twitter that a suspect has been apprehended and in custody. Initially, police officers were in search of other possible people involved in the incident, but it was later announced they were no longer pursuing other suspects.
This shooting comes with a high alert around the country for law officers following the killings of officers in Dallas, Texas and Baton Rouge, Louisiana this month. Five officers were killed in Dallas on July 7 by a sniper, and three Baton Rouge law enforcement officers were targeted and killed by a gunman on July 16.
Since 1970, statistics have shown that the number of police officers killed in the line of duty has declined. However, this year, cop deaths are up more than 50 percent. The officers killed in Dallas and Baton Rouge were targeted for assassination rather than dying in the line of action in pursuit of dangerous criminals.
According to the National Law Enforcement Officers Memorial Fund, the number of officers fatally shot is already up by 56 percent compared to last year.
Source: Fox News.