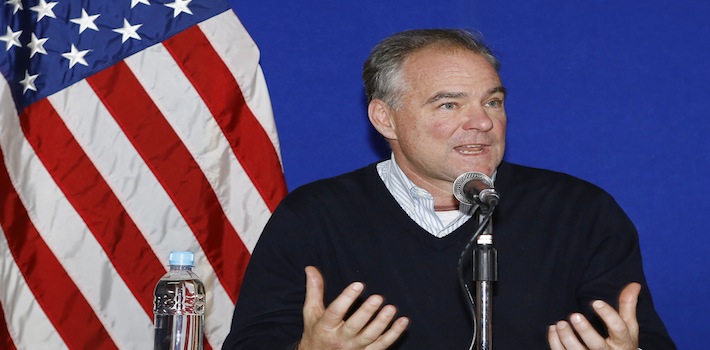 At the Democratic National Convention (DNC) last night, Hillary Clinton was declared the official nominee for the Democratic Party.
With her official nomination came the official announcement of her running-mate, Senator Tim Kaine of Virginia has been self-described as a "boring" person, but who is he really? We'll find out tonight when he makes his speech at the DNC.
Born in St. Paul, Minnesota, Tim Kaine grew up in Kansas. He attended college at the University of Missouri and later went on to receive his juris doctorate at Harvard Law School. He began his political career in 1994 after being elected as a City Councilman for the city of Richmond. Following that, he became mayor of the city in 1998.
Kaine kept climbing the political ladder, becoming Lieutenant Governor of Virginia in 2001, until being elected as governor in 2005. He served as Chair of the Democratic National Committee from 2009 to 2011. Kaine has been representing Virginia in the Senate since January of 2013.
After carefully climbing the political ladder in near-textbook fashion, Kaine has now officially been selected to participate as Hillary Clinton's running mate. It had been long-rumored that Clinton would pick him, particularly after showing up at a rally in Miami together this past Saturday, July 23. Today, on the third day of the convention, he will be introducing himself to the country with a much-anticipated speech.
Kaine has both embraced and developed a low-key image, choosing to maintain a more subtle political life, making it quite odd for him to choose such a public role. He has been described as a pragmatic and cautious leader, who is best known for his electoral success rather than his legislative success.
He has a poor record as a public speaker due to his inconsistency in performance, with a general lukewarm reception from audiences. He became part of a running joke on John Stewart´s "The Daily Show" when Kaine´s nervous habit of raising his eyebrow as he spoke was made fun of by the host. Kaine's team, however, brilliantly took advantage of such publicity and emblazoned it on t-shirts and buttons.
His popularity peaked in 2007 when he gave a heartfelt speech as governor following the Virginia Tech shootings. His approval rating shot to an all-time high of 80 percent, a number he would never see again after the budget took a huge hit during the recession.
But, during the 2012 elections Tim Kaine received more votes than President Obama in Virginia, which is presumably one of the reasons why Clinton may have chosen him as a running-mate.
In addition to his popularity, Kaine's tame behavior may have been a factor as a contrast to Republican candidate Donald Trump. Some say she needs a non-controversial candidate due to her own problems with the FBI's ongoing investigations into her emails.
He has been able to keep himself out of trouble without being a boring candidate. Kaine would be a perfect calming candidate for this controversy-filled presidential election.
Source: CNN.