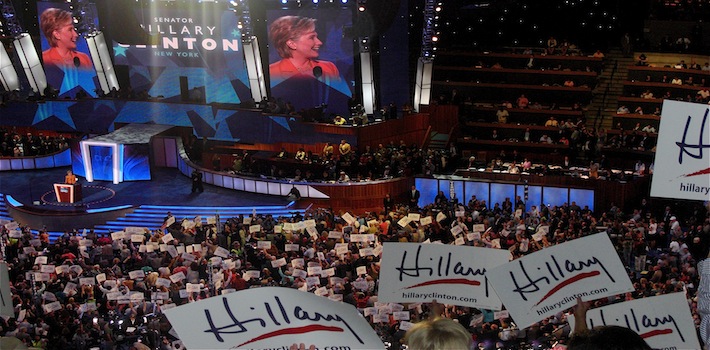 On the first day of the Democratic National Convention (DNC), Bernie Sanders made his endorsement of Democratic presidential nominee Hillary Clinton.
"Any objective observer will conclude that — based on her ideas and her leadership — Hillary Clinton must become the next president of the United States," Sanders said.
Sanders's speech was well-received by delegates and the majority of those attending the event, with many cheering his name and approving of his decision to take a step back and endorse the former Secretary of State.
Some Sanders supporters, however, were not satisfied by their leader's choice, placing blame particularly on the Democratic National Committee itself.
Angry supporters blamed the Democratic Party for undermining Sanders' campaign after news broke showing leaked emails discussing ways to undermine the Vermont Senator's campaign.
Among those involved in the latest Wikileaks scandal are seven Democratic National Committee officials and Debbie Wasserman Schultz herself — the outgoing Chairperson of the Democratic National Committee.
Wasserman Schultz resigned just days leading up to the convention in Philadelphia.
According to CNN, the emails included plans to weaken his support in southern regions of the country by addressing his religious beliefs. Additionally, emails included strategies from an attorney that involved circumventing claims made by Sanders about Clinton not living up to a joint fundraising agreement.
Angry Sanders supporters at the event last night covered their mouths with tape to represent their leader being "silenced" and undermined. One supporter even swung a punch at a Clinton representative in anger and frustration, and was promptly removed by Secret Service.
Sanders called for unity in the party last night; however, the candidate was unable to find it in many who believe he deserved more.
Last night's DNC included a set of inspirational speakers ranging from public figures to politicians. First Lady of the United States Michelle Obama gave an invigorating speech supporting Hillary Clinton; Senators Cory Booker and Elizabeth Warren also spoke, as well as singer Demi Lovato and comedian Sarah Silverman.
Silverman spoke of being a Sanders supporter who would now be voting for Hillary. After seeing the angry response by some Sanders supporters, Silverman went off-script and called "Sanders or Bust" voters "ridiculous."
It was an eventful night for the Democratic Party.
Source: CNN.