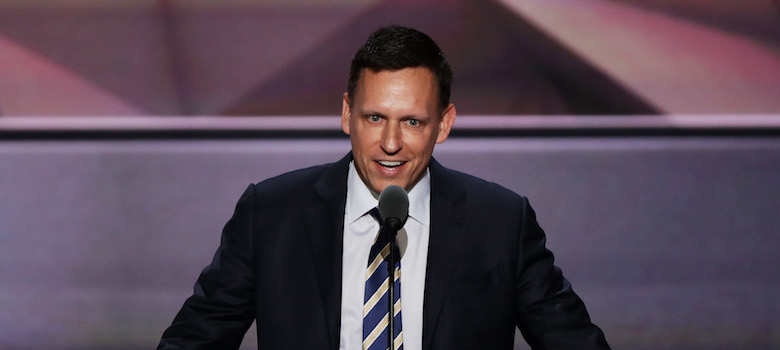 At the Republican National Convention in Cleveland, Ohio, many important things happened. Firstly, Donald Trump officially accepted his candidacy as Republican presidential nominee for the presidency; second, he was accompanied, not only by his family, but by strange host of other speakers — among them openly gay German entrepreneur Peter Thiel.
Thiel has had an incredibly successful career in the tech industry. He was one of Facebook's first investors, as well as a co-investor in PayPal, one of the largest online payment systems in the world. He is well-known in Silicon Valley as being a bit of an eccentric, investing in outer longevity technologies, building free cities in the ocean, paying kids not to go to college, and insulting democracy.
His presence at the convention was confusing to some, but obvious to others. Thiel implored the GOP to stop getting sidetracked on little issues or by culture wars, and to instead focus on more important goals. The tech billionaire also explained that he is proud to be a Republican, and proud to be gay. He warned the Republican Party of  fighting against social issues, instead encouraging them to let transgender people use whichever bathroom they choose:
"This is a distraction from our real problems," he said. "Who cares? I don't pretend to agree with every plank of our party platform."
Thiel has not donated any money to the Trump campaign, and, up until the RNC, had never so openly supported him.
Thiel is suspected to have become suddenly so increasingly supportive due to the topics that were going to be discussed that night, on top of Trump's plans for the economy and anti-war foreign policy. He explained his support for Trump, making his libertarian leanings clears. Some have speculated that he is trying to position Palantir, his data surveillance company, for even more deals with the government.
"Instead of going to Mars, we invaded the Middle East," he said. "It is time to end the era of stupid wars and rebuild our country."
Thiel never spoke of any specific Trump policies, nor did he say any radical comments. He did, however, allude to being somewhat anti-political. He also went on to explain how Trump was not a politician but a builder, and that the country needed him to rebuild American and make it great again.
The tech entrepreneur was not the only wealthy businessman who spoke last night at the RNC. Tom Barrack, head of the investment firm Colony Capital, real estate investor and long-time friend of Trump's, spoke right after Thiel.
Thiel is the first openly gay speaker at the Republican National Convention since then-Rep. Jim Kolbe of Arizona in 2000, though Thiel didn't bring it up.
"Every American has a unique identity. I am proud to be gay," he said, "I am proud to be a Republican, but most importantly, I am proud to be an American."
Source: Reason.