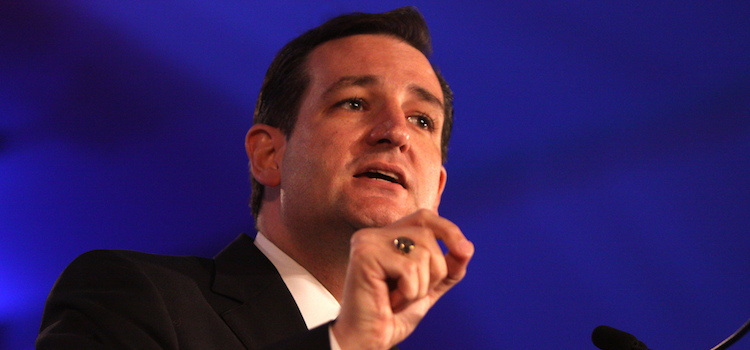 The Republican National Convention (RNC) has hardly been free of controversy this year, with Melania Trump's speech gaffe and Trump protestors (and supporters) causing an uproar.
The newest controversy from the convention involves Texas Senator Ted Cruz, who seemed to intentionally withhold his support for the official Republican presidential nominee this Wednesday, July 20.
Cruz mentioned Trump only once when he congratulated him on winning the nomination the night before, though this was not a clear endorsement. The rest of his speech focused on the GOP in general and maintaining party unity.
Despite the latter, however, many comments could have been interpreted as "double-edged remarks" aimed at Donald Trump. At one point, Cruz said "Freedom means religious freedom, whether you are Christian or Jew, Muslim or an atheist" — which some say is alluding to Trump's desire to ban Muslims from entering the country.
"Don't stay home in November. Stand, and speak and vote your conscience," Cruz also said. "Vote for the candidate up and down the ticket who you trust to defend our freedom and to be faithful to the constitution."
Cruz's "vote your conscience" remarks was received by a flood of booing and shouting. Many yelled for the Texas Senator to get off the stage or to go home. Chants of "Trump" and "USA" began to erupt until he finally left.
At the time of his own speech, Newt Gingrich attempted to support and defend Ted Cruz by saying "I think you misunderstood one paragraph that Ted Cruz, who's a superb orator, said," he insisted. "He said you can vote your conscience for anyone who would uphold the constitution. In this election, there is only one candidate who will uphold the constitution."
New Jersey Governor Chris Christie was appalled: "I think it was awful. And quite frankly, I think it was something selfish. And he signed a pledge. And it's his job to keep his word."
While he was speaking, candidate Donald Trump was walking through the arena, giving Cruz an angry two-thumbs up. During the primaries, Trump had resorted to mocking Cruz's wife over her looks and linked the senator's father to the assassination of John F. Kennedy, among other things. Cruz has described Trump on several occasions as a "pathological liar," "serial philanderer," a "bully" and a "buffoon."
Despite having pledged to support any candidate the Republican party would end up choosing, Cruz has showed no signs of following through. The once-believed front-running candidate for 2020 in the event that Trump loses this year now seems to have committed "political suicide."
Last night's RNC was supposed to focus on Mike Pence, the governor of Indiana and running-mate of Donald Trump. But the controversy surrounding the Cruz-Trump drama has so far taken away from the speech Pence gave.
Sources: The Atlantic, CNN.