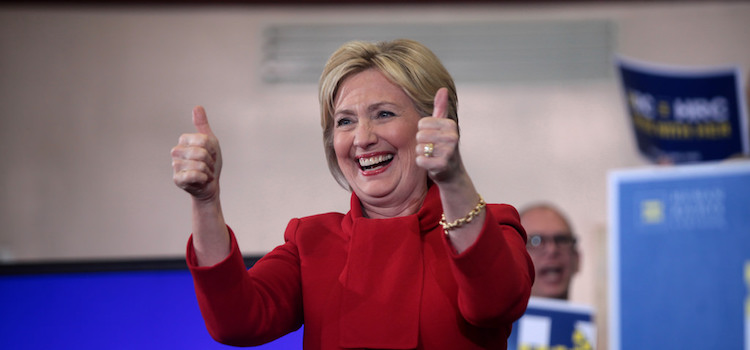 As the US presidential primaries come to a close, presumptive Democratic nominee Hillary Clinton has been vetting potential running-mates in the past couple of weeks.
So far, Clinton has been discreet as to who she has been considering, unlike opposing candidate from the Republican party Donald Trump, who has picked Indiana Governor Mike Pence.
However cautious the former secretary of state has been, there are five clear options in the horizon according to CNN.
1. Sherrod Brown:
The Ohio Senator could be of great help to the candidate, considering it is definitely a "battleground" where she would need help.
Despite Brown being a great help in many respects, some issues are working against him.
Firstly, his seat in the Senate would be filled by a Republican; secondly, he had very strongly opposed to NAFTA back in the 1990s, which experts believe could highlight Clinton's support of the somewhat controversial trade agreement.
2. Cory Booker:
This former Newark mayor and current New Jersey senator seems to have become one of Clinton's favorite potential running mates.
Booker is able to inspire young voters and is loyal to the former "Obama coalition." He is being heavily vetted by the campaign, and, if found clean, there is a chance he could be picked. His is a Senate seat Clinton would not mind losing were he to run with her and win.
3. Elizabeth Warren:
The Massachusetts senator would be a fantastic candidate for her fiery attitude and very passionate approach; however, it is this behavior that makes it difficult for Clinton to fully trust her.
Warren's intense intent for defeating Trump is definitely helpful, ultimately too risky in a presidential campaign, which makes her an unlikely pick.
4. Tom Vilsack:
This Pittsburgh native and agriculture secretary would be a safer "Plan B" option for Hillary Clinton, as she trusts him completely.
Clinton values his judgment, intelligence, and loyalty, but he does not inspire excitement or passion in the liberal Democrat base.
5. Tim Kaine:
This Virginia senator currently appears to be the more likely candidate and running-mate pick for the Clinton campaign.
Kaine showed his support for Clinton by appearing at a rally on Thursday, July 14, in his home state, praising the presidential candidate's work on health care and family values.
He argued that Clinton would put children and families first, unlike opposing candidate Trump, whom he described as a "me-first" president.
Kaine also called Trump a "trash-talker" and Clinton a "bridge-builder."
Kaine has apparently been at the top of every conversation regarding potential vice-presidential candidates. The senator has been increasing his outreach to progressive groups in the state in recent weeks, thus adding more exposure and amassing greater support from his peers and voters.
He also speaks fluent Spanish and is a Catholic, which is important for this race, both to reach Hispanics and more conservative candidates. He has several ties to the Democratic National Committee, having been a chair there for several years.
At a rally in Annandale, Virginia, Kaine said, "We were ready for Hillary because Hillary's ready for us. Hillary's ready for Virginia. Hillary's ready to be president. Hillary's ready to be our leader. Hillary's ready to make history. And that's why we're ready for Hillary."
Kaine came close to becoming President Obama's running-mate in 2008, which may be part of the reason as to why he has been downplaying VP speculation that has surrounded him lately.
Clinton has been playing this one close to her chest, so it will be a tough call to make.