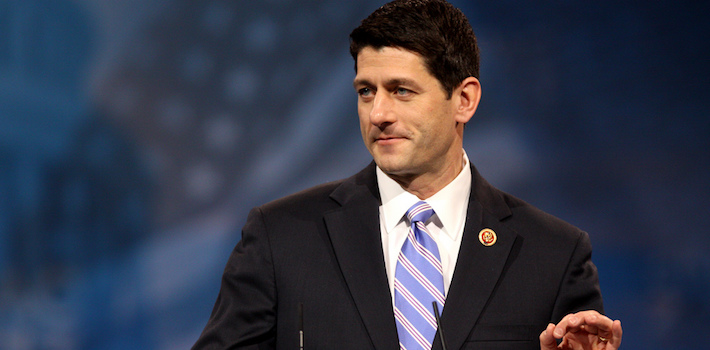 Paul Ryan, the Republican Speaker of the House of Representatives, discussed his support for presidential candidate Donald Trump on July 12, on CNN's "Town Hall." Despite trying to maintain the conversation away from the controversial candidate and focus more on the GOP's agenda, Ryan was overwhelmed by questions from the audience regarding his endorsement.
Moderated by Jake Tapper, Ryan made it clear on "Town Hall" that it is no secret he and Trump have had their differences, but that ultimately he considers the elections to be a "binary choice," where Trump is simply better than Democratic Party candidate Hilary Clinton.
"In the balance of things," he said, "the good clearly outweighs the things I don't agree with." He intelligently stated that "we don't have people who run for office who 100% reflect all of our views. It doesn't work like that." Ultimately, he believes, it is about what you can live with, so long as what is most important to you is there.
He was asked how he could "morally justify" his support for Trump, who is accused of being "openly racist." Ryan never disputed this characterization and was not shy about his disagreement with Trump's proposal to ban travel for Muslims entering the United States, declaring that he opposes the measure since it violate religious freedom.
But the House Speaker claimed that, by failing to support Donald Trump for president, "you're going to elect Hilary Clinton—and I don't think Hilary Clinton is going to support any of the things that you stand for if you're a Republican."
In addition to justifying his support for candidate Trump, Paul Ryan also discussed possible vice-presidential nominees. Ryan believes that, since Trump is "new to this," he will need a nominee that will mollify conservatives. He believes that Donald Trump needs someone who is familiar with conservative principles and has a proven record of being a conservative reformer by "applying those principles."
It is no secret that Trump has recently been shopping around for vice-presidential nominees, including Indiana governor Mike Pence, New Jersey governor Chris Christie, former Speaker of the House of Representatives Newt Gingrich, Massachusetts Senator Scott Brown, and Iowa Senator Joni Ernst.
Ryan also admitted that part of the reason why he supports Trump is because a Republican president would choose a more conservative Supreme Court nominee than Hillary Clinton. He used the example of Justice Ruth Bader Ginsburg, who called Trump a "faker" in an interview recently.
Ryan said that this "is out of place in an appointment branch of government. That shows bias to me. I don't think that is something she should have done". Ryan also said that the next person appointed to the Supreme Court "will shape this court probably for a generation."
It was made clear by this Town Hall that House Speaker Paul Ryan does not agree on many aspects with Donald Trump. However, it is also clear that Ryan views him as the only possible candidate and as a last resort.
Source: CNN.