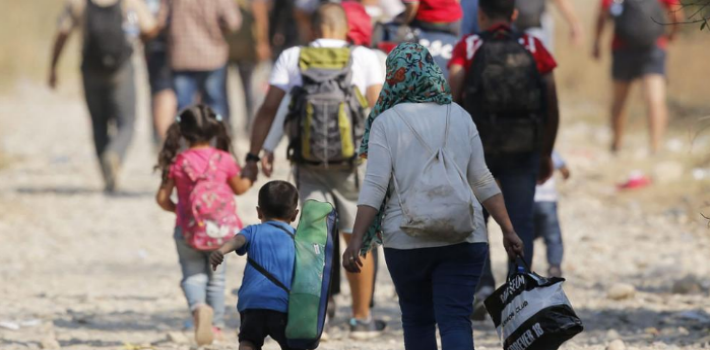 The Argentinean government and the European Union (EU) are negotiating an agreement in order for Argentina to receive around 3,000 Syrian refugees.
The South American country will be the first in the world to help the EU solve the greatest refugee crisis since World War II.
The statement was released during President Mauricio Macri's official tour through Europe. Talks of Argentina helping the Syrian refugees occurred during a meeting the president had this Monday with the European Union's High Representative for Foreign Affairs and Security Policy, Federica Mogherini, in the offices of the European Commission in Brussels.
A source from the European Commission quoted by Clarín explained that "Argentina's willingness to help seems clear and any help is welcome."
"Argentina, the Commission, and the European External Action Service will strengthen their cooperation in order to provide the best support to Middle Eastern refugees, especially those from Syria," the agreement stated.
"Argentina is willing to receive new refugees from conflict zones, taking into consideration local capacity, need for effective integration for the refugees, and the pertinent security measures. The European Commission is prepared to offer technical support and to consider joint projects in this area," added the agreement.
In June, Susana Malcorr, Argentina's Foreign Minister, claimed that her country was waiting for the United States and the European Union to decide whether they would be helping out financially, because "it would help with receiving the refugees". In May, Malcorra visited a Syrian refugee camp in Lebanon.
Visité el campamento de refugiados sirios Jarrahyl, en la región de Bekaa, Líbano. pic.twitter.com/iOQvL7dyt3

— Susana Malcorra (@SusanaMalcorra) May 17, 2016
Syrian refugees have already arrived in Argentina by means of Program Syria, which was created under former president Cristina Kirchner's government.
Macri also mentioned Argentina's willingness to receive refugees in a letter he sent to Ban Ki-Moon, Secretary General of the United Nations, Ban Ki-moon, in which he tried to generate support for Malcorra's current candidacy for the UN's top job. Macri also discussed the issue with US President Barack Obama.
Source: Clarín