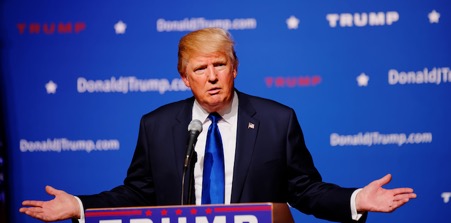 Donald Trump met with Indiana governor, Mike Pence, at the presidential candidate's Trump National Golf Course in New Jersey. The meeting, which took place over the weekend, included the governor's wife, Karen, and Trump's wife, Melania.
According to Marc Lotter, Pence's spokesman, "The Pences enjoyed spending warm, productive time with the Trumps (…) They talked about policies that are working in Indiana and the future of this country. Nothing was offered and nothing was accepted." However, it is known that Pence has been under consideration as Trump's running mate for some time.
Pence seems to be the obvious leading candidate, a source says, due to his likelihood to appeal and pass the GOP establishment; he is a safe choice.
Due to Indiana state law, which prohibits candidates from running for state and federal offices simultaneously, Pence has until July 15 to withdraw from the gubernatorial race in a state that is largely Republican.
Trump and his aides have stated that they would like to announce Trump's pick by the Republican national convention, which starts July 18 in Cleveland, Ohio.
The next time both are scheduled to meet will be at a Trump fundraiser at the Columbia Club in Indianapolis, a gathering for the state's Republicans.
<!— /60226173/PanamPost_Sidebar —>
//
Other candidates being considered include New Jersey Governor Chris Christie, former Speaker of the House of Representatives Newt Gingrich, Massachusetts Senator Scott Brown, and Iowa Senator Joni Ernst. Trump advisors have showed interest in Ernst, but it is not clear whether she is interested in the position.
The second most likely candidate after Pence would be Christie, not Gingrich. Gingrich is too opinionated, more likely to speak his mind, and less probable to be loyal to Trump.
One common aspect all five candidates posses is their political experience, a key factor in Trump's decision-making process. Trump is looking ahead to advancing his legislative projects through Congress and needs to right running mate to do so.
In the end, Trump has the final say as to who his running partner will be, and, according to sources, his mind changes from minute to minute.
Sources: CNN, Yahoo News.