A rally organized by the Traditionalist Worker Party (TWP) — a white supremacy group — resulted in violence when the group was surrounded by counter-protesters.
The white supremacist group had received several death threats prior to the protest, and many carried knives in case of confrontation. The 10 injured people, nine men and one woman, all had lacerations and stab wounds. Two people are reportedly in critical condition.
The TWP had a permit to carry out their rally, but the other group showed up to stop them from exercising said permit.
"(The counter-protesters) showed up ahead of time in a large group, probably 300 or more," said officer George Granada of the California Highway Patrol public information officer with the Capitol Protection Division.
At around 11:45, the TWP and its supporters showed up to their designated spot near the Capitol building, but were clearly outnumbered. Photos and videos had surfaced of people being pursued with sticks, some while hiding their faces with scarves and masks.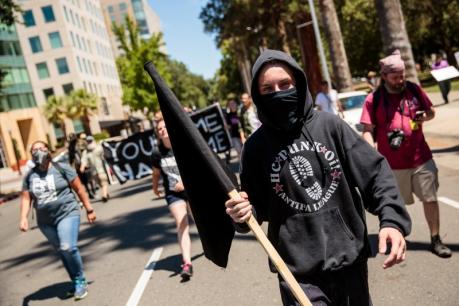 Members of anti-fascist groups said they came out to let people know that racist and anti-immigration viewpoints would not be tolerated in Sacramento.
"They're not welcome," said Yvette Felarca, member of the group By Any Means Necessary. "If they trip and fall in the process, good. We succeeded in shutting them down."
The counter-protester group used knives, bottles, bricks and chunks of concrete that they took from a construction site nearby. When the rally was attacked the protesters had no choice but to defend themselves, says TWP Leader Matthew Heimbach, who was not at the rally that day.
Of those 10 injured, two were part of the white supremacist group. The police say nobody was arrested as a result of the altercation. They did, however, find a loaded firearm on the ground where it occurred, but investigators do not know to whom it belonged.
The right extremist group was founded in 2015 to propagandize high school and college students into white supremacy. The party is known to frequent Trump rallies. Heimbach is, in fact, part of a federal lawsuit filed against Trump. It is alleged that the leader of the party shoved a female protester while shouting "leftist scum."