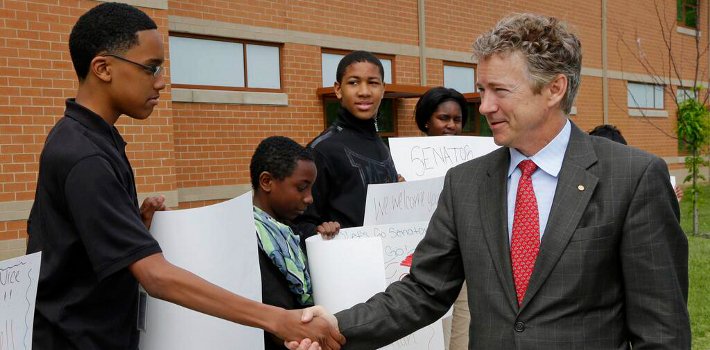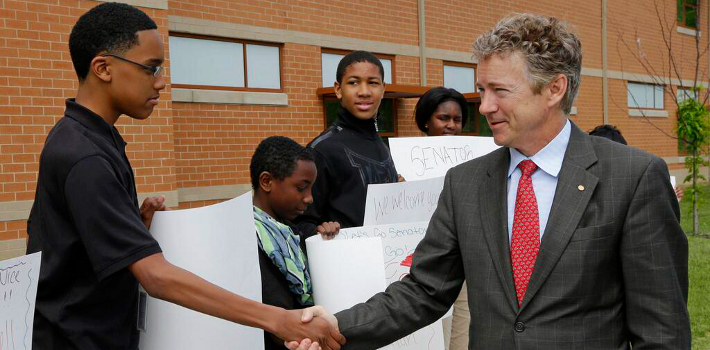 Rand Paul held a rare conversation with President Obama a few weeks ago. During the phone call, the junior Republican senator from Kentucky praised the president for cutting the prison sentences of 22 drug convicts in March.
The commutation of drug-related sentences was part of a drive launched by the president more than a year ago.
Paul's crusade to reform the US criminal justice system has been well documented, but when the city of Baltimore was set ablaze following Freddie Gray's funeral, Paul's comments prompted some important supporters to question the senator's thinking.
In Detroit, Paul visited with a small crowd in a community predominately made up of African Americans and Democrats to talk criminal-justice reform and economic freedom. The GOP field office on Livernois Avenue is not a popular destination for prominent Republicans, but that did not intimidate the presidential candidate from Kentucky.
Before talking the issues, Paul broke up the rows of chairs. His idea of a productive meeting apparently does not include a podium. "I think it sort of lends to a better atmosphere," said Paul as he asked the others to sit with him in a big circle.
This is not the first time Paul holds a similar meeting with African American community leaders. Before Detroit, he held similar discussions in Atlanta, Chicago, the west end of Louisville, where Cassius Clay was raised, and even Ferguson.
But instead of pushing his own agenda by bringing up the bill he introduced with Senator Cory Booker (D-NJ), the Record Expungement Designed to Enhance Employment Act, or Redeem Act, he also listened.
During the meeting, Paul voiced his wishes to restore voting rights to non-violent ex-felons and make it easier for non-violent adult and juvenile criminal offenders to ensure their records are kept sealed. Part of the conversation also revolved around his efforts to restore Fifth Amendment protections against civil asset forfeiture, a practice that disproportionately hurts African American and Hispanic populations.
"There's some people who have been in jail 15, 18 years for crack cocaine, whereas their white counterparts got out in six months or a year." To Paul, that's unacceptable.
As Baltimore falls victim to a series of aggressive "zero tolerance" policies embraced by Democrats and Republicans alike, Paul reminded Detroit residents that few conservatives have caught up to the actual roots of the problems now visible in Maryland's largest city.
According to the Hill, Ferguson's representative in the House, Lacy Clay (D-MO), has shown some excitement when talking about Paul. "White Democrats have been silent" since Ferguson, Clay says. "They haven't made any concrete proposals about how we make this situation better, and how we give equal justice under the law," but Rand Paul has. "I hope that would be the discussion of the 2016 campaign and beyond."
Clay added that Paul could pick up a significant number of African American votes in 2016 "if he sticks on those points."
As Paul continues to go where other Republicans seldom go in his quest to broaden the GOP appeal among members of historically disenfranchised groups, a Bluegrass Poll revealed the candidate is doing much better among African Americans than many would have guessed. While his Baltimore comments may have caused discomfort among some of his supporters, Rand Paul's actions appear to be paying off.