EspañolFor US Senator Lindsey Graham (R-SC), being a competent presidential candidate has little to do with being accommodating to realistic strategies.
In the world of both conservative and progressive hawks, embracing a diplomatic solution is a sign of weakness. After all, Graham claims, the Obama administration's cowardliness prompted it to settle for a framework to which even Hillary Clinton would have said no. 
But when asked who in the GOP would be willing to go the extra mile, the South Carolina senator claimed any conservative presidential hopeful would be ready to do a better job, except Senator Rand Paul (R-KY).
Graham's approach is a simple one to grasp: where there's no fear, there's no respect. But just because it's simple doesn't mean it's right.
To the senator, Obama's deal is bad because "Iranians… don't fear nor do they respect [Obama], and our allies in the region don't trust the president." Paul is weak, so the thinking goes. If given the opportunity, he wouldn't do a better job:
 "The best deal I think comes with a new president. Hillary Clinton would do better. I think everybody on our side except maybe Rand Paul could do better."
While Graham's frightening rhetoric sounds a lot like what many conservative lawmakers in Washington have parroted during the Iran negotiations, the predominant sentiment hasn't always been this way. In the past, Republicans championed causes currently associated with Democrats. They even supported — and won — elections by promising diplomacy and peace.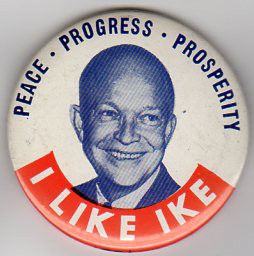 By calling Rand Paul weak, Graham disgraces the memories of long gone Republicans who have worked their entire lives for peace, in and out of office. But is he and his base even aware of what the conservative movement has once looked like? And are they willing to face the reality and understand that theirs is actually an anti-Republican stance?
Republicans Warned Us
President Eisenhower (1953-1961) understood the power the military-industrial complex had. He warned us about the dangers of allowing it to take over and acted to make us aware of its influence. Instead of listening, too many looked the other way.
For a special on Look magazine's March, 1953 edition, the liberal and First Amendment champion Associate Justice William O. Douglas and the conservative General Omar Bradley answered the question: should we fear the military? Their articles shed light on the importance of keeping the military influence at bay. To Douglas, US Americans of the day were victims of the military mind.
We indeed do the military great disservice by thrusting civilian tasks on them, by placing on them the burdens of peace. Many of them are the first to recognize that neither by training nor by experience are they as a general rule qualified to handle the complex problems of the present world crisis.…

West Point and Annapolis give good technical training. It is, however, a specialized education for one of the most highly specialized of all callings — the killing of men, the destruction of cities, the pursuit of the enemy.
The Republican general agreed. To Bradley, the requirements of the US military caused unintended consequences. Instead of educating young men and women to look for peaceful solutions, the military influence caused them to handle problems differently.
It is certainly wise to look at the growing influence of our military men in the policy-making that shapes our Nation and its place in the world.…

 Young men and women, fulfilling their citizenship obligation to the Nation's defense, are subject to this "military influence" during their most formative years. Does that mean that our democratic principles are threatened by a dictatorial influence on our young people?
To the conservative political commentator and author Pat Buchanan, the military influence has shaped US thinking and created problems out of thin air. His warnings are similar to General Bradley's and Justice Douglas', and his conservative brand just as deeply rooted in Republican politics as Eisenhower's. But he's not alone.
Bruce Fein, the top Justice Department official under President Reagan, has written extensively about the subject. Throughout the years, he has been vocal about the dangers of resorting to military might at all times and is consistently urging readers to rekindle their truly Republican affiliations by supporting a more realistic foreign policy.
Following Graham's logic, Reagan himself should be called "weak" — after all, he refrained from putting boots on the ground in the wake of the awful 1984 peacekeeping deployment in Lebanon.
When Graham claims colleagues expected to get the Republican presidential nomination are better at dealing with Iran than Paul, he's really denying what actual Republican party supporters throughout history have supported.
Conservatism's original answer to conflict is pragmatism, not mindless action.
Only progressives with aspirations to dominate entire communities by shaping their lives through legislation and mandates want to be in charge of what other countries do. True conservatives are cautious to act, because they understand individual actions are unpredictable and matters are never black and white.
Edited by Fergus Hodgson.