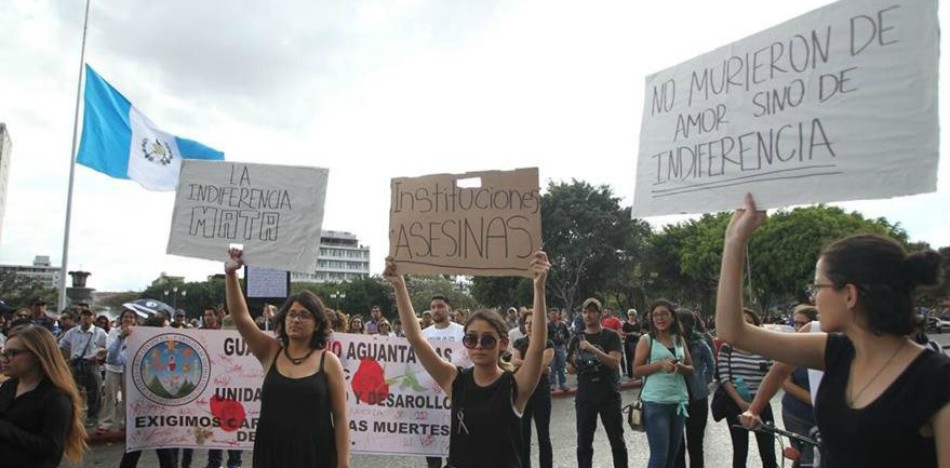 EspañolA fire killing 40 people earlier this month drove citizens to the streets in Guatemala demanding President Jimmy Morales punish those responsible.
During the protest, children, teenagers, adults and the elderly held banners with messages speaking out against Morales, as no one has yet been imprisoned for a fire at a state shelter.
Even Pope Francis commented on the situation.
"I express my closeness to the population of Guatemala living in mourning for the serious and sad fire that occurred inside the Virgin of the Assumption Home," he said at the Vatican moments after the Angelus prayer. "May the Lord welcome their souls, heal the wounded and comfort their afflicted families and the whole nation."
Warnings from authorities
Guatemala Attorney General Thelma Aldana explained that there were already two judicial rulings in which the authorities of the Secretary of Social Welfare and the Director of the Virgin of the Assumption Home were ordered to improve their facilities.
Hogar San Mateo no reúne condiciones adecuadas para albergar a niños de Hogar Seguro, no hay servicio de agua potable ni ventilación pic.twitter.com/seDGpX2Z99

— PDH Guatemala (@PDHgt) March 12, 2017
Morales recently acknowledged during an interview with local media that the girls who died were locked in during the fire.
"There was a request to keep them separate because many of these minors had problems with the law, some had violent personalities and the intention was to prevent a tragedy like the one that actually happened. Keeping minors in a specific place was part of the security measures," Morales said.
Help is on the way
Guatemalan businessmen have provided resources to transport four of the survivors to Galveston Hospital in Texas.
"As Guatemalans, we are very moved by what happened to these young women, and we wanted to act," Dr. Miguel Ángel Valdez said. Fortunately, we belong to an international organization that provides funds to Shrines Hospital, an institution specializing in handling cases like these."
Inhuman en cementerio de Xela a adolescente de 15 años que murio en incendio del Hogar Seguro @prensa_libre pic.twitter.com/G55Y7REjXP

— María José Longo Bautista (@MajoLongo_PL) March 12, 2017
The four girls entered the United States without visas but will be granted humanitarian ones soon, explained members of the volunteer organization.
"They are under treatment for their respiratory system and deep burns, so the recovery time is reduced to more than half of what it would be in Guatemala," said Director of Roosevelt Hospital in Guatemala Carlos Soto