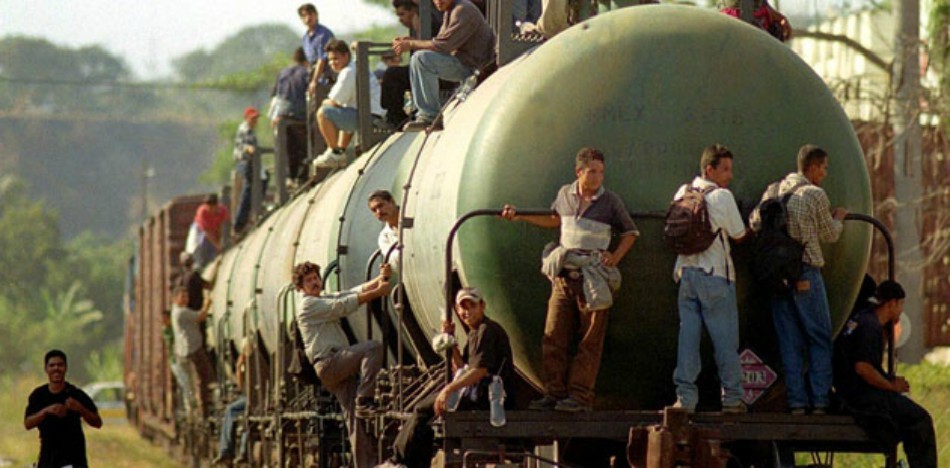 Español Immigration has determined much of our history — the quest to improve living conditions, to improve life — it is fundamental that someone should want to find a place to exist comfortably and work and raise a family.
In practice there are two types of immigrants: those who change countries with their legal status insured, and those who travel outside the law.
Because of its geographic location, Mexico is a key country. The majority of illegal immigrants to the United States need to pass through it, but then so do people looking to traffic drugs. Together, these two factors make it almost completely illegal at times to pass through to Mexico.
The history of immigration in Mexico can be defined by its constant request to the United States for more ease of access, and by Mexico's own deportation of other immigrants who enter the country through its southern border.
In 2016 there were 174,526 foreigners returned to their countries of origin, according to Mexico's Ministry of Interior. Of those, 142,509 people were from the Northern Triangle of Central America (El Salvador, Guatemala and Honduras).
In that same year, the United States expelled 240,255 people — 76,472 of which were from the Northern Triangle, and 149,821 more that were from Mexico.
Peña Nieto vs Donald Trump
Mexico President Enrique Peña Nieto has repeatedly stated his country will not pay for the border wall that US President Donald Trump plans to build between the two countries.
He has asked Trump to respect the immigrants who are in the United States.
"Mr. Trump, my priority is to protect Mexicans wherever they may be," Peña Nieto told Trump in August 2016 at a meeting between them. He also reminded him that "the Mexican community in the United States contributes every day with their talent and work toward the prosperity of that country. They are honest and hardworking people, good people who respect family and the law."
And yet in making these comments, he seems to have forgotten the plans he made to create an "intelligent membrane" on Mexico's borders in order to identify the types of people entering the country.
Arnulfo Machuca, who was the coordinator of immigration issues for Peña Nieto's transition team, said in 2012 that "we must ensure that we have an intelligent membrane that stops the bad and lets in the good."
Such statements make this a question of moral and immoral, good and bad, and who will be put into each category. Will someone without papers be considered a criminal?
Immigrants are reportedly victims of collective abductions, disappearances and assaults by groups sometimes acting alongside police officers.
The Southern Border Plan
In July 2014, the "intelligent membrane" mutated into the Southern Border Plan.
On paper, it aims to protect the rights of immigrants, but in reality, as the growing figures show, it is just a mechanism for deporting more people. During the first four months of 2015, 79 percent more people were expelled from Mexico than in 2014.
Central American immigration to the United States, therefore, has also been effected. With the Southern Border Plan, drones, private security brigades and geolocation systems have been installed to monitor trains going to the United States.
In response, Central American immigrants are looking at Cuba for ideas, taking to the sea to enter the United States. It's a trend that some say will only grow in popularity should Trump decide to follow through on his border wall.
Mexico wants the United States to take an empathetic approach to its immigrants, but works hard to keep immigrants from Central America out of its own country so there isn't competition for Mexican jobs.
Mexico should view its immigrants as workers so ambitious that they were willing to change countries to get a better job. They are consumers of products and services, entrepreneurs and investors, taxpayers.
Apple, Google and Facebook were founded by immigrants or children of immigrants: Steve Jobs is the son of a Syrian Muslim, Sergey Brin was born in Russia and Eduardo Saverin is Brazilian.
It requires a constant flow of brains and hands to keep progress moving forward. To reject immigrants is to stall the economic and cultural growth of a country. This is an error both the United States and Mexico continue to repeat to their own detriment.