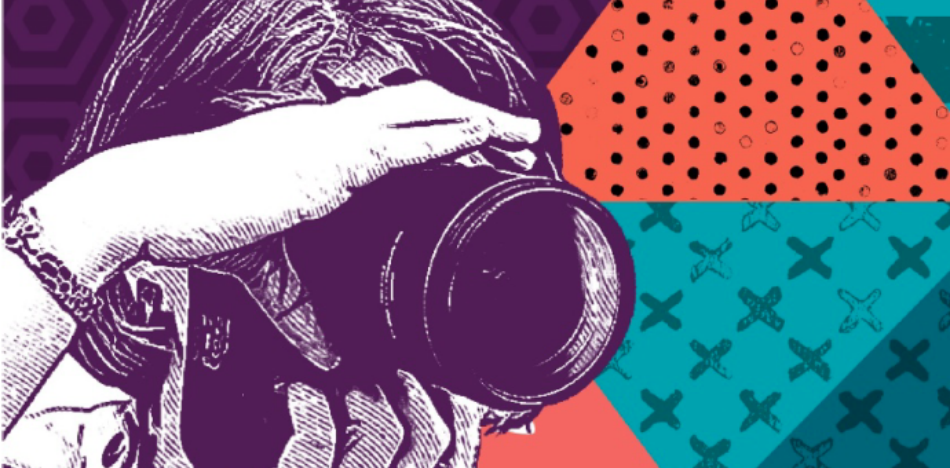 On Saturday, December 10, outside his home in the city of Chihuahua, north of Mexico, the journalist Jesús Adrián Rodríguez was murdered. The motive for the crime, according to Mexican journalists' agencies and the prosecution, was Rodriguez's profession. The Journalists Forum of Chihuahua A. C. reported that Rodriguez was killed by strangers when he went to work in the Radio Divertida Group.
"The journalists in Chihuahua and throughout the country are deeply dismayed by the murder of their colleague, who has been working for many years as a reporter," said Angel Zubía, the forum's president, in a statement.
Carlos Mario Jimenez, a prosecutor in Chihuahua, told the Mexican press that Rodríguez's journalistic work could be the motive for the crime, and that "we are already investigating various possibilities in this regard."
Mexico is considered one of the most dangerous countries for journalists, who are threatened by both the authorities and organized crime.
According to Freedom House's Freedom of the Press report, Mexico does not have a true freedom of the press. One of the biggest signs of this is the controversial "Telecommunications Law," signed by President Enrique Peña Nieto in 2014. The law gives the government a great deal of control over the ways in which the media functions. Among them, strict laws to prevent monopolies in the telecom sector, and a ban on the sale of advertising by community radio stations, obligating them to obtain all funding through the government.
Journalists have also have jeopardized their careers, and even safety, when they reveal cases of government corruption. This was exemplified by the case of Carmen Aristegui and the infamous "White House" of Mexico. His team investigated the background of the house, valued at around USD $7 million, and discovered that it belonged to one of the main contractors of the government. After reporting on the story, Aristegui and his team were dismissed from MVS Noticias, where they had been broadcasting their radio program every morning.
During 2016 a journalist has been murdered every month in Mexico. From July to September there were 29.3 attacks per month on journalists, almost one daily. 2016 has proved the most violent year for journalists yet in the presidency of Peña Nieto. All this according to data of the organization Article 19 in its quarterly report "From the Digital to the Tangible."
In 2015, seven journalists were killed, while four were killed in 2014, and another four in 2013. In 2001, during the presidency of Felipe Calderón, there were eleven murders.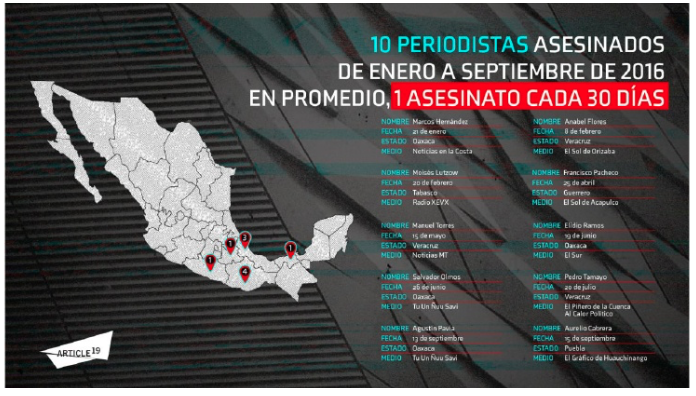 In October 2016, during the 72nd General Assembly of the Inter American Press Association (IAPA), Pierre Manigault, its president, addressed Enrique Peña Nieto and asked him to account for the murders of journalists in Mexico. "We have not yet received an adequate response from the states and their crimes are committed with impunity" Manigault told the president. "You are certainly aware of these unsolved cases of murders of journalists in the country," he said.
"Freedom of expression and of the press are the best weapons against authoritarianism. The government is respectful of what journalists think and broadcast. That is why I have signed the declaration (of Chapultepec)," Peña Nieto replied to Manigault. "I am aware that there are still crimes against journalists that we must resolve," he acknowledged during his speech. "But it is necessary that the state governments also assume some responsibility."
Between July and September of 2016 Pedro Tamayo, journalist of El Piñero in Veracruz was assassinated; Agustín Pavia, announcer of the radio Tu Un Ñuu Savi, in Oaxaca; And the most recent, Aurelio Cabrera, a journalist from El Gráfico de Huachinango, murdered in Puebla. The Special Prosecutor's Office for Crimes Against Freedom of Expression (FEADLE) has yet to thoroughly investigate these three murders, and this, in words of Article 19, "sends a message of tolerance of extreme violence, as well as contempt for freedom of expression."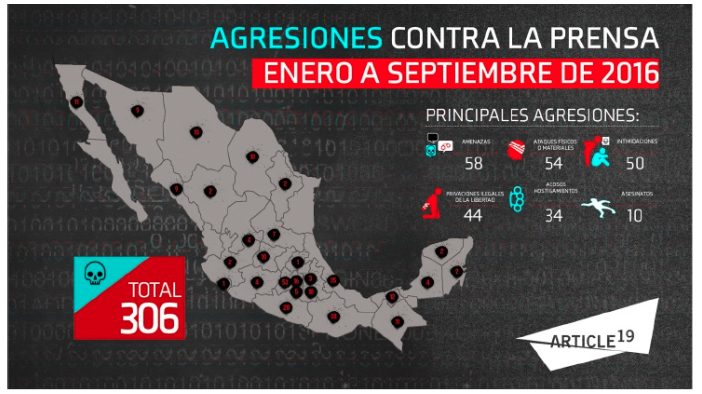 Political Animal, a Mexican media outlet, reports that practically 100% of the attacks against journalists in Mexico result in the perpetrators going unpunished. A statistical report from FEADLE shows that from August 2010 to August 2016 in Mexico, 798 preliminary investigations were carried out for crimes against journalists, of which only two resulted in a judicial decision.
"Harassment on the Internet, especially through threats on social networking platforms, has emerged as the best means to intimidate, scare, and censor," says the Article 19 report on threats to journalists on social networks. Six out of ten threats are made through digital media.
"Threats on social networks have increased: while in the first six months of 2016 one threat per month was documented, during the third quarter of the year, 4.6 threats were documented per month," states Article 19.
Ways in which journalists are routinely harassed through the web include "bot operatives" – accounts that are dedicated to harassing a user on Twitter – "digital hitmen" – organized communities that get paid to harass users on social media networks, defamation campaigns, and "raids" – aggressive, organized and systematic attacks to extract the victim's private, sensitive information from his personal account.