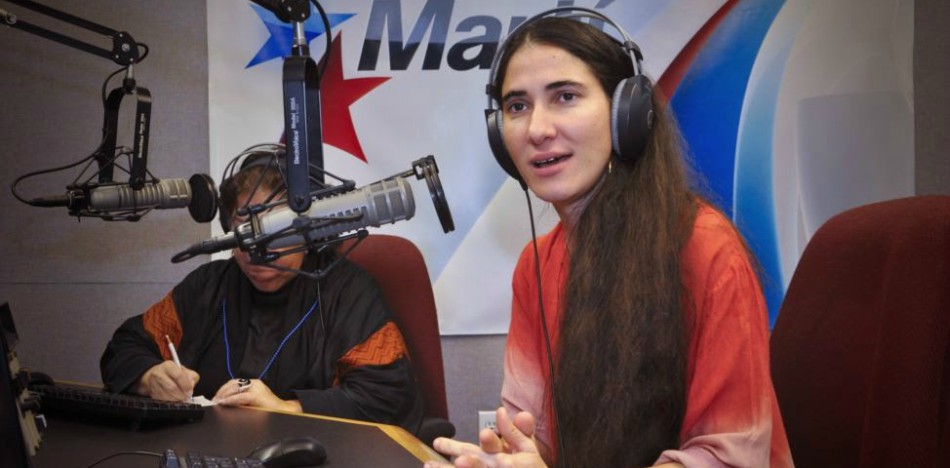 Yoani Sanchez, a Cuban journalist and activist, spoke on the death of dictator Fidel Castro. "Fidel Castro dies and his brother Raul announces it on national television," was one of the first twits of the referent of Cuban dissidents.
"Still many in Havana have not reacted, the streets are empty in my building.  Silence," she added. On that silence, Sanchez reflected: "The silence extends, it is dawn, but the fear is felt in the air. Harsh days are coming. "
She also tweeted an image of the television hostess reporting on the event: "An erratic and nervous Tv female voice-over, dressed in black, talks about reactions to Fidel Castro's death."
Sanchez founded Generación Y, a blog in which she recounts how the life of a Cuban under the Castro regime that is so notorious that she won the Ortega y Gasset award and Maria Moors Cabot award.
From her blog was born 14ymedio, the only independent medium that is managed by Cubans, but censored within the island by order of the Government, no Cuban can read it while he is in his country.
#Cuba Faltan varias horas para el primer amanecer sin Fidel Castro que he vivido en mi vida… pic.twitter.com/AM7nXiWFBc

— Yoani Sánchez (@yoanisanchez) November 26, 2016

Only hours for the first dawn without Fidel Castro in my life
Sanchez, who has lived in the flesh the abuse of power of the dictator, without being explicit celebrated the death of the dictator. "My mother grew up under Fidel Castro and I was born under Fidel Castro … my son was born under Fidel Castro, my grandchildren will be born without Fidel Castro. Fidel died on November 25, but his ideas have been buried for several years", he said. "The man who decided every detail of the Cuba in which I was born and grew up, is no longer there. A strange lightness extends across the island", she added.
#Cuba Durante mi infancia y adolescencia Fidel Castro decidió desde lo que comí, hasta el contenido de mis libros escolares…

— Yoani Sánchez ?? (@yoanisanchez) November 26, 2016
During my infancy and teenage years Fidel Castro decided from my food, to the content of my school books
In an interview with Yoani Sánchez, made by the PanAm Post, the journalist explained that for her there will not be an epic moment in which the Castro regime ends.
#Cuba La represión contra activistas había aumentado especialmente en los últimos días ¿Preparando el funeral? #MurióFidelCastro

— Yoani Sánchez ?? (@yoanisanchez) November 26, 2016
The repression against activists has increased in the last few days. Preparing the funeral?
"I want to live the change in Cuba, but I'm almost certain that there will not be an epic, heroic moment of the people thrown into the streets because his ideas are overcome is over. They will fade and fade. One fine day we will look back and realize that they are gone. And I not only want to live it, but to narrate it from the point of view of information and journalism. "
#Cuba Hay que estar atentos a cualquier vuelta de tuerca represiva. En momentos así el oficialismo se pone muy nervioso #MurióFidelCastro

— Yoani Sánchez ?? (@yoanisanchez) November 26, 2016
We have to be vigilant for renewed repression.  These moments make the government very nervous.  
For her, the important thing is that the Cuban government stops usurping the name of the nation with its ideology. "That education is not ideological. That people go to the hospital and do not feel that it is the communist party who has given a medical consultation, but feel that those resources belong to the nation and that they do not have to be marked by any ideological bias. "
#Cuba Unos lo despiden con dolor, otros con alivio… la gran mayoría con cierto toque de indiferencia #LaMuerteDeFidelCastro

— Yoani Sánchez ?? (@yoanisanchez) November 26, 2016
Some say goodbye with pain, others with relief… most do so with a touch of indifference.