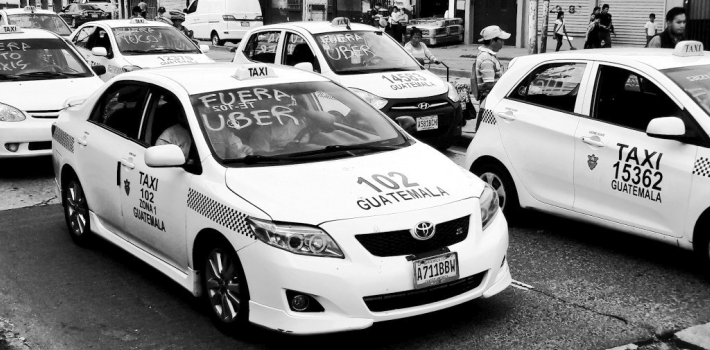 EspañolTaking advantage of the national holiday in which Guatemalans remembers its revolution, more than 100 taxi drivers protested against the possible emergence of Uber. Currently, Uber is in its pilot recruitment phase.
The Taxi Drivers Association of Guatemala said the Regulatory Metropolitan Transit Service and the Municipality of Guatemala (Emetra) will not allow Uber operations in Guatemala. They claim the "pirate taxis" create unfair competition.
Taxi drivers travelled through part of the historic center of Guatemala City demanding that transport authorities ban Uber. The service began recruiting in September 2016 and already has offices present in the city.
Mexico, Colombia, Costa Rica, Puerto Rico, Dominican Republic, Argentina, Uruguay and other Latin American countries have also given Uber trouble.
Continúa el rechazo por parte de los taxistas en Guatemala ya que no quieren el sistema #Uber #FueraUberGT #FueraUber @checkertaxigt pic.twitter.com/RrPmMrHJu4

— Pampichí News® ?? (@PampichiNews) October 20, 2016
Reject from taxi drivers of Guatemala continues, they refuse the new system
In addition to Uber, trade unionists workers, peasants and union workers, students and university professors expressed their discontent with the government's stance.
Uber protesters stated that President Jimmy Morales broke his word during the election campaign late last year when he guaranteed that neither he nor his government would be "corrupt nor thieves."
In addition, blankets, posters and slogans demanded again to put a stop to corruption af nepotism and plundering of the state.
Sources: El Periódico, Soy 502.