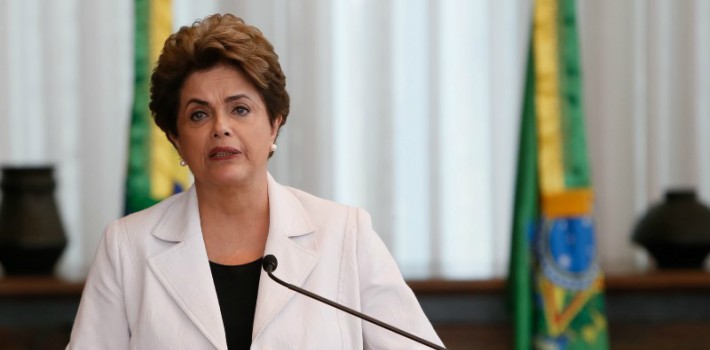 EspañolBrazil's Supreme Court has authorized the investigation of suspended President Dilma Rousseff for allegedly obstructing justice, according to several major Brazilian news outlets.
The prosecution is currently trying to determine if Rousseff sought to obstruct investigations into former President Luiz Inacio Lula da Silva's involvement in the Petrobras scandal.
Neither the prosecution nor the Supreme Court of Brazil confirmed the information, according to AFP. Lula and several former ministers of Rousseff's administration will reportedly be investigated for obstruction of justice as well.
The Supreme Court's decision, responding to a request from prosecutors, makes Rousseff a formal subject of investigation regarding her connection to the Petrobras scandal, which involves prominent politicians and businessmen allegedly diverting billions from the state oil company.
"The investigation is important for clarifying the facts and for clarifying that at no time was there obstruction of justice," a Rousseff spokesman told AFP.
Referendum as solution
Dilma Rousseff released a letter on Tuesday in which she promised a referendum for new presidential elections if found innocent August 25.
"I understand that the solution to the political and economic crisis we face will be through the popular vote in direct elections," she wrote. "I resisted jail and torture. I would like not to have to endure fraud and injustice."
Many experts said the announcement comes too late. The impeachment that Rousseff faces has very little chance of being stopped. The desperate attempt by the president to convince some senators of a  referendum won't stop them from voting for her dismissal, according to most experts.
Beyond the letter, the final vote of impeachment will begin August 25, though it does not have an end-date.
Dilma Rousseff: "I'm Innocent"
The president also discussed other ideas in her letter, such as being innocent of the crime of which she is accused; namely, concealing public accounts and over-spending on the budget without permission from parliament.
"An electoral college of 110 million voters will be replaced, without proper constitutional justification, by an electoral college of 81 senators. It would be a coup followed by an indirect election. "
She also said she is the victim of an "illegitimate" process initiated by a person "who has received bribes and has illegal accounts abroad," — in reference to Congress President Eduardo Cunha, of the Brazilian Democratic Movement Party (PMDB).