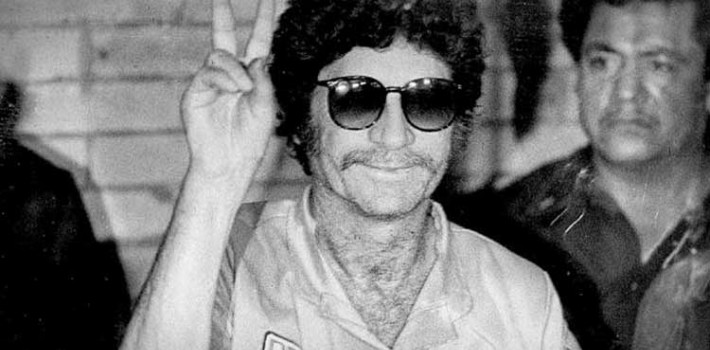 EspañolErnesto Fonseca, aka "Don Neto" was a veteran drug lord and founder of the Guadalajara cartel. He was sentenced for the murder of a DEA agent in 1985 but will instead be able to continue his long sentence in house arrest, the Mexican government announced Wednesday, July 28.
Fonseca was sentenced to 40 years in jail. He served 30 of those yeas in the Puente Grande federal prison located in Western Jalisco, where cartels frequently operated during the 1980s.
"As ordered by a judge, he can be free to continue his sentence from his home," said Governor's Secretary Miguel Angel Osorio Chong.
The decision was ordered by a federal judge in a response to a request by Fonseca's defense attorney to have his client serve out the rest of his sentence from home, due to old age. Fonseca is 85 years old, and reportely suffers from a host of health issues.
Daughter  to Don Neto, Yoanna Fonseca, told Reuters via phone that neither her, nor her father's attorney had been notified of the decision. However, she mentioned that her father would be going to a place in the central state of Mexico.
"A place has been proposed, it has been determined to be ideal," she said.
She also said her father has several ailments, amongst them, possibly cancer.
Fonseca was one of the founders of the Guadalajara cartel, which would later became the Sinaloa cartel. He worked with Rafael Caro Quintero and Miguel Ángel Félix Gallardo, pioneering large-scale cocaine smuggling in alliance with Colombian drug lord Pablo Escobar.
Ernesto Fonseca and Caro Quintero were born in the same town in Sinaloa, Badiraguato, where Joaquín Guzmán Loera, El Chapo, was also born. The old drug lords improved the poppy and marijuana fields of the golden triangle of Sinaloa, Durango and Chihuahua. They also started massively trafficking cocaine into the United States.
This was all spoiled in early 1985, when gunmen from the cartel kidnapped Enrique Camarena in Guadalajara. Camarena was part of the group the DEA kept in the Jalisco capital. They tortured him and killed him. They did the same with Alfredo Zavala, an informant of the agency.
That's how the cartel avenged a multi-million loss, caused by a huge area of illicit crops that the army had intercepted thanks to the DEA. Detained that same year, Caro Quintero and Fonseca spent over two decades in prison before sentenced.