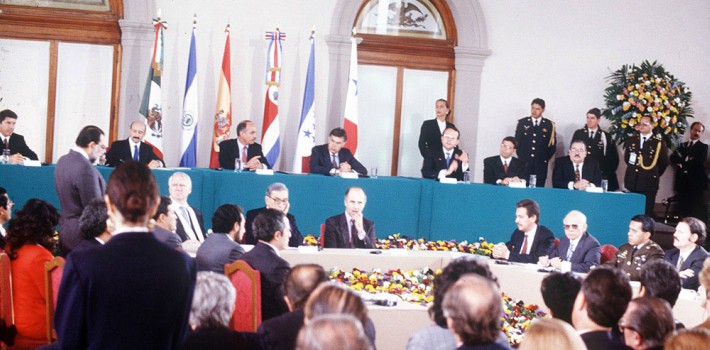 EspañolThe Constitutional Chamber of El Salvador's Supreme Court declared a part of the General Amnesty Statute illegal last week.
According to the court, articles 1 and 4 of the 1993 law are unconstitutional. These articles extended amnesty to specific people and crimes contrary to the right to protect victims' fundamental rights.
These portions of the Amnesty law blocked the government from investigating, giving trial, sanctioning, and repairing severe human rights violations.
"Crimes against humanity don't have statutes of limitations according to international law," the Salvadorian judges ruled.
Officials said the provision in the law that forbids suing for damages contradicts the right to moral reparations. This blocks a part of the Constitution and International Law guaranteed in cases of severe violations of fundamental rights.
The decision states that the Peace Accords signed January 16, 1992 made no mention of amnesty. There was no mention of them in pacts after that, either. Instead, clauses were agreed to to fight impunity and guarantee justice for the severe human rights violations during the conflict.
The Law for National Reconciliation, of January 23, 1992 was approved seven days after definite peace was signed with El Salvador. It cited the Peace Accords, which stated there would be no amnesty for "people, that according to the Truth Commission, had taken part in conducts of grave violence since January 1980. Their prints on society urgently demand the public knowledge of truth, independently of which side did it."
Sources: El Diario de Hoy, La Prensa Gráfica.