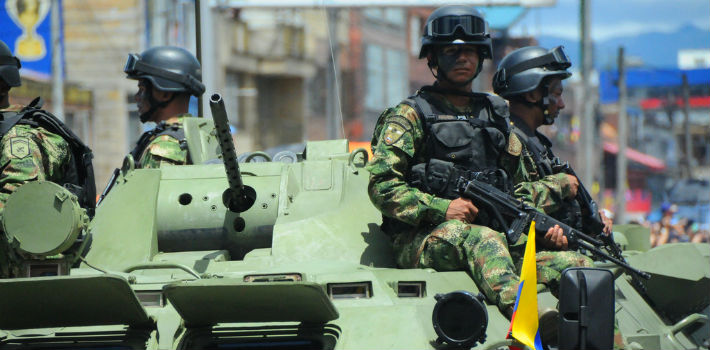 EspañolColombia has announced the purchase of 32 new armored combat vehicles to be deployed on the border with Venezuela. Military authorities have specified that the new tactical units will be used to combat illegal armed groups in the frontier zone, described by Spanish newspaper El País as "one of the seven hells on Earth."
"Today, the Colombian armed forces are stronger, more modern, and more capable of confronting the threats of the present and the near future," said Defense Minister Juan Carlos Pinzón in a press release on January 22.
The new 8×8 all-wheel-drive vehicles are Canadian-made, with a price tag of US$84 million. The armored personnel carriers (APCs) will form part of a wider process of modernization and transformation of the country's armed forces, which haven't purchased similar equipment in 30 years.
The APCs will go to the Combined Medium Arms Task Force, an army unit based in the town of Distracción, Guajira department, on the border with Venezuela. Each of the new vehicles is capable of transporting 11 fully armed and equipped soldiers, comes with a digital remote control system to activate its weaponry from the interior, and possesses sophisticated anti-mine and explosion-absorption technology.
"Our army has acquired several combat vehicles to guarantee security, peace, tranquility, the protection of infrastructure and natural resources, and, of course, the defense of the Constitution," Pinzón added in the military briefing.
The purchase is part of a defense plan that began in 2011 with the so-called Fatherland Tax, the proceeds of which are paying the bill for the new APCs.
Senator Iván Cepeda, a staunch defender of the ongoing peace process with Marxist guerrilla group FARC, criticized the armed forces' acquisition of new offensive weaponry while talks in Havana are taking place.
"The announcement of a bilateral ceasefire and indefinite end to hostilities means, among other measures, stopping armament programs, and refraining from subscribing to international military agreements," he told local radio.
In addition to the vehicles, Colombian Air Force Commander Guillermo León announced on January 23 the purchase of new military aircraft to replace previous models, several of which have caused accidents due to technical faults. The process will take four to five years, with the details as to which craft will be bought yet unclear.
Wanting Peace, Preparing for War
Diana Quintero, vice minister for defense, told local radio show Mañanas BLU that the latest round of military purchases didn't equate to the country adopting a new offensive footing.
"Colombia doesn't have an offensive posture, and [the APCs] will be used to protect infrastructure," she said, although the minister didn't rule out a role for the vehicles in a defensive capacity in the border zone.
#FuerzasArmadas demuestran grandes capacidades e invaluables compromisos en temas de justicia social en escenarios de postconflicto

— Mindefensa (@mindefensa) January 26, 2015

"#ArmedForces show invaluable capacity and commitment to social justice issues in post-conflict scenarios."
"In reality, this is a matter of having an always-strong military force, always ready to protect Colombians from any kind of threat," she said, specifying that the armored vehicles could be used at any location in Colombian territory to protect both infrastructure and the environment.
"If we think to a future beyond the post-conflict situation, we're thinking about a country that doesn't have an internal conflict but has an important position in its region of the world, and will need its army," Quintero added.
Keeping Colombia's Guard Up
Agustín Laje Arrigoni, the director of Argentina's Center for Free Studies, and a graduate of the Center for Hemispheric Defense Studies at Washington, DC's National Defense University, told the PanAm Post that the FARC peace process shouldn't result in a winding down of Colombian military strength.
"Several times in Colombian history we've seen how FARC have paradoxically used peace negotiations as an offensive strategy: they see how peace processes lower defensive and offensive operational capacity of state forces, and its then that FARC can take charge again," he said.
Several times in Colombian history we've seen how FARC have paradoxically used peace negotiations as an offensive strategy.
Laje referred to the events of the administration of former President Andrés Pastrana (1998-2002), when FARC took the opportunity to rearm and regroup during a period of peace talks involving the creation of a demilitarized zone.
Nevertheless, he added that the struggle against terrorism is often more ideological than military, arguing that previous experiences of asymmetrical warfare around the world show that the edge often goes to the force that can conquer hearts and minds, rather than the force that can bring more sophisticated weapons to bear.
However, Vicente Torrijos, professor of political science and international relations at the University of Rosario, Argentina, told Colombian media outlet Pulzo that the Colombian army is at a crucial point in developing its capacity.
The academic argued that, with the conflict ending, FARC will soon leave power vacuums in various areas throughout the country, in which "very powerful threats could emerge." However, he noted that such a scenario assumed that FARC are "negotiating sincerely, that they're going to demobilize, disarm, and reintegrate."