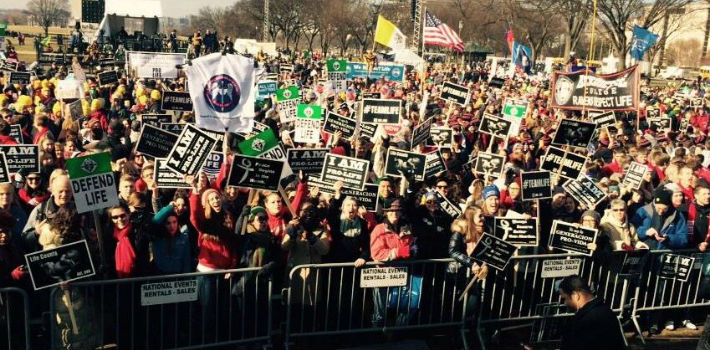 EspañolOn January 22, over 200,000 protesters descended on Washington, DC to attend the 2015 March For Life, calling for an end to abortion in the United States.
March For Life is the most popular pro-life event in the country, held annually around January 22, the anniversary of the 1973 Supreme Court ruling in Roe v. Wade. The court's landmark decision made it legal in all 50 states for women to have an abortion during the time when a fetus is not yet considered "viable" and able to live independently from the mother.
According to the Catholic News Agency, the crowd at the march consisted largely of young people, many of whom could be heard chanting, "We are the pro-life generation!"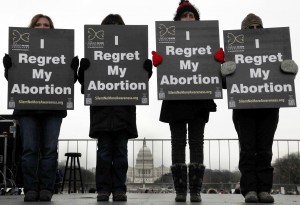 Jeanne Monahan-Mancini, president of the March for Life Education and Defense Fund, said she believes abortion to be an act of violence against both women and the unborn, and urged the demonstration's participants to spread the pro-life message around the country.
"We have come to represent the unborn that cannot speak for themselves. We have come to celebrate life and cry for the millions of babies dead because of abortion," Monahan-Mancini said. "We have come to tell the world that abortion is evil and destroys innocent lives. It has to stop."
Demonstrators carried signs displaying the various reasons that led them to the march. One sign claimed 40 percent of women in her generation had an abortion, others bared messages like "I regret my abortion" and "men regret their lost fatherhood." According to research from the Guttmacher Institute, there have been 56 million abortions performed in the United States since Roe v. Wade.
My son, John, with why he marches: "Because 40% of my generation is missing." #WhyWeMarch #ProLife #MarchforLife pic.twitter.com/ddTWqG6Y2u

— Rick Santorum (@RickSantorum) January 22, 2015
Four US congressmen attended the rally: Tim Scott (R-SC), Cathy McMorris Rodgers (R-WA), Chris Smith (R-NJ), and Daniel Lipinski (D-IL).
Anti-Abortion Bills Underway
In Congress, two new bills are poised to change the way abortions are performed in the United States. If passed, the Pain-Capable Unborn Child Protection Act would ban almost all abortions after 20 weeks of pregnancy.
However, the White House issued a statement in opposition to the bill, indicating President Obama would likely veto the legislation.
"The administration strongly opposes H.R. 36, which would unacceptably restrict women's health and reproductive rights and is an assault on a woman's right to choose. Women should be able to make their own choices about their bodies and their health care, and government should not inject itself into decisions best made between a woman and her doctor."
The House of Representatives was scheduled to vote on the bill on January 22, but Republican legislators ultimately postponed it.
At the state level, the Kansas legislature is considering a bill called the Unborn Child Protection from Dismemberment Abortion Act. "Dismemberment abortion kills a baby by tearing her apart limb from limb," said Mary Spaulding Balch, National Right to Life's director of state legislation. Balch hopes the initiative will be replicated in other states to prohibit this abortion method nationwide.
Translated by Daniel Duarte. Edited by Guillermo Jimenez.