EspañolThe photography of Vivian Maier is spectacular. Her pitch-perfect ability to portray the daily life of cities and their residents makes her, in my opinion, one of the best photographers of the 20th century.
Despite the majority of her work being in black and white, the vitality of her subjects shines through. One would think that Maier attended the best art schools and photography classes, but this wasn't the case.
Vivian Maier, by contrast, was a street photographer: an amateur artist dedicated to portraying the lives of those she came across in her beloved New York and Chicago.
The greater part of her work consists of spontaneous images, all of which she took herself anonymously. Anonymity was a constant in Maier's life, so much so that her photographs were never exposed during her lifetime.
They nearly remained that way, until through sheer luck (or perhaps destiny) they were discovered by John Maloof in 2007.
Maloof, himself a part-time photographer, needed old photographs for a history book he was working on. For US$380, he bought a box full of negatives of Chicago from an auction.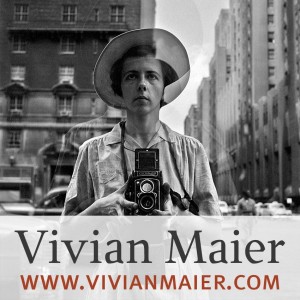 As he slowly began to study them, he didn't concern himself with whether they were good or not — he was more interested in the history behind what they depicted.
But Maloof gradually realized that he'd stumbled across a treasure trove: a collection of high-quality images, whose portraits of individuals stood out as being particularly striking. He began to take steps to bring the material to a wider audience, at the same time trying to find out who it was that took the photographs.
Like a modern-day Sherlock Holmes, Maloof began to doggedly examine the evidence in front of him. Among the negatives, he found notes, receipts, and other scraps of paper, offering fragmentary clues about the person behind the lens.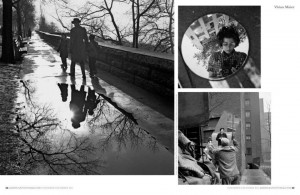 Eventually, finding a telephone number on a stray note, he was able to find the truth. The answer was surprising: the photographer was a nanny. The information generated more questions than answers. Maloof began to investigate more into Maier's personality: how had a babysitter come to know so much about photography, and what motivated her to take photos anonymously?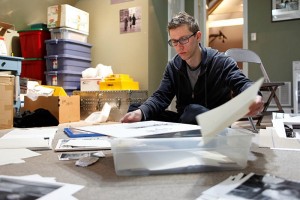 At the same time, Maloof sought a gallery that would exhibit the material, but few were open to the unknown Maier. So he decided to take the work into his own hands: Maloof would seek to publish the photos independently to honor the mysterious artist and her virtuoso work.
He produced a film to accompany his ongoing investigation into Maier's life; Finding Vivian Maier ended up being nominated for an Academy Award for best documentary picture in 2014.
Finding hard evidence about Vivian and her motivations proved as difficult as sorting through her photographs. Maloof began to interview the children that were once under her care, to see if they could shed some light on their former babysitter.
The answers he received confirmed the sense he'd gotten from her photography: Maier was a highly reserved woman. Everyone knew she took photos, but no one was allowed to see them.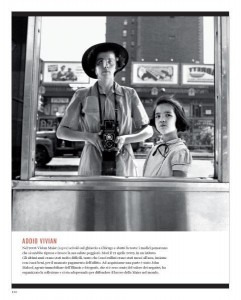 She guarded her privacy carefully, and nobody knew for certain if she had any family or who they were, where she was born, and what prompted her obsession for collecting all kinds of papers and objects.
The children, now adults, that knew her, often told of contradictory facets of her personality — she was an inspiring, free-wheeling figure to some, an imposing and frightening one to others — but they all agreed on one thing: she guarded her room like a bank vault.
Further details gradually emerged. Born in 1926 in New York, she grew up in rural alpine France. She returned to Manhattan in 1951, moving to Chicago in 1956. A socialist and a feminist, she learned English by indulging her passion for theater and cinema. But she apparently changed details of her life story — and even her accent  — with each family that she worked.
Her personality was every bit as enigmatic as her photos. But it's through her work that her humanity can be glimpsed briefly, through the force of expression and vigor of her subjects.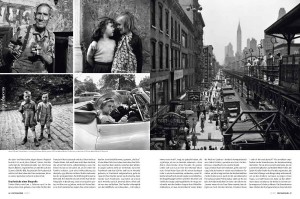 Of the over 150,000 photos that Maier took between 1949 and the beginning of the 21st century, some deal with the countries that she visited, but most focus on the people and architecture of New York, Chicago, and Los Angeles. Her equipment ranged from a Kodak Brownie, various Leica models, an Ihagee Exacta, and a Zeiss Contarex, but her Rolleiflex seems to have been her tool of choice.
From her work, we get a sense of those on the fringes of the prosperity that came with the "American Century": African-American maids, the homeless, down-at-heel kids, the industrial zones of Chicago. She wasn't interested in the sweetness of life; her mission was to photograph human struggle in its natural ecosystem.
Finding Vivian Maier is a highly valuable documentary, whether one is a photographer or not. As well as showing Vivian's art, it shows Maloof's efforts to piece together Vivian's personality. Her obsession with portraying real life as faithfully as she could was perhaps the way that Maier — like so many of us — sought to make sense of the changing world around her.