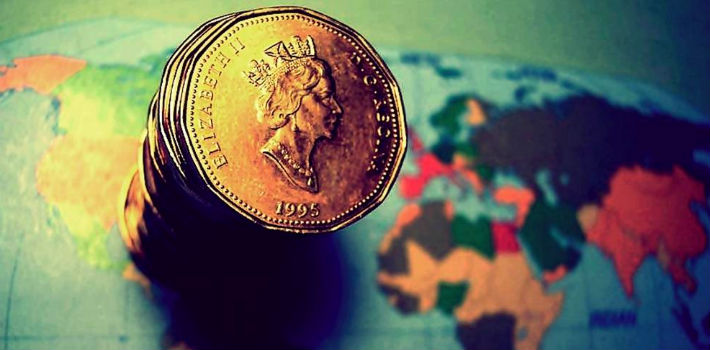 With Alberta, Canadians enjoy the freest province or state in North America, comfortably beating out competitors in the United States and Mexico. That's according to the latest study by the Fraser Institute, a classical-liberal policy institute based in British Columbia and known for its annual reports on economic liberty around the world.
The Economic Freedom of North America 2014 report, published on December 2, praises the western province and ranks fellow prairie province Saskatchewan second. British Columbia and Newfoundland, the province off Canada's eastern seaboard, share third place with Texas, the freest US state.
Using 2012 data, the report — which includes Mexico for the first time — determines the levels of economic liberty in 92 jurisdictions (50 US states, 10 Canadian provinces, and 32 Mexican states). The author's metrics include the size of government, tax levels, commercial regulations, and reach of the rule of law. They then affirm the relationship between these indicators and levels of economic prosperity.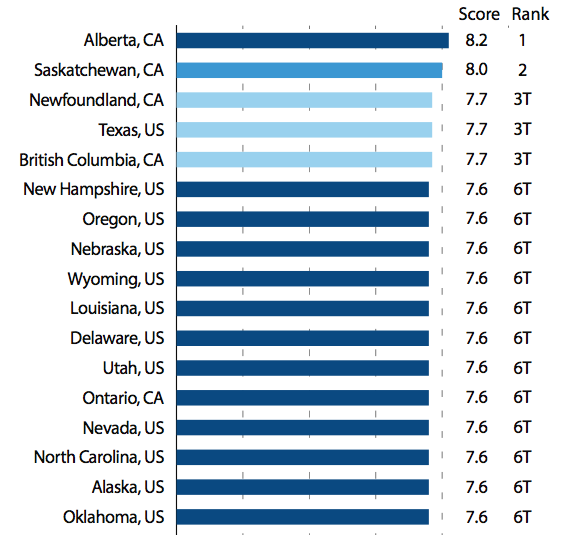 "The link between economic freedom and prosperity is clear," says Fred McMahon, coauthor of the Fraser Institute study. "Provinces that support low taxation, limited government and flexible labour markets enjoy greater economic growth, while provinces with lower levels of economic freedom see lower living standards and fewer economic opportunities."
Coahuila de Zaragoza State is number one in Mexico, but still lags at 30th in North America. Together with Guanajuato (59) and Quintana Roo (59), they're the only Mexican states to better any jurisdictions to the north (Maine and Mississippi), while the remaining 29 Mexican states monopolize the bottom end of the ranking.
These results follow Fraser's ranking of nations, released in October: Canada is the seventh freest economy, the United States the 12th, and Mexico comes in at 92nd.
Alberta Head and Shoulders above the Rest
Alberta's 8.8 points on a 10-point scale was not threatened by Saskatchewan (8.0) and Newfoundland (7.7) — while Nova Scotia (7.3) and Prince Edward Island (7.1) bring up the rear for Canada.
Similarly, Alberta has witnessed the greatest economic growth of all Canada's provinces in the last 20 years. Its biggest industries are petrochemicals, agriculture, forestry products, metallurgy, tourism, and communications technology.
Some 63.4 percent of the Albertan working population over 25 have a university degree, and investment per capita is at US$23,461, more than double the national average (US$10,758).
Lack of Federalism Punishes Mexico
Coahuila de Zaragoza wins out in Mexico, on account of its relative fiscal austerity and low taxes, for a score of 7.4.
The highly industrialized state shares a border with the United States, and 90 percent of the population live in urban areas.
Coahuila's economic activity, worth approximately $1.26 billion in 2013, constitutes 3 percent of Mexico's GDP. Commercial activity is characterized by industrial manufacturing (31.44 percent), trade and services (14.61 percent), and financial services (10.12 percent).
Following Coahuila are Guanajuato and Quintana Roo, each on 7.2 points. They too have relatively low tax rates and smaller public administrations with fewer staff.
In contrast, Chiapas, the Federal District of Mexico City, and Colima flounder under high levels of government spending, state subsidies, and hefty tax rates.
The poor results of Mexican states, compared to their US and Canadian counterparts, are largely due to highly centralized governance, with intervention in many areas of the Mexican economy. The two northern neighbors give greater autonomy to their sub-national jurisdictions. Since local officials can decide at least some of their own economic policies, this promotes competition to attract businesses and investment.
Pay Lower Taxes in Texas
Texas enjoys the greatest economic freedom in the United States, garnering 7.7 points and closely followed by 11 US states on 7.6. Maine and Mississippi come in last, tied at 7.2 points and 59th out of 92 jurisdictions.
The Washington, DC-based Tax Foundation, claims that Texas benefits from the 10th best tax regime in the United States, one of the most important factors behind its high position in North American ranking. However, that it is not number one with the Tax Foundation is indicative of disparities across rankings of this sort.
Regardless, the Texan economy generates 9 percent of the US GDP, some $1.53 trillion, in large part from its energy sector. But small and medium-sized enterprises also abound, with some 2,164,852 companies existing with a population of 26.4 million individuals.
Translated by Laurie Blair. Fergus Hodgson contributed to this article.