EspañolThe Guatemalan Civil War claimed hundreds of thousands of civilian lives, the majority indigenous Mayans. For decades, Benjamin Manuel Jerónimo, a Mayan human-rights advocate, has worked to seek justice for those victims.
In recognition of his efforts, the Edelstam Foundation has named Jerónimo the 2014 Edelstam Prize Laureate, highlighting his "outstanding contributions and exceptional courage in standing up for one's beliefs in the Defense of Human Rights." The Guatemalan activist received his award at the House of Nobility in Stockholm, Sweden, on November 11, 2014.
Jerónimo currently works for the Association for Justice and Reconciliation (AJR), a Guatemala-based organization founded in 2000 by survivors of Guatemala's military campaign against its indigenous peoples.
During his time with the AJR, Jerónimo has worked to organize the victims, help them overcome their fears, and collect their testimonies. His actions played an essential role in making a trial against former military dictator Efraín Rios Montt possible. Montt, who held the office of president in Guatemala from 1982 to 1983, is the first head of state to be tried and convicted of genocide in his own country.
Edelstam Prize Laureate 2014 is awarded to Benjamin Manuel Jeronimo from Guatemala for pursuing justice pic.twitter.com/PN2J7XFCTj

— The Edelstam Prize (@Edelstam) November 10, 2014
"Justice is essential for us, because we are all equal, have the same rights, [and] we are all human beings. We deserve our right to life and welfare to be granted," said the 2014 Edelstam Prize Laureate. "For this we have given our efforts and leading this initiative. We were almost forced to abandon our families. We are only pursuing justice to ensure that these crimes will never happen again."
"We believe our loved ones who were massacred are not yet resting, but we have to do something for them as they express to us in our dreams. To expose what they suffered and [demand] justice, and maybe they would then feel a little bit more happy," said Jerónimo.
Human Rights in Guatemala
"His endeavor and commitment are an example and remember every day to the international community than most of the perpetrators in Guatemala remain unpunished," the Edelstam Foundation said of Jerónimo in the press release announcing the prize.
According to a Truth Commission report from the United States Institute of Peace (USIP), the Guatemalan Civil War (1960-1996) accounted for over 200,000 civilian deaths, and more than 50,000 disappeared. The report notes that 83 percent of the victims were Mayans, and "state forces and related paramilitary groups were responsible for 93 percent of the violations documented."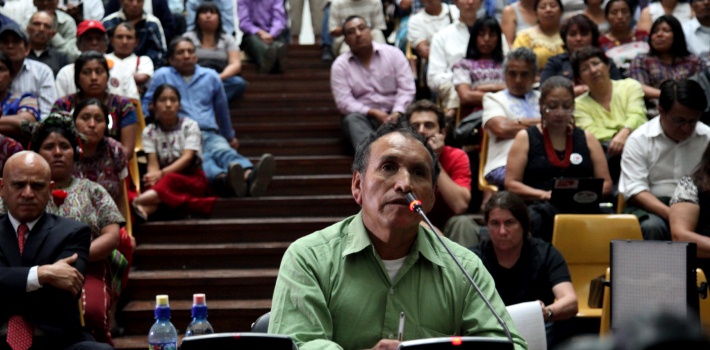 On May 10, 2013, a Guatemalan court found Efraín Rios Montt guilty for the killing of 1,771 people, and the forced displacement of tens of thousands during his time as president. The Guatemalan Constitutional Court, however, overturned the conviction nine days later.
Montt's initial conviction "sent a strong signal that crimes against thousands of Mayan victims would not be tolerated," said Sebastian Elgueta, Amnesty International's researcher on Guatemala. "The Constitutional Court has now questioned that message, putting the right to truth, justice and reparation at risk in Guatemala." The trial against Rios Montt is scheduled to resume in January 2015.
The Edelstam Foundation notes that Jerónimo has spent decades as the "voice of the victims," working toward bringing human-rights abusers in Guatemala to justice, despite threats against his life.
Edelstam Foundation Calls for International Attention
According to the foundation, the 2014 Edelstam Prize is meant to call the attention of the media and international public to need for the "extraordinary courage of individuals" like Jerónimo, who risk their lives seeking justice for the victims of human-rights abuses.
The Edelstam Foundation international jury is chaired by Caroline Edelstam, Harald Edelstam's granddaughter and cofounder of the Harald Edelstam Foundation. Justice Louise Arbour, former UN High Commissioner of Human Rights, also serves on the jury, representing North America, along with other human-rights activists and politicians from around the world.
Sweden's former Ambassador for Human Rights, Jan Axel Nordlander, chairs the Nomination Committee of the Edelstam Prize. Ambassador Nordlander is joined on the committee by prominent scholars, including Sadiq Jalal Al-Azm, a Syrian philosopher and advocate for intellectual freedom and freedom of speech, and Vitit Muntarbhorn, former United Nations Special Rapporteur on the Situation of Human Rights in Democratic People's Republic of Korea.
The foundation is named for Harold Edelstam, a diplomat and ambassador born in Sweden on March 17, 1913. According to the biography available on the foundation's official website, Edelstam is best known for "having saved the lives of a large number of people during and after General Augusto Pinochet's military coup in Chile in 1973." On December 4, 1973, the Chilean regime declared Edelstam "persona non grata."
Edelstam is also said to have played a large role in saving the lives of hundreds of Norwegian resistance fighters and Jews during World War II. He died April 16, 1989.
Edited by Guillermo Jimenez.